2019 Regional Teaching Dates
Monday January 28 - Norfolk & Norwich - Elective hands/Brachial Plexus/ +/-Wrist
Wednesday 13 February - Lister Hospital Stevenage - Aesthetics (below neck) Breast (Brachio Thigh Lift Lipo)
Thursday 07 March - Addenbrooke's - Facial Aesthetics including Rhinoplasty
Wednesday 24 April Broomfield Hospital Chelmsford - Reconstruction breast - implant/Autologous - Symmetrisation Chest Wall recon
Wednesday 22 May- Norfolk and Norwich - Head and Neck
Thursday 20 June - Annual Regional Audit Day - Cambridge (venue- Newmarket)
Wednesday 24 July- Lister Hospital Stevenage - Skin cancer/oncology/Mohs
Wednesday 11 September - Addenbrooke's Hospital - Trunk/Perineal Reconstruction
Thursday 24 October- Broomfield Hospital Chelmsford - Hands (acute)- soft tissue/flap recon/fractures (venue- Anglia Ruskin University)
2020 Regional Teaching Dates
Thursday 23 January - Addenbrooke's Hospital Cambridge - Cleft Lip and Palate-Craniofacial-Vascular Anomalies-Ear Reconstruction
Wednesday 12 February - Lister Hospital Stevenage - Clinical and Vivas Day (and Fellowship updates)
March -  Norfolk and Norwich - Chest Wall/Abdo Wall Reconstruction and Cosmetic
April - Broomfield Hospital Chelmsford - Cadaveric Dissection
May (TBC)-  - Royal College Aesthetics Day
June - Annual Regional Audit Day - Cambridge (venue- Newmarket)
July- Lister Hospital Stevenage - Upper Limb- Nerve injuries-tendon transfer-brachial plexus-flap reconstruction
September - Addenbrooke's Hospital - Lower Limb Reconstruction-acute/chronic ulcers-diabetic foot
October- Norfolk and Norwich - Skin Cancer-Surgery-Medical Oncology- SLNB/lymph node dissections- clinical trials
November- Broomfield Hospital Chelmsford- Burn Injury- Consevative to ITU management- Non-burn complex wound management
East of England Regional Aesthetic Surgery Training Day
Rhinoplasty & Septorhinoplasty
Thursday 7th March 2019
Addenbrooke's Hospital, Cambridge
9.00 -9.15

Welcome: Professor Malata & Mr Tariq Ahmad – Joint Chairs

9.15- 10.00

Nasal anatomy & assessment for rhinoplasty with illustrative examples

Mr Furrat Amen, Consultant ENT Surgeon

 

10.00-10.45

Functional aspects of 1o & 2o rhinoplasty: septoplasty, septorhinoplasty, turbinectomy

Mr David McKiernan, Consultant ENT & Facial Plastic Surgeon, Cambridge

10.45-11.15

Aesthetic rhinoplasty 1 – overview, indications & outcomes: illustrative approach

Prof Charles Malata, Consultant Plastic Surgeon

 

 

11.15-12.00

Aesthetic rhinoplasty 2 – indications & outcomes: illustrative approach

Mr Tariq Ahmad, Consultant Plastic Surgeon

12.30-13.30

LUNCH

13.30-14.15

Revision, noncaucasian & complex rhinoplasties – personal results

Prof Charles Malata, Consultant Plastic Surgeon

 

 

14.15-15.15

Revision rhinoplasties and principles of cleft rhinoplasties as applied to cosmetic surgery

Mr Tariq Ahmad, Consultant Plastic Surgeon

15.15-15.30

Coffee Break

15.30-16.30

Long-term experience with rhinoplasty & lessons learnt

Speaker to be confirmed, Consultant

16.30

Close of meeting

Professor Malata

16.30-18.00

Social Event – Drinks in Frank Lee Sports Centre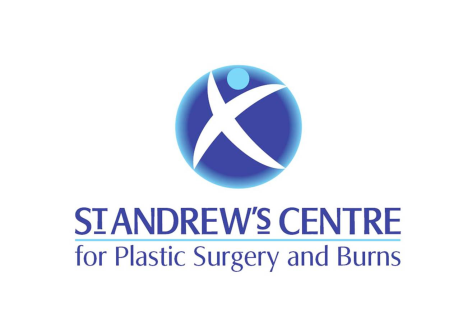 EAST OF ENGLAND REGIONAL PLASTIC SURGERY TEACHING & OSCE
(A teaching day for Plastic Surgery Registrars)
Anglia Ruskin University
Room Sal001, Michael Salmon Building
AGENDA
Wednesday 24th April 2019
Chaired by Mr Mat Griffiths, Consultant Plastic Surgeon
for St Andrew's Burns and Plastics Unit, Broomfield Hospital
TIME

 

AGENDA

LED BY

09.00-09.30

Registration -

Tea, coffee, water, mini pastries and fruit basket

 

 

09.30–10.15

Implant/ADM

 

Jane Aitken

 

10.15–11.00

CT Angio Planning and Fluorescent Angiography in Microsurgery Symmetrisation

 

Mat Griffiths

11.00–11.15

Morning break

Tea, coffee and water

 

 

11.00-12.00

Technical Aspects of DIEP/MS-TRAM and TUGs

 

Professor Venkat Ramakrishnan

 

12.00-1.00

DIEP/MS-TRAM and TUGs

General Discussion

 

 

1.00-2.00

Lunch in reception area -

Sandwiches, hot potato wedges (v), chicken skewers, savoury tartlet (v), fresh fruit with yoghurt dip, water and juice

 

 

2.00-2.45

 

Gynaecomastia

 

Professor Charles Malata

2.45-3.30

Chest Wall Reconstruction and Pectus Correction

 

Mary Morgan

3:30

Tea, coffee, water and cake selection available

 

 

3.30–4.45

 

VIVAS

 

Mat Griffiths, Fateh Ahmed, Miles Banwell & Mary Morgan

 

4.45-5.00

Round up

 

 
Sponsorship kindly provided by ConvaTec
NNUH Regional Head & Neck Surgery Training Day 22nd May 2019
Higher Specialty Trainees Plastic Surgery, East of England Deanery
Venue: Castoir St Edmund, NR14 8QN
9.00 – 9.30am                   Registration & Coffee
9.30 – 10.00am                 Facial Reanimation Algorithm and Labbe Flap
                                          Ms Monica Fawzy (Consultant Plastic & Reconstructive Surgeon)
10.00 – 10.30am               Pre-op and peri-operative anaesthetic considerations
                                          Dr Helen Goddard (Consultant Anaesthetist)
10.30 – 11.10am               Surgical Tracheostomy & Neck Dissections
                                          Mr Oladejo Olaleye (TIG Fellow, Head & Neck Surgical Oncology)
11.10 – 11.30am Tea & Coffee Break
11.30 – 12.00pm                Pharyngolaryngectomy and reconstruction
                                           Mr Ramez Nassif (Consultant ENT / Head & Neck Surgeon)
12.00 – 12.30pm                Indications for H&N radiotherapy & chemotherapy
                                           Dr Tom Roques (Consultant Oncologist / H&N MDT Lead)
12.30 – 1.00pm                  Maxillectomy, Mandibulectomy and 3D computer-aided design / computer-aided manufacturing (CAD/CAM) Reconstruction
                                           Mr Richard Sisson (Consultant Maxillofacial Surgeon)
1.00 – 2.00pm Lunch
2.00 – 2.20pm                     Speech and swallowing outcomes following H&N reconstruction
                                            Mrs Claire Estcourt (Lead H&N Speech & Language Therapist)
2.20 – 2.40pm                     Post-operative tracheostomy and laryngectomy stoma care
                                            Mrs Erica Everitt (Head & Neck Specialist Tracheostomy Nurse)
2.40 – 3.10pm                     Radial forearm free flap & Anterolateral thigh flap
                                            Mr Martin Heaton (Consultant Plastic & Reconstructive Surgeon)
3.10 – 3.30pm Tea & Coffee Break
3.30pm – 3.45pm                Gracilis flap & Pectoralis major flap for salvage laryngectomy
                                            Mr Jonothan Clibbon (Consultant Reconstructive Surgeon)
3.45pm – 4.30pm                Case Based Discussions & FRCS Vivas (all SpRs)
                                            Mr Martin Heaton / Mr Jonothan Clibbon
Generously sponsored by Cook-Medical, with thanks [Organisers: Mr Oladejo Olaleye & Miss Shetha Naji]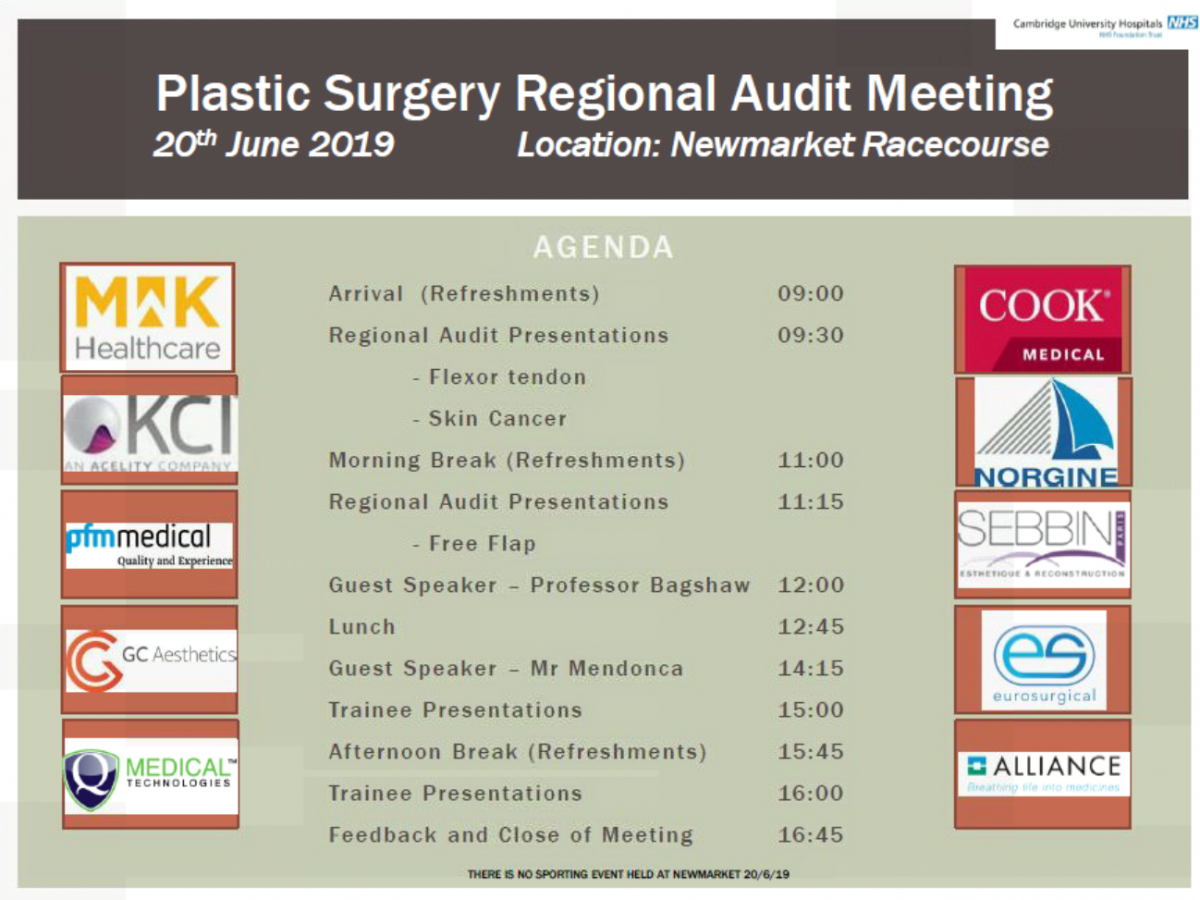 We were delighted to be joined by colleagues (surgeons, clinic nurses, theatre nurses, ODPs, nurse specialists, hand therapists) from Plastic Surgery units from all over the region- Bury St Edmunds, Cambridge, Chelmsford, Huntingdon, Norwich, Peterborough, Stevenage. 
We had 2 excellent guest speakers- Professor Michael Bagshaw...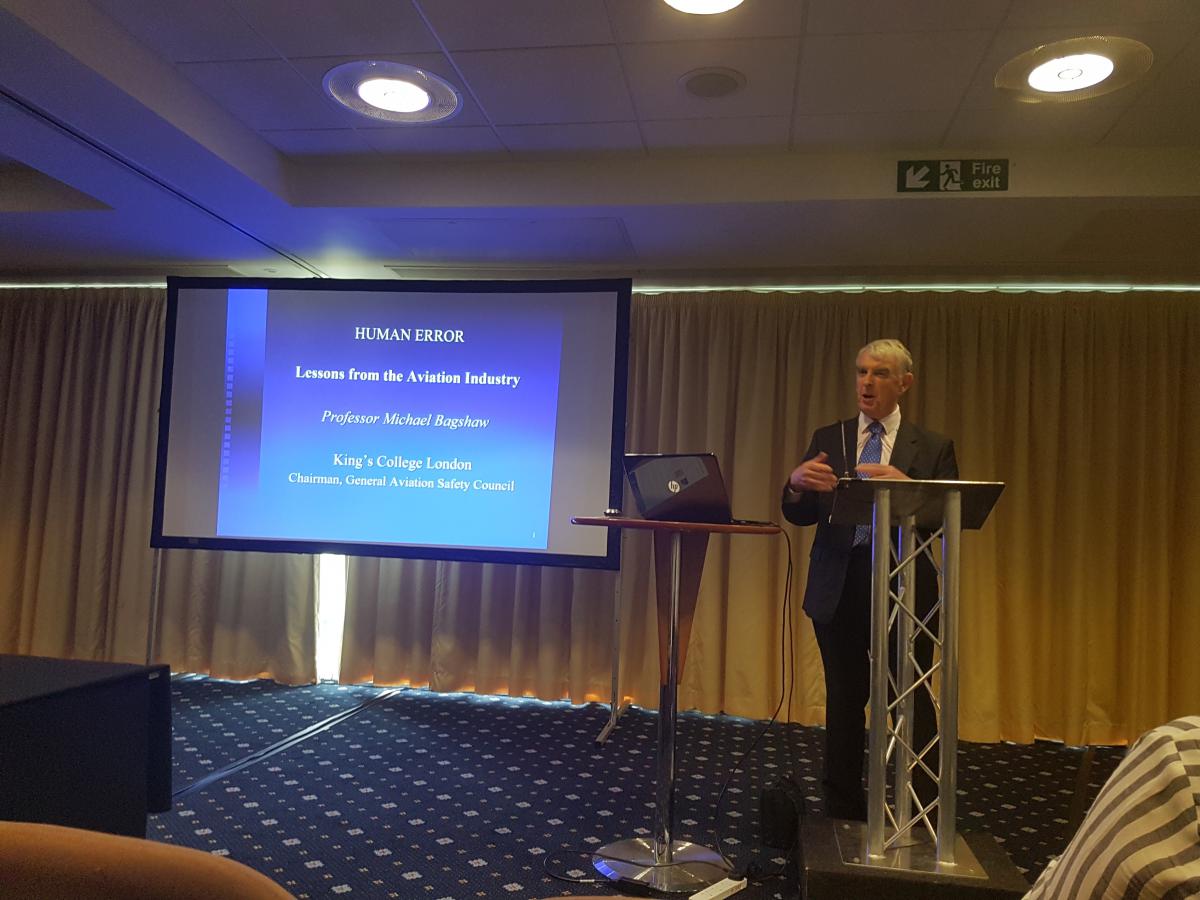 ... and Mr Derick Mendonca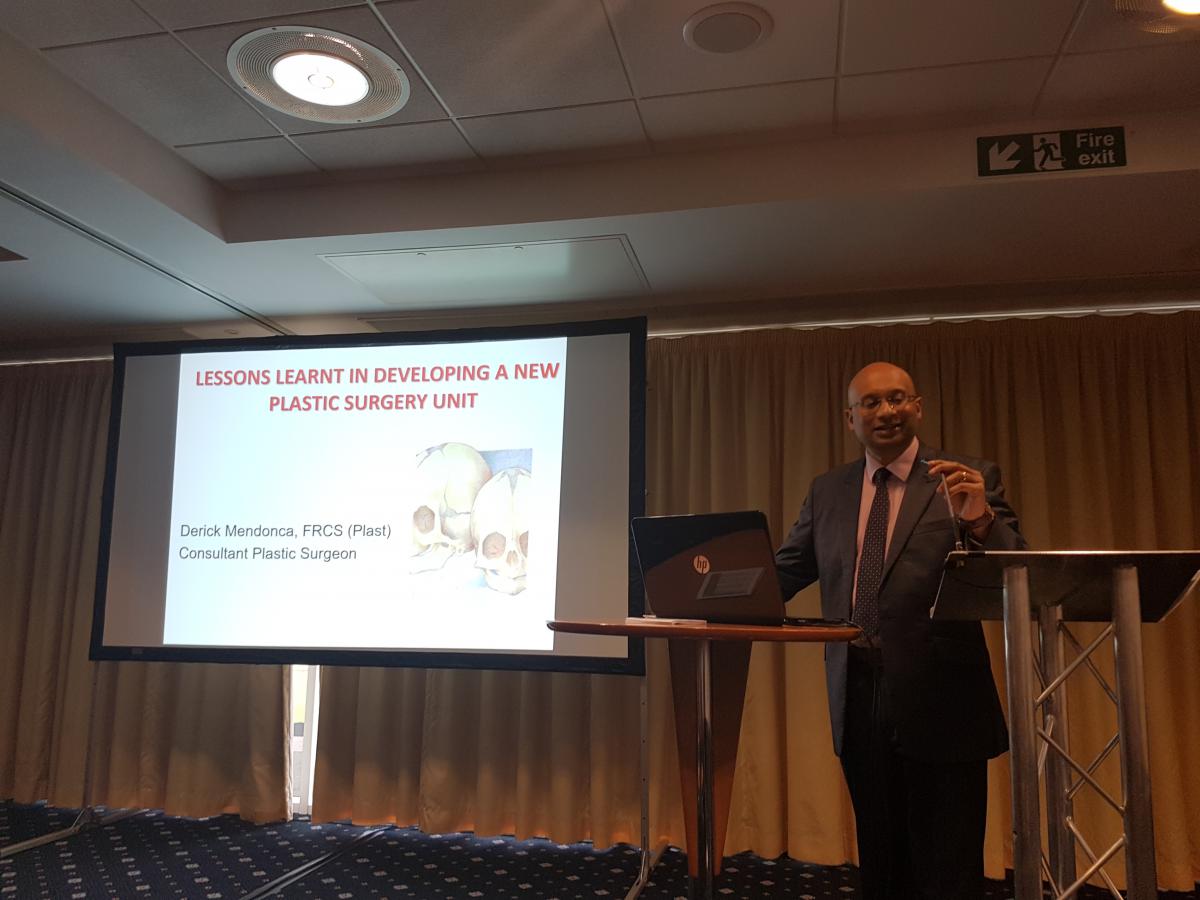 The Trainee Presentation Prize was won by Dr Oliver Bloom for his presentation on cadaveric dissections of the lateral sural artery perforator flap

Plastic Surgery Regional Training Day Wednesday 24th July 2019- Skin Cancer
PROGRAMME
0800-0830: Registration and Coffee
0830 – 0915: Pathology of Common Skin Cancers including Staging. Dr S Agarwal, Consultant Pathologist
0915 – 0945: Medical Treatment of Skin Cancer. Dr S Mazzon, Consultant Dermatologist
0945-1030: Role of the Clinical Oncologist in the Management of Skin Cancers, Dr P Kabuubi Consultant Clinical Oncologist
1030 – 1045: Coffee
1045- 1130: Systemic Therapy in Melanoma. Dr H Shaw, Consultant Medical Oncologist
1130 – 1215: Electrochemotherapy. Ms J Odili, Consultant Plastic Surgeon
1215 – 1300: SLNB in Skin Cancer. Mr M Heaton, Consultant Plastic Surgeon
1300-1330: Lunch
1330 - 1345: Patient Perspectives and the role of the CNS in Skin Cancer. Mrs Siobhan O'Brien, Chief CNS
1345—1415: Palliative Care in Skin Cancer. Dr S Majeed, Consultant in Palliative Medicine
1415 – 1500: Mohs Surgery and its technique in the treatment of skin Cancer. Dr T Ha, Consultant Dermatologist
1500-1515: Coffee
1515-1600: Dermatoscopy – Dr Liz Ogden, Dermatologist
1600 -1615:Skin Cancer Update from BAPRAS Advanced course, Mr Ali Arnout
1630: Attendance & MCQ Test
Sponsors: Lunch & coffee breaks will be sponsored by IGEA Medical
Dear Colleagues
We are looking forward to welcoming you to the Lister Hospital for East of England
Regional training in Plastic Surgery on Skin Cancers on 24 July 2019.
The day will start at 0800 with registration and coffee and end by 1700.
Venue: Clinical Education Center, Lister Hospital, Coreys Mill Lane, Stevenage SG1 4AB
(Please park in the multi-storey car park; this is approximately £9/day for attendees)
There will be an attendance sheet for both the morning and afternoon sessions and a
Multiple Choice test at the end of the day. All documentation will be submitted to the TPD.
If you have any queries or need assistance please contact:
Miss Reema Chawla: reema.chawla@nhs.net
Miss M Daruwalla: maharukhdaruwalla@nhs.net
Laura Horwood (Secretary to Miss Daruwalla): laura.horwood@nhs.net Tel:01438284111
Regional Plastic Surgery Spr Training Day, Wednesday 11th September 2019
08.00-08.30 Registration & coffee – ATC Plastic Surgery Offices
08.30 Welcome & aims of the day - Mr Amer Durrani, ATC Seminar Room 4
08.35-09.15 Management of chest wall & sternal defects - Mr Amer Durrani, Consultant Plastic Surgeon
09.15-10.00 Assessment of requirements and options for perineal reconstruction - Mr Animesh Patel, Consultant Plastic Surgeon
10.00-11.00 Vivas & coffee – ATC Plastic Surgery Offices
11.00 - 11.30 Abdominal wall reconstruction - a general surgical perspective - Mr James Wheeler, Consultant Colorectal Surgeon
11.30 - 12.00 Urological cases requiring plastic surgical reconstruction - Mr Nikesh Thiruchelvam, Consultant Urologist
12.00 - 12.30 Gynae-oncology cases requiring plastic surgical reconstruction, Mr Peter Baldwin, Macmillan Consultant in Gynaecological Oncology
12.30 - 13.00 Immunology of abdominal wall transplantation - Mr Andrew Butler, Consultant Transplant Surgeon
13.00 -14.00 Lunch
14.00 - 14.30 Management of myelomeningocoele - Mr Ibrahim Jarroh, Consultant Neurosurgeon
14.30 – 15.00 Assessment & reconstruction of spinal wounds - Mr Amit Roshan, Consultant Plastic Surgeon
15.00-15.30 Imaging for reconstruction – Dr Andrew Winterbottom, Consultant Interventional Radiologist
15.30-17.00 Complex cases - Mr Amer Durrani & Mr Animesh Patel, Consultant Plastic Surgeons
17.00 Summing up, feedback & close
z
EAST OF ENGLAND REGIONAL PLASTIC SURGERY TEACHING & OSCE
"HAND TRAUMA"
(A teaching day for Plastic Surgery Registrars)
Anglia Ruskin University
Room Sal001, Michael Salmon Building
AGENDA
Thursday 24th October 2019
Chaired by Mr Adam Sierakowski, Consultant Plastic Surgeon
for St Andrew's Burns and Plastics Unit, Broomfield Hospital
TIME

 

AGENDA

LED BY

09.00-09.30

Registration -

Tea, coffee, water, mini pastries and fruit basket

 

Angela Reed

09.30-10.00

Assessment of the Hand Trauma Patient

Fortune Iwuagwu

 

10.00-10.30

Fractures and Joint Injuries

 

Adam Sierakowski

10.30-10.45

Hand Fracture Fixation – Lecture

 

David Ebanks (Medartis)

10.45-11.30

Hand Fracture Fixation – Practical

 

David Ebanks (Medartis)

11.30-11.45

Morning break. Tea, coffee and water

 

 

11.45-12.15

Microvascular Reconstruction in the Hand

 

Makarand Tare

12.15-12.45

Replantation

 

Manu Sood

12.45-13.15

Paediatric Hand Injuries

 

Claire Zweifel

13.15-14.00

Lunch in reception area – Sandwiches, hot potato wedges (v), chicken skewers, savoury tartlet (v), cakes and fresh fruit, water and juice

 

 

14.00-14.30

Flexor Tendon Injuries

 

Adam Sierakowski

14.30-15.15

Hand Therapy

 

Mark and Sally, Hand Therapists

15.15-15.45

Management Algorithms for Exams

 

Alex Reid

15.45-16.00

Tea, coffee, water and cookies

 

 

16.00–16.45

 

VIVAS

Adam Sierakowski +TBC

 

16.45-17.00

Round up

 

 
Sponsorship kindly provided by
Alliance Pharmaceuticals and Allergan
Friday, 23 November, 2018
Show Between Dates:
Friday, 23 November, 2018