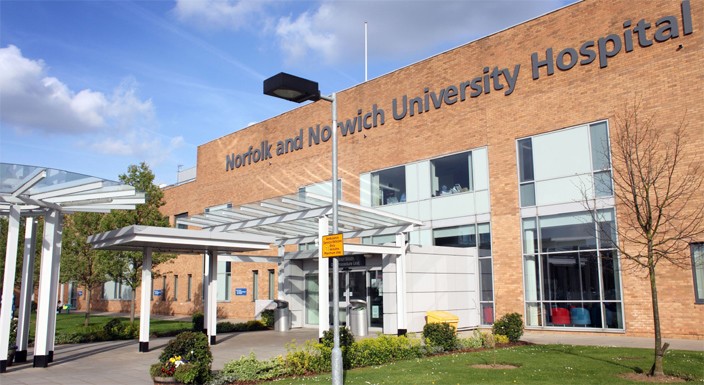 Hospital Profile
Norfolk and Norwich University Hospital (NNUH) is one of the largest NHS trusts in the country and one of the major teaching hospitals within the East of England deanery. There is a large general surgical department including tertiary referrals for various operations including pelvic exenterations and gastric/oesophageal malignancies. NNUH also hosts multiple regional teaching days throughout the year for general surgery registrar trainees. It also hosts FRCS examinations and surgery/endosocpy courses. NNUH is affiliated with The University of East Anglia.
Subspecialty training opportunities
UGI - Oesophago-gastric cancer unit. Also performs complex benign procedures such as laparoscopic CBD explorations and anti-reflux surgery (4 consultants)
Colorectal - One of largest and most experienced Colorectal units in UK (8 consultants). Perform a wide range of procedures including exenterations, radical oncological resections, robotic procedures and pelvic floor operations.  
Breast - Large breast unit performing cancer and benign cases (4 consultants)
Vascular - Established vascular unit performing wide range of venous and arterial procedures.    
Established Surgical Trainers
Mr Bhaskar Kumar, Mr Michael Lewis, Mr James Hernon, Mr Edward Cheong, Mr Maged Hussein, Mr Sandeep Kapur, Mr Simon Pain, Mr Kevin Sargen, Mr Irshad Shaikh, Mr Chris Speakman, Mr Simon Wemyss-Holden, Mr Richard Wharton, Mr Adam Stearns
SpR Rota information
8 NTN registrars and 1 non-NTN registrars
On call commitments include 12 hour day and night on call shifts. Room available free of charge on request.
Rota manager/Annual & study leave contact
Rota run by SpR within each sub-specialty
Study and annual leave requested and approved online
Travel/geographical information
Address:     Colney Lane, Norwich, NR4 7UY
Switchboard:     01603 286286
On site parking available for staff as well as Park & Ride
Direct public transport links via Norwich train station (15 minute)
Hospital easily accessible via A11