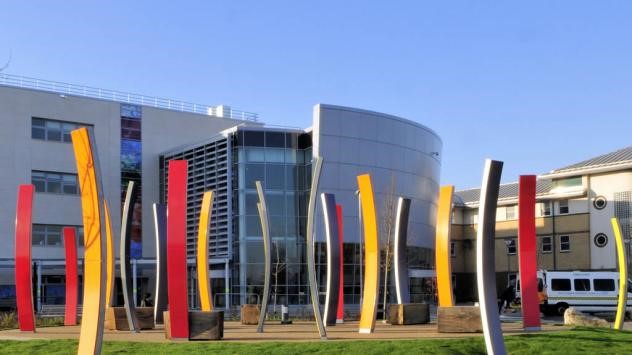 Hospital Profile
Broomfield Hospital is an 800 bed District General Hospital based in Chelmsford (Essex) and forms part of the Mid Essex Hospital Services NHS Trust. It provides elective and emergency healthcare to 380,000 people residing locally in Chelmsford, Maldon and Braintree. It also provides a regional service for Oesophago-Gastric, Burns/Plastics and Head & Neck surgery. The hospital has a strong reputation for surgical training in a range of sub-specialties for core level and higher surgical trainees.
Subspecialty training opportunities
UGI - Oesophago-Gastric cancer regional unit (4 consultants). Other training opportunities include laparoscopic CBD explorations, advanced hiatal hernias cases (including robotic), gastric pacemakers and advanced endoscopic therapeutics (HALO, EMR/ESD)
Colorectal - Colorectal cancer service (5 consultants). This department also performs robotic resections, advanced abdominal wall reconstruction and pelvic floor procedures.
Breast - Busy unit with advanced oculoplastic training opportunities. One of the busiest DIEP units in Europe.
Vascular - Established vascular unit (4 consultants) performing wide range of venous and arterial procedures. Also provide regional covers every Mondays along with rotating weekends. 
Established Surgical Trainers
Ms Gemma Conn, Mr Thomas Pearson, Mr Toby Hammond, Mr Shadad Siddiqi, Mr Venkatesh Jayanthi, Mr Cheuk Bong Tang, Mr Bruno Lorenzi, Mr Sri Kadirkamanathan, Mr Manfred Ramirez
SpR Rota information
4 NTN registrars and 7 non-NTN registrars
On call commitments include 12 hour day and night on call shifts with separate SEW (Surgical Emergency Ward) cover shifts
Rota manager/study leave contact
Sandra Sullman                    Telephone:     01245 516889                    Email:     Sandra.Sullman@meht.nhs.uk
Travel/geographical information
Address:     Court Road, Broomfield, Chelmsford, Essex, CM1 7ET
Switchboard:     01245 362000
On site parking available for staff with further Park & Ride 
Direct public transport links to mainline railway station from Chelmsford Train station (direct to London Liverpool Street)
Nearest motorway is M11 (Junction 8). Hospital is close to A131.