Hands-on simulation lab trains doctors in a stress-free environment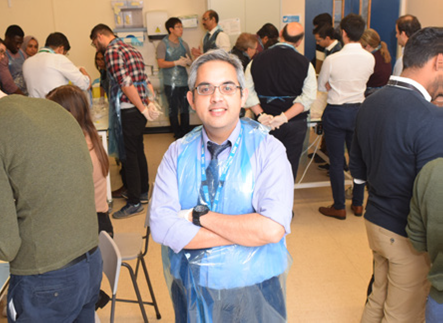 The Essex Cardiothoracic Centre (CTC) at Basildon Hospital is offering a free hands-on simulation programme for doctors across the country to practice complicated heart and lung operations.
The Essex Wet Lab Simulation Programme is one of the most comprehensive programmes in the country and gives doctors of all levels and specialities the opportunity to perform operations using tissue from animals such as pigs and sheep.
Senior clinical fellow in cardiothoracic surgery, Mr Muhammad Usman Shah (pictured, left), started the programme in January 2018, under supervision of unit training director, consultant cardiothoracic surgeon, Mr Arvind Singh. This programme has since evolved with each of the courses now accredited by The Royal College of Surgeons of Edinburgh.
Mr Muhammad Usman Shah said, "Bypass surgery is the most common operation that we perform in the CTC. This innovative programme is part of a series that provides in-depth teaching and a hands-on practical element that delegates can learn from in a simulated environment. The simulation takes stress out of the equation by giving doctors the chance to practice away from the operating theatre."
With every programme offering a different focus, delegates can obtain six CPD points when they attend, which is essential for revalidation and appraisals. For further information on upcoming programme details and dates please contact Mr Muhammad Usman Shah: Muhammad.Shah@btuh.nhs.uk
Health Education England, East of England endeavour to have three simulation trainee representatives working across secondary and primary care, supporting the simulation strategy and development of training across the region. 
Vacancies will be advertised here when available.
For further details of the role profile, please click here: https://heeoe.hee.nhs.uk/simulation/simulation-trainee-representatives
Programme: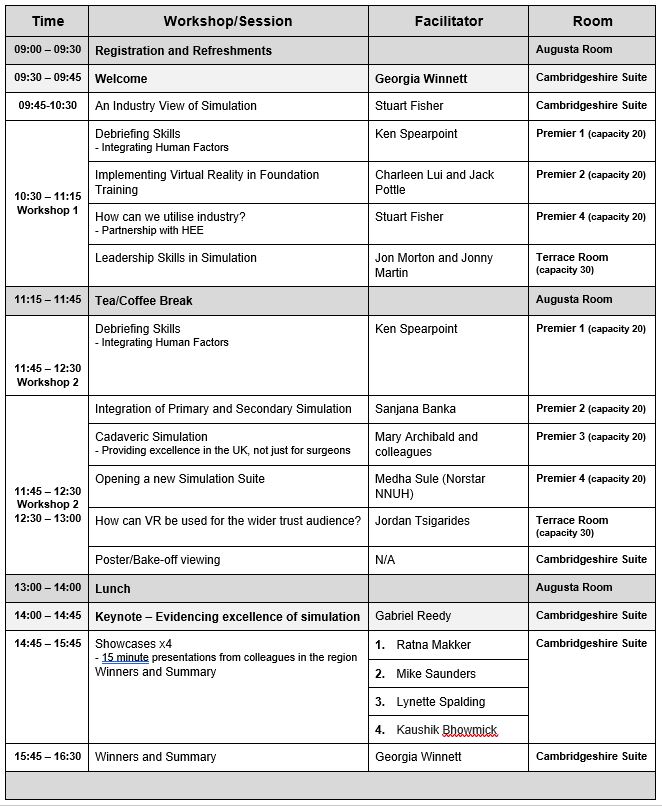 Details of the 2020 Networking Event will be posted on this website when available
Tuesday, 27 November, 2018
Show Between Dates:
Tuesday, 27 November, 2018