If you need to escalate a concern to HEE click
here
Quality Concerns Management Process
The Quality Concerns Management Process describes the process that will be followed for all education and training quality concerns across Midlands and East. The process is intended to ensure that there is a clear audit trail and evidence base, please see the flowchart for more details of the governance processes supporting this.
The Risk and Quality Oversight Panel will review all risks identified as scoring a risk assessment of 12 or above. The panel will provide a strategic review of all highlighted medical and non-medical quality concerns, providing a multi-professional and clinical perspective to risk assessment. It will recommend appropriate interventions, in conjunction with the advice from the 'originator' of the concern, necessary to better understand and mitigate risks in line with the national framework. The panel will provide assurance to the Post-Graduate Dean around progress with risk management activity and intervention where required. This panel will meet monthly with the ability for extraordinary meetings (actual/virtual) as required.
"Anyone can raise a concern through this process."

Core principle of the framework
Quality Framework Domains
Learning environment & culture

Educational governance and leadership

Supporting and empowering learners

Supporting and empowering educators

Developing and implementing curricula and assessments

Developing a sustainable workforce
For more information on the National Quality Framework and further detail on the domains and standards visit the HEE National website
---
Governance Process
There is a clearly defined process for the management of perceived low and high risk within the Midlands and East Quality and Commissioning Team. This approach aims to ensure:
A consistent and proportionate response to risk

A consistent application of the Quality Framework

A clearly identified mechanism for the reporting of risk.

Good governance with evidence based decision making and a clear audit trail
All identified risk will flow through this process. For more information please contact your local office team on qualityframework.eoe@hee.nhs.uk
---
HEE Risk Matrix
The HEE Corporate risk matrix supports the HEE Quality Cycle by determining the level of risk to education and training.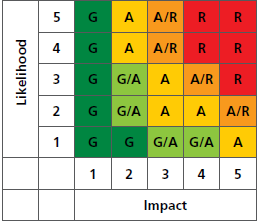 Senior leaders of HEE talk about the Quality Framework
Local governance processes
Enquiry and information gathering through local processes;
Review and monitoring of activities and outcomes through local forums (e.g. school/trust/programme meetings, clinical team meetings) with quality as a standing agenda item and meeting notes and actions recorded;
Discussions with learners at training days and ARCPs;
Investigation of concerns with relevant leads within the Clinical Learning Environment;
Discussions with appropriate personnel to establish risk and mitigations in place;
Low level exploratory meeting with learners/trainees and educators/mentors/trainers;
Monitoring of Improvement Plans and progress against actions put in place.
Quality Framework and Directors of Medical Education