Less Than Full Time Training (LTFT)
LTFT Pilot Extension (November 2019):
Trainees in Obstetrics & Gynaecology and Paediatrics programmes are now elegible to apply for LTFT under the expanded pilot project. Further information and application documents are available at the pilot page.
Please Note:
Health Education England, East of England (HEE, EoE) LTFT application and renewal processes is now on one form, the application for LTFT will remain until the trainee completes their training programme within the East of England, once approval has been granted.
The main change is that trainees applying for LTFT arrangements will no longer need to complete a Renewal form whenever they rotate to a new trust or practice. Trainees now only need complete a new form when they wish to change the amount of hours per week they wish to work (percentage) and slot share partner. 
Category 4 is only for Obstetrics and Gynaecology, Paediatrics and Emergency Medicine.
---
Introduction
Health Education England working across the east of England has a strong commitment to helping all doctors reach their full potential and to helping those with child-caring or other responsibilities or health problems, to continue training.
HEE fully endorses the principles set out in the Gold Guide.
Any trainee in a substantive HEE approved post can apply for less than full time training (LTFT) if they meet the eligibility criteria outlined in the FAQs below. If deemed eligible, LTFT arrangements will be accommodated as soon as practically possible.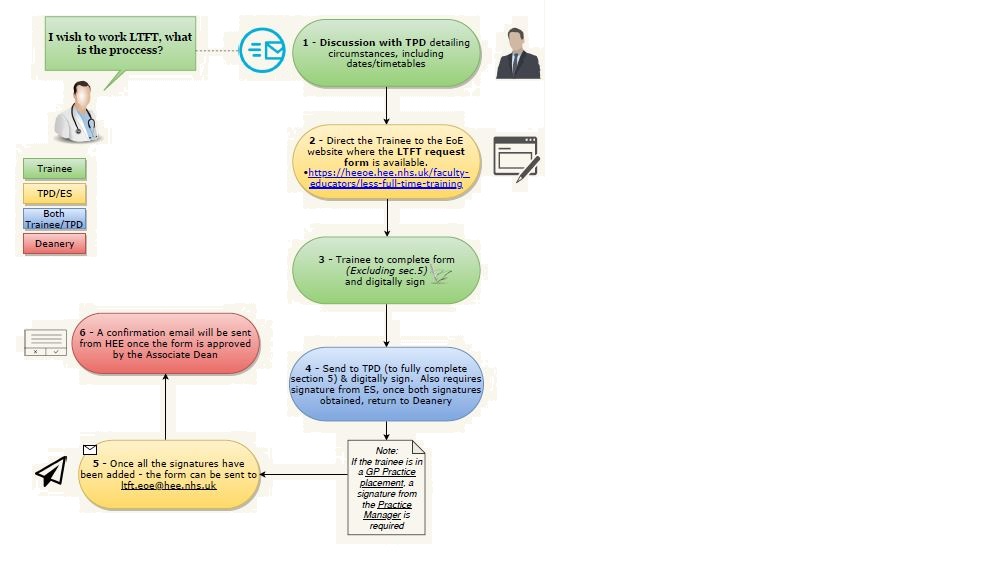 Applications
Important note: Please be reminded you are not permitted to commence training less than full time until you are in receipt of your fully approved Form 1 LTFT application.
Our fully electronic LTFT application form is available for you to use at the bottom of this page. Please ensure you save the form locally and open as a PDF with Adobe Acrobat or Adobe Reader before completing. Do not begin completing the form if it has opened as a webpage or in PDF Previewer, as this will disable the electronic signature fields and deem the form invalid.  Instructions for setting up a digital ID and additional assistance for Mac users are also available at the bottom of this page. As an organisation we are moving towards going paperless and appreciate your assistance with this. Please ensure you carefully read the instructions on page 1 of the LTFT application form prior to completion.
NHS Terms and Conditions handbook: https://www.nhsemployers.org/employershandbook/tchandbook/afc_tc_of_service_handbook_fb.pdf
Wednesday, 28 November, 2018
Show Between Dates:
Wednesday, 28 November, 2018