Less Than Full Time Training (LTFT)
HEE is committed to increasing flexibility in postgraduate medical training. As a part of HEE's work to Enhance Junior Doctors Working Lives several initiatives have been developed with partners to increase flexibility within Post Graduate Medical Education. Feedback from trainees indicate that many trainees would appreciate the opportunity to pursue a more flexible approach to their training.
Trainees may apply for LTFT under the following categories:
Category 1 (Responsibility for caring for children / Health related reasons /  Direct carer for ill/disabled partner, relative or dependent)
Category 2 (Unique opportunity for Professional development / Short term extraordinary responsibility  Religious commitment / Other)
Category 3 (Trainees who choose to train LTFT as a personal choice)
LTFT Cat 3 Expansion:
As part of the HEE medical education reform programme (MERP) to support the wellbeing of our trainees by offering greater flexibility, all trainees in existing training programmes at time of application would be able to apply for the lead in year of Category 3 LTFT for the training year beginning August 2021. . The revised offer is to help address trainee burnout, fatigue and to support our trainees so they are able to take time to recover from the pandemic and help them to restore work life balance.
This would not include trainees in the Foundation programme. The Foundation Programme trainees not eligible to apply would be able to enter the lead in year in August 2022. This is because of a need for further exploration with the GMC and other partners prior to implementation due to the very short time limited nature of the programme. 
12 weeks' notice has to be provided (that means the application has to be approved 12 weeks before the start date). Please note it can take up to four weeks to process your application, so please do not delay submitting your LTFT application form. 
Trainees can go LTFT for 4 months at 80% WTE over a 1 year period. The standard period is 4 months, however, provided there is agreement between the trainee, employer and HEE Local Office the short term LTFT offer can be extended and this may be appropriate to align with rotation dates. Although, trusts may permit 6 months. 
Trainee can access the latest and most updated information about Category 3 from the national webpage for LTFT Category 3 and Pilot Extension.
Please Note:
Health Education England, East of England (HEE, EoE) LTFT new application and renewal processes is on one form, the application for LTFT will remain until the trainee completes their training programme within the East of England, once approval has been granted.
Trainees only need complete a new form when they wish to change the amount of hours per week they wish to work (percentage) and obtain or change slot share partner. 
Introduction
Health Education England working across the east of England has a strong commitment to helping all doctors reach their full potential and to helping those with child-caring or other responsibilities or health problems, to continue training.
HEE fully endorses the principles set out in the Gold Guide.
Any trainee in a substantive HEE approved post can apply for less than full time training (LTFT) if they meet the eligibility criteria outlined in the FAQs below. If deemed eligible, LTFT arrangements will be accommodated as soon as practically possible.
Important note: Please be reminded you are not permitted to commence training less than full time until you are in receipt of your fully approved Form 1 LTFT application.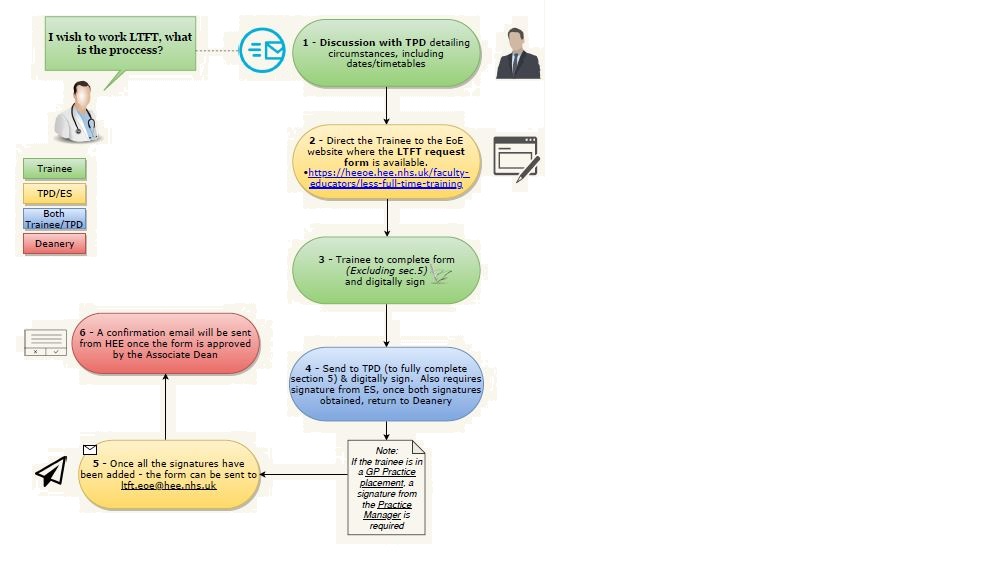 Please watch an animation on YouTube video which provides a trainees with a clear understanding around LTFT process:
Applications
Our fully electronic LTFT application form is available for you to use at the bottom of this page. Please ensure you save the form locally and open as a PDF with Adobe Acrobat or Adobe Reader before completing. Do not begin completing the form if it has opened as a webpage or in PDF Previewer, as this will disable the electronic signature fields and deem the form invalid. Please see a link to download Adobe Reeder Instructions for setting up a digital ID and additional assistance for Mac users are also available at the bottom of this page. As an organisation we are moving towards going paperless and appreciate your assistance with this. Please ensure you carefully read the instructions on page 1 of the LTFT application form prior to completion.
NHS Terms and Conditions handbook: https://www.nhsemployers.org/employershandbook/tchandbook/afc_tc_of_service_handbook_fb.pdf
Wednesday, 28 November, 2018
Show Between Dates:
Wednesday, 28 November, 2018