Mentoring is a transformational process that seeks to help individuals develop and use their knowledge to improve themselves on an ongoing basis.
THE GOOD MENTORING TOOLKIT FOR HEALTHCARE (2004)
Our vision is that mentoring is available to all trainees, regardless of speciality, locality, or grade, enabling them to reach their full potential.
Mentoring enables the exploration of needs, motivations, desires, skills, and thought processes to assist a mentee in making lasting change in a supportive and non-judgemental environment.
We have just launched a NEW regional mentoring scheme with Emergency Medicine, General Surgery and Public Health in May 2022. Check out our list of current schemes for details on how to sign up!
If you have any queries please feel free to email us here: mentoring.eoe@hee.nhs.uk - we are more than happy to hear from you!
---
What do we offer?
NEW Regional Mentoring Schemes - We are currently launching the next round of recruitment for Mentoring schemes for Paediatrics, Obstetrics and Gynaecology and General Surgery.
This follows our successful launch of schemes across these specialties alongside Public Health and Haematology in 2022. Our schemes include mentoring training and support sessions for trouble shooting. 
It is available to both mentors and mentees and the registration deadline is 31st October 2022.
Check out our list of current schemes for details on how to sign up! 
We hope to extend this to more training programs in the future, so watch this space! 
Mentoring Training - We've just launched our 'Mentoring Masterclass'. This 30minute online video provides current and prospective mentors with the fundamentals of providing effective mentoring and setting up a programme. 
Co-delivering mentorship training - If you are keen to provide your own mentorship training for your scheme we are very happy to co-deliver this with you. Please get in touch! mentoring.eoe@hee.nhs.uk
Facilitate networking - We are very happy to put you in contact with others interested in mentoring within your area and/or specialty. First, please check out our list of current schemes.
Help and guidance on running / maintaining a Mentoring Scheme - We are very happy to provide support in setting up a mentoring scheme in your area/specialty. If your scheme is already up and running but you would like further advice and support, please get in contact.
Sharing great work - Let us know about your progress and successes, we are very happy to share your great work and resources!
Unfortunately, at this time we are unable to provide:
Administrative Support
Centrally-delivered mentorship
Funding
---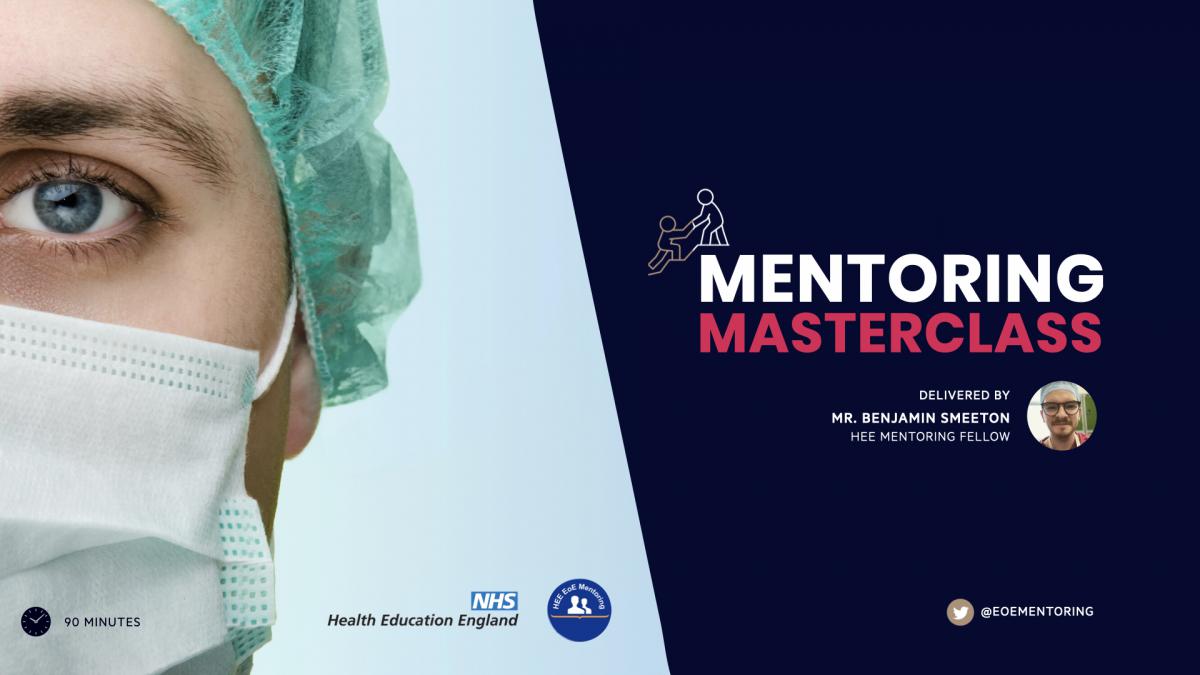 After launching in early August we have successfully delivered training to over 100 doctors within the deanery. We have creating a 30 minute video to summarise the workshop:
What is Mentorship? - The basics of Mentoring
Skills & Qualities - What are the skills and qualities needed?
The Mentoring Relationship - What are the principles of the relationship?
Pitfalls & Dilemmas - What can go wrong and how to prevent it.
Models for Mentoring - Exploring different models for mentoring.
Moving Forwards - Setting up a scheme and putting it into practice.
If you'd like to access the Mentoring Masterclass, details can be found here.
For more information please contact Mentoring.eoe@hee.nhs.uk
You can also follow us on Twitter @eoementoring
Friday, 23 November, 2018
Show Between Dates:
Friday, 23 November, 2018