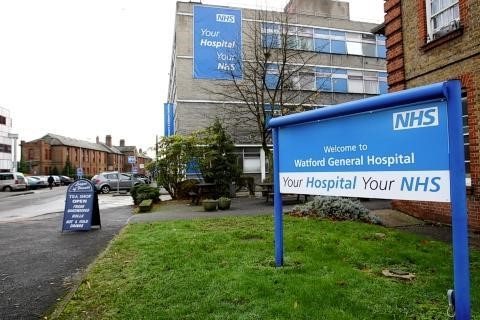 Hospital Profile
The West Hertfordshire Hospitals NHS Trust comprises of one acute site (Watford General Hospital – 521 acute beds) and two satellite hospitals primarily used for day-case or short stay elective procedures, outpatient procedures and rehabilitation. The Trust serves a population of just over half a million and is overall a busy surgical unit.
Subspecialty training opportunities
UGI - Hiatus hernia, fundoplication, Heller's myotomy, laparoscopic cholecystectomy, laparoscopic hernia repair and CBD exploration (2 Consultants)
Colorectal - Colorectal cancer service (5 consultants). Majority of the work is colorectal cancer and Inflammatory Bowel Disease. Large volume of major resections performed a year.
Breast - Busy breast unit performing a variety of breast/axillary procedures, the Breast team also contributes to the on-call rota
Vascular - Established vascular unit (4 consultants) performing wide range of venous and arterial procedures including carotid, aortic, bypass, EVAR and venous work.
Established Surgical Trainers
Mr Atif Alvi, Mr James Arbuckle, Mr Tahir Bhatti, Mr Drost Cheetham, Mr James Hollingshead, Mr Sanjeev Sarin, Mr Simon Thomson
SpR Rota information
7 NTN registrars and 6 non-NTN registrars
On call commitments include 12-hour day and night on call shifts. The day on calls are split into 2-2-3 pattern, i.e. Monday-Tuesday, Wednesday-Thursday and Friday-Sunday. Night on-calls are a 4-3 split (Monday-Thursday and Friday-Sunday). On-calls are generally high volume and busy, the trust is routinely in the top 10% nationally for the number of emergency laparotomies performed. During the week day the on-call team comprises of an 'On-Take' consultant, an Emergency Surgical Assessment Unit (ESAU) consultant, a separated NCEPOD consultant, a surgical registrar, a surgical FY2/Trust grade SHO and two surgical FY1s.
Rota manager/Annual & study leave contact
Julie Baines                              Telephone:     01923 217 397                                Email:     julie.baines@whht.nhs.uk
Travel/geographical information
Address:     Vicarage Road, Watford, Hertfordshire, WD18 0HB
Switchboard:     01923 244 366
On site parking available for staff
There are established transport links from London and nearby satellite towns. Watford has both an underground and a national rail station.
Nearest motorway is M1 (Junction 5).