Addenbrooke's Hospital
The Addenbrooke's site is one of the few biomedical research centres in the UK and provides a tertiary service for a number of specialties. The campus is expanding and has good public transport links. Cambridge is a vibrant and exciting place to live and is easily accessible to and from London.​​
All trainees who have a specialty attachment that includes contribution to the acute take have a dedicated training week per 6 month rotation. The aims of this week are to facilitate clinic attendance, procedural experience and in the last 6 months of training, to prepare trainees for their future higher specialty posts.
We provide a programme of evening PACES tutorials to correspond with each PACES diet. These programmes begin approximately 3-4 weeks prior to the commencement of each diet and last for approximately 4 weeks. We run a Mock PACES course in the last week of every January that is open to all trainees in the East of England. We have had PACES pass rates that are consistently well above the national average in recent years. In the September-November 2018 diet, all 17 of our CMTs doing PACES passed - a 100% pass rate as compared to the 55% pass rate nationwide.
CMTs have at least 2 hours of dedicated teaching a week. On Wednesday morning, there is a very popular and well-received "Hot Case" session where trainees work on their diagnostic reasoning and presentation skills. On Thursday lunchtimes, there is dedicated more traditional teaching centred around the CMT/GIM curriculum. On the first Tuesday evening of every month, we stream the RCP Teach In sessions from Regent's Park to the Trust. At Wednesday lunchtime, the hospital staff rounds takes place.
For the last number of  years, we have had a CMT Trainee Committee consisting of 5-10 members each year led by the College Tutor and Associate College Tutors. Establishment of the committee has been a major factor in maintaining and driving the quality of the CMT and GIM programme in the Trust and regionally.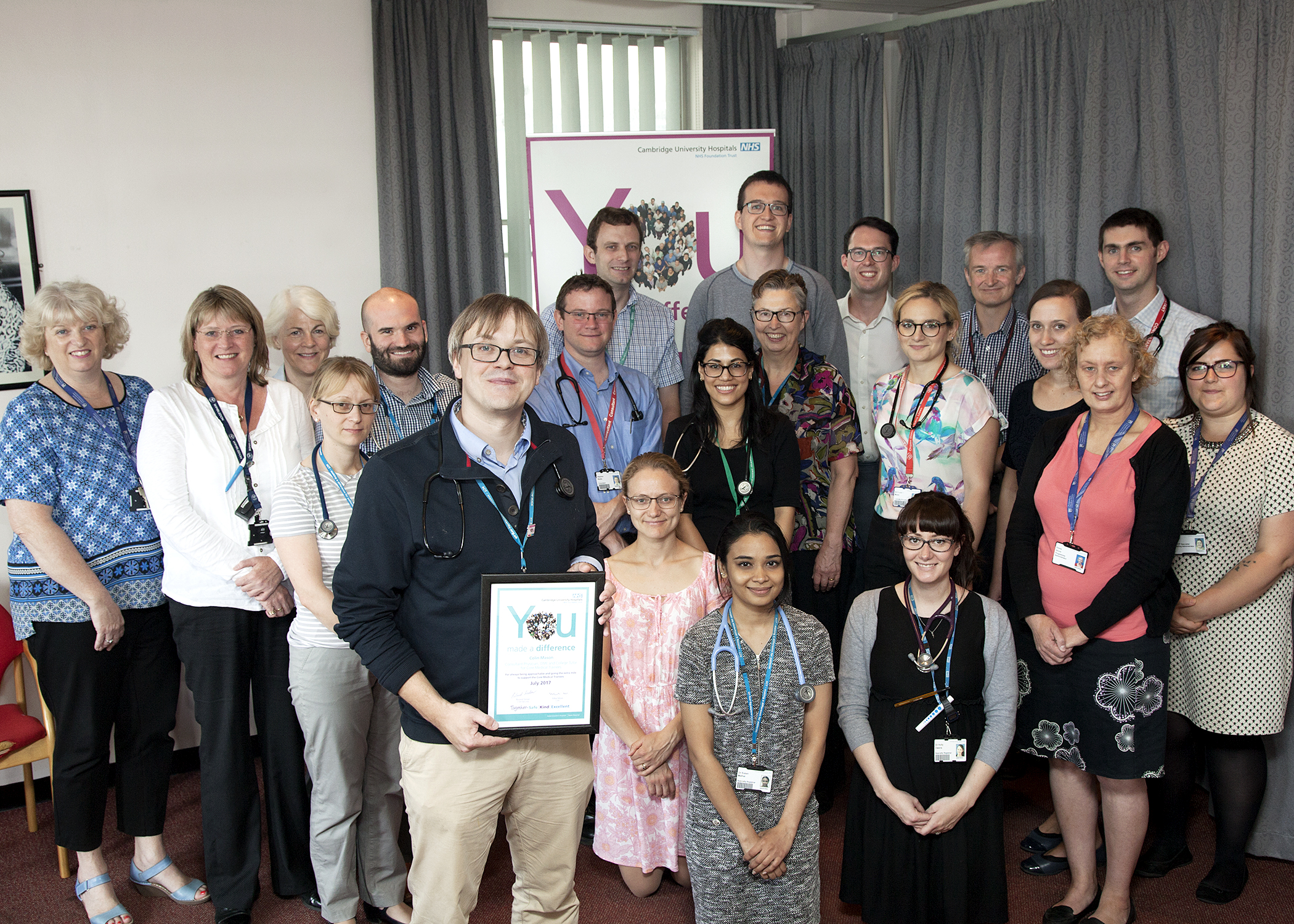 Almost all of the ascitic drains and pleural aspirations are performed by dedicated teams at Addenbrooke's. These services can be contacted directly to arrange experience who are usually very willing to accommodate trainees.
Procedural courses can be booked on the deanery website and will be advertised locally by the clinical school and deanery administrators.
Trainees who rotate through Addenbrooke's generally spend at least 12-16 months in the Trust. The majority of trainees have the remaining 8-12 months in nearby Trusts such as West Suffolk, Hinchinbrooke and Papworth Hospitals that are all relatively easily commutable from one another. Rotations include attachments to all of the major specialties and several specialties not available elsewhere including Infectious Diseases, Transplant, Neurology, Haematology and Oncology. 
All trainees need a QIP project plan, QIP report and QIP assessment tool (QIPAT)  evidenced in their eportfolio prior to each annual ARCP. QIPs require multiple measurements of (usually simple) data at regular intervals so should require at least 4 months to be performed properly. Projects should be small and can involve multiple trainees and can be carried over across rotations between trainees. The aim should be to improve quality of patient care but other options e.g. improvements in education are more than acceptable. Ideal areas of focus are those with easily measureable outcomes – e.g. content of discharge summaries, reduction in waiting times, reduction in unnecessary investigations, reduction in unnecessary catheterisations and so on. Targets should be set and run charts of repeated data analysis (ideally every 6 to 8 weeks) should be generated.  The best QIPs will have the chance to be presented to your peers at the regional training day every June. See the links on the HEEoE website for previous CMT QI Projects. https://heeoe.hee.nhs.uk/node/3610
Driven by the CMT committee, there is an ongoing project within the Trust whereby CMTs are offered the opportunity of voluntarily acting up as medical registrar during weekday shifts in the ED during the last 6 months of their CMT2 year.
We aim to provide an interview course every year free of charge to our trainees who are applying for Higher Specialty Training at the end of their CMT programme. This course generally takes place in early March just before Round 1 recruitment begins.
Wednesday, 12 December, 2018
Show Between Dates:
Wednesday, 12 December, 2018