Health Education England, working across the East of England:
Clinical Immunology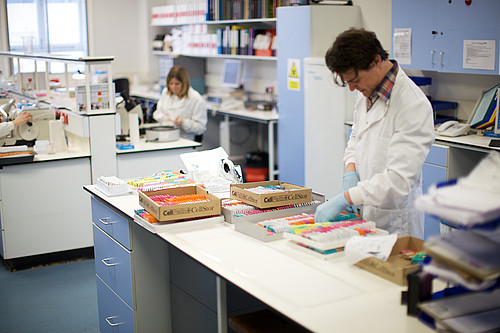 Immunology is a clinical and laboratory specialty concerned with the diagnosis and management of patients with diseases of the immune system. 
The specialty is still in a phase of expansion and is unique in that it is underpinned by a knowledge base of fundamental immunology arising from research carried out in biomedical institutes throughout the world. This fundamental Immunology provides a constant stream of new knowledge from which novel diagnostic tests and therapies eventually emerge for use in clinical practice.
Work patterns and clinical responsibilities of career grade immunologists
Immunopathologists spend about half their time running immunology laboratories in teaching hospital. On average one third of their time is spent looking after patients with immunological diseases usually in out patient or day case sessions and the remainder of their time on clinical research and development.
Immunologists medically direct regional reference laboratories and may have some supervisory responsibilities for smaller satellite immunology laboratories in district general hospitals in the same region as the teaching hospital. Much of their time is spent giving advice to other clinicians and GPs about the diagnosis, treatment and monitoring of patients with immunological diseases and interpreting the results of tests carried out in the reference laboratory. Immunologists often deal with complex cases, which need to be well worked up and require in-depth knowledge of the principles of Immunology.
In out patient clinics immunologists see their own patients with a range of immunity deficiency, autoimmune and allergic diseases. Many patients have chronic relapsing diseases, which require long-term follow up and laboratory monitoring. There are exciting opportunities to use novel immuno-modulatory therapies, for example, monoclonal anti-cytokine or anti-cytokine receptor antibodies and other targeted immunosuppressive agents in clinical trials.
Continuous life-long learning is one of the most stimulating aspects of a career in Immunology. Trainees and consultants are expected to attend Royal College of Pathologists and Royal Society of Medicine symposia and conferences, to attend supraregional clinical audit and patient-centred meetings and are encouraged to travel to international immunological meetings. This contact with the latest developments in fundamental and clinically applied immunology enables immunologists to develop their own special areas of research and clinical expertise
The Immunology training programme is based at the Addenbrooke's Hospital. There is a strong interest in immunological aspects of human disease spanning a number of clinical departments for example, Rheumatology, Respiratory Medicine, Nephrology, Surgery (organ transplantation) and Infectious Diseases.  This makes Addenbrooke's one of the best centres for training in Clinical Immunology in the UK. The Wellcome Trust/MRC centre for Molecular Mechanisms in disease, which is also based on the Addenbrooke's campus, provides an opportunity for trainees to be exposed to world–class research into basic and applied Immunology.
Almost all StR posts in the UK are based in regional immunology reference laboratories located in teaching hospitals. There are also good opportunities to take up short secondments in related specialist services in the hospital, for example,  rheumatology, histocompatibility and immunogenetics laboratories or to special centres, (for example paediatric bone marrow transplantation units). There are excellent opportunities for research. The five year training programme is run jointly by the RCP and RC Path under the direction of a Joint Royal Colleges Physicians Training Board (JRCPTB) in Immunology. The curriculum and assessment blueprint for immunology is published by JRCPTB and is annually updated.
Completion of the curriculum leads to the Part 1 and Part 2 examinations for the Fellowship of the Royal College of Pathologists (FRCPath) (See Royal College of Pathologists Website).
Successful completion of the training programme and FRCPath leads to the award of a CCT in Immunology and the opportunity to seek an appointment as a consultant clinical immunologist.
Keeping up to date with advances in immunology is particularly important throughout the career of a clinical immunologist
Intellectual and scientific curiosity
Good multi-disciplinary team working
Good oral and written communication skills
Familiarity with word processing, preparation of audio-visual material and use of electronic data bases