Training rotations are planned by the Training Programme Director in partnership with trainees with the aim of providing a balance between certainty and flexibility that accommodates training requirements, individual ambitions, and personal preferences. We aim to plan and agree training placements for the following year as early as possible to support & enable our trainees to plan their lives.
Rotations will generally be spent in one of 3 training clusters in placements of 1-2 years that provide a balance of teaching hospital and district general hospital experience.  Having rotations in clusters reduces commute times, removes insecurity of potentially having to move across the deanery and allows our trainees to settle in one area (if they wish). If trainees want to move between clusters that can also be supported in discussions with the Training Program Director.
North: Norfolk and Norwich, James Paget, King's Lynn
Centre: Addenbrooke's, Lister, Hinchingbrooke, Peterborough
South: Basildon, Broomfield, Ipswich
Trainees interested in applying for AIM training in the East of England, or for trainees already in programme who wish to discuss career or personal factors impacting their placements, should contact Dr Adcock, Training Programme Director, in the first instance.
Trust
Number of posts
Cardiology
Elderly care
Intensive care
Respiratory
Centre cluster
 
 

Addenbrookes hospital, Cambridge

4
Yes
Yes
Yes
Yes
Lister hospital, Stevenage
4
Yes
 
Yes
Yes
Peterborough hospital
1
 
Yes
 
Yes
Hinchingbrooke hospital, Huntingdon
1
 
Yes
 

Yes

South cluster
 
Basildon hospital
2
Yes
Yes
Yes
Yes
Broomfield hospital, Chelmsford
2
 
Yes
Yes
Yes
Ipswich hospital
3
 
Yes
 
Yes
North cluster
 
 
 
 
 
Norfolk and Norwich hospital
5
Yes
 
Yes
Yes
Queen Elizabeth hospital, King's Lynn
3
Yes
Yes
Yes
 
James Paget Hospital, Great Yarmouth
2
Yes
 
Yes
Yes
Acute Medicine Unit – Addenbrooke's (Cambridge University) NHS Foundation Trust
Acute Care Hub (EAU4 and EAU5)
Situated above the emergency department, the two short-stay wards constitute our Acute Care Hub. These provide care for short-stay patients and during the initial acute phase of an admission. Patients are referred from the emergency department. Medical senior review is being carried out on these wards. Both wards have a dedicated consultant lead on a rotational basis. On EAU 4 the expected length of stay is <24 hours, on EAU5 < 72 hours. Excellent support is provided by allied professionals, as well as various clinical specialities. Daily multidisciplinary team meetings facilitate patient care and discharge planning. This is an excellent environment for trainees to gain the essential skills for the running of an Acute Medical Unit.
Outliers
A dedicated consultant led team looks after outlying patients under acute medicine. These are largely based on wards K3/CCU which are shared with cardiology. CCU acts like in most trust, as the medical high dependency unit. Trainees therefore get exposed to a wide range of acutely unwell patients and gain transferable skills in their management.
Emergency Department
Addenbrooke's does not operate a conventional medical assessment unit. The medical take team is based in the emergency department where we work alongside emergency physicians. From there patients are discharged, referred to ambulatory or urgent outpatient pathways or admitted to relevant ward and specialty care. A significant proportion of the medical take is transferred to the Acute Care Hub run by acute medicine and geriatrics. A medical consultant is usually present in the emergency department between 9am and 10pm. During the 5pm and 10pm two medical consultants are on site. This helps provide senior input and guidance. The well supported environment provides an excellent learning opportunity for doctors in the transition period between CMT and higher medical training. It also allows more senior clinical decision makers to discuss complex clinical cases.
Ambulatory Care (EAU3) & Follow-up Clinics
Acute Medicine runs an Ambulatory Care Unit (EAU3). The unit is located above the emergency department and focuses on admission avoidance. A consultant is present between 9am and 5pm, a middle grade doctor between 12pm and 8pm. Pathways have been developed for the management of conditions such as suspected pulmonary embolism, cellulitis, syncope, atrial tachycardia, sub-acute diabetes, low risk upper gastro-intestinal bleeds, COPD, asthma, anaemia, ischaemic chest pain.
The Ambulatory Care Unit takes referrals from the Emergency Department and directly from GPs via a GP liaison service.  The unit is supported by dedicated nursing staff and direct access to a comprehensive range of investigative and diagnostic modalities. Ambulatory clinics are run jointly by a Consultant and trainee doctor, thereby offering excellent learning opportunities and gain all competencies needs for ambulatory care sign off on the JRCPTB curriculum
We also provide a Friday morning General Medical follow-up Clinic.
As a department we are lucky to have consultants with a wide variety of specialities who would be happy to help facilitate a particular interest and access to specialist clinics.
Lister Hospital is a 730 bedded busy hospital in Stevenage Hertfordshire and southern Bedfordshire that provides general and specialist hospital services for people in our catchment area. With ENT, Plastics, Urology, Maternity, Renal, and Stroke services on site providing a diverse and well rounded training opportunity.
Acute Medicine
Situated next to the ED the acute medicine department consists of an Acute Medical Unit and a Short Stay Ward.   The ambulatory care unit is situated further along the corridor to allow ease of access for patients and their carers.
The AMU accepts patients via the Liaison team who are referred from the Emergency Department, General Practice, Community Specialists and Outpatient clinics for formal medical assessment, senior decision making and formal PTWRs.   Patients are then transferred to the appropriate ward aided by the senior site managers and service co-ordinators to ensure right place, right person, first time.   The maximum length of stay within the AMU areas is 24hours, with the Short Stay Unit accepting patients whose predicted length of stay is less than 72hours.
The Acute Medical Team is busy but well staffed, with plenty of training opportunities with a high turnover of patients and lots of patients being admitted through the service, if someone wants to be involved with training, management, leadership, Lister is a perfect place to train and develop as a doctor. Due to the high numbers of patients registrars will be immediately an essential part of the team organising junior teams, training junior trainees, and leading their own ward rounds of patients.
Ambulatory Care has been running since 2009 and sees patients directly from GPs, inreach to the Emergency Department, Early Supported Discharge patients from the wards and supports the management of patients in the community by means of the OPAT service and medical day unit (supporting procedures such as ascitic drains, LPs, pleural aspirations, blood transfusion and other infusions).  It has dedicated staff including a consultant and associate specialist (8am-5pm), 1 registrar (830am-8pm all GIM registrars rotate through the service to learn valuable skills in the OP management of patients), 1 GPVTS trainee (830am-5pm), 1 twilight IMT (12pm-8pm) and fully established nursing team, including EMTs and ERME certified nurses (8am-8pm).   Our acute medicine ANP also rotates through the ambulatory care, with a contracted GP also supporting the service 2 days a week until 7pm.
We also provide a formal general medicine follow-up clinic on Monday afternoons supervised by an additional consultant
Specialties Offered
Within rotation at the Lister we offer rotations in ITU, Respiratory and Cardiology (with dedicated clinical supervisors) - fulfilling the 4 month requirements for the curriculum.
We have previously trained acute medicine registrars in bronchoscopy, echocardiography and hope to also establish Diabetes specialty skill within the next year.
AIM trainees are provided in our unit with their weekly afternoon specialist skill session upon arrangement with their Educational Supervisor at induction and  an afternoon CPD/administration time in addition.
This page is awaiting editing
James Paget University Hospital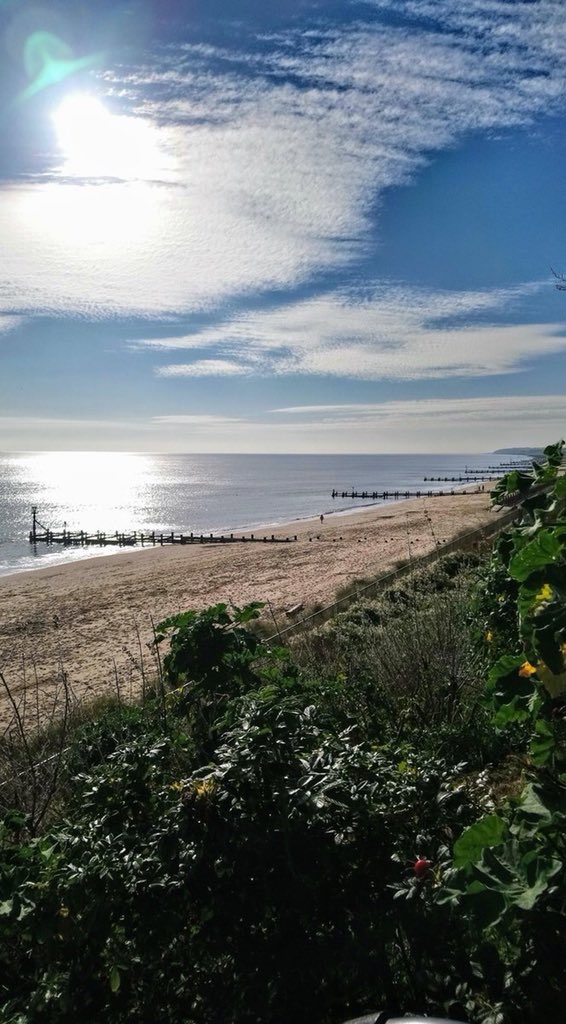 James Paget University Hospital is an approximately 500 bedded hospital located in Gorleston near Great Yarmouth and provides comprehensive acute care for the population of Great Yarmouth, Lowestoft and the South Waveney area and for many visitors to the area. 
The hospital is a stone's throw from the beautiful Gorleston beach (pictured).
Higher medical training at James Paget University hospital involves training in 3 main areas: the Acute medical unit (called EADU), Ambulatory care and the short stay ward.
EADU (Acute Medical Unit)
The EADU was opened in 2005 with a view to restructure the way all emergency admissions were managed.  The main purpose of the Unit was and is to improve patient care, reduce unnecessary delays, accelerate decision-making, and enhance early discharge. We are currently in the process of redeveloping the unit in order to improve front-door services.
It is a 30-34 bedded complex consisting of:
Three six bed level 1 care bays (18 beds)
Four single bed on-suite side rooms (4 beds)
Two, four bed level 1+ Acute Care Bays (8 beds)
Geographical proximity with the Emergency Department allows a close working relationship with this clinical area. The average number of medical admissions per day is 30. The admitting team consists of an FY1 doctor, one ACCS/CMT trainee and a Specialty Registrar.  The unit has its own Clinical Support Assistants (CSAs) and is supported by Specialist Nurses. Throughout the day, there is continuous senior medical presence on the Unit.
The unit has priority access to radiological and laboratory investigations.  The PACS system is accessible within the EADU enabling the recall of all existing radiological images for any given patient. EADU has its own tailored electronic ward board to assist with flow through the unit. The intranet provides a wide range of guidelines, contact numbers and other useful resources.
EADU services are fully equipped to support the management of patients on Level 1+ care; including the use of NIV, CPAP, high flow nasal oxygen (OptiflowTM), central venous catheters and chest and abdominal drain devices.
EADU has its own point-of-care ultrasound device (Phillips Sparq) which aids early diagnosis and safe procedures.
The James Paget University Hospital operates a 'Hospital at Night' team, the aim of which is to provide a safe and supported framework to optimise patient care and junior doctor supervision. The Hospital at Night team relies on generic working of team members. This means that a team of doctors and nurses will have appropriate skills as a whole to manage all problems arising overnight.  Hospital at Night covers six specialties: Medicine, Surgery, Urology, Orthopaedics, ENT and Obstetrics & Gynaecology. The EADU takes a central role in the Hospital at Night Programme.
The unit is also a very important area for the teaching, training and assessment of Junior Doctors as well as an important area for the teaching and training of Medical Students and other staff.
Ambulatory Unit (AmbU):
The Ambulatory Unit (within EADU) was established in 2014 and moved into a bespoke unit in 2015. The success of this unit has led the trust to invest over £1 million pounds into the development and expansion of this unit to allow more patients to be assessed and treated without admission. This new expanded unit was opened in September 2018. The ambulatory unit has a clinical notes system called Patientsource which aids documentation and the production of discharge summaries.
We utilise point-of-care testing to enable rapid turnaround. The unit is supported by Nurse Practitioners, Clinical Support Assistants and physician associates. The current average length of stay is 120 minutes.
Through ambulatory we run an outpatient intravenous antibiotic service which is facilitated by the use of midlines. This unit has its own ultrasound machine to aid diagnosis and facilitate the insertion of midlines.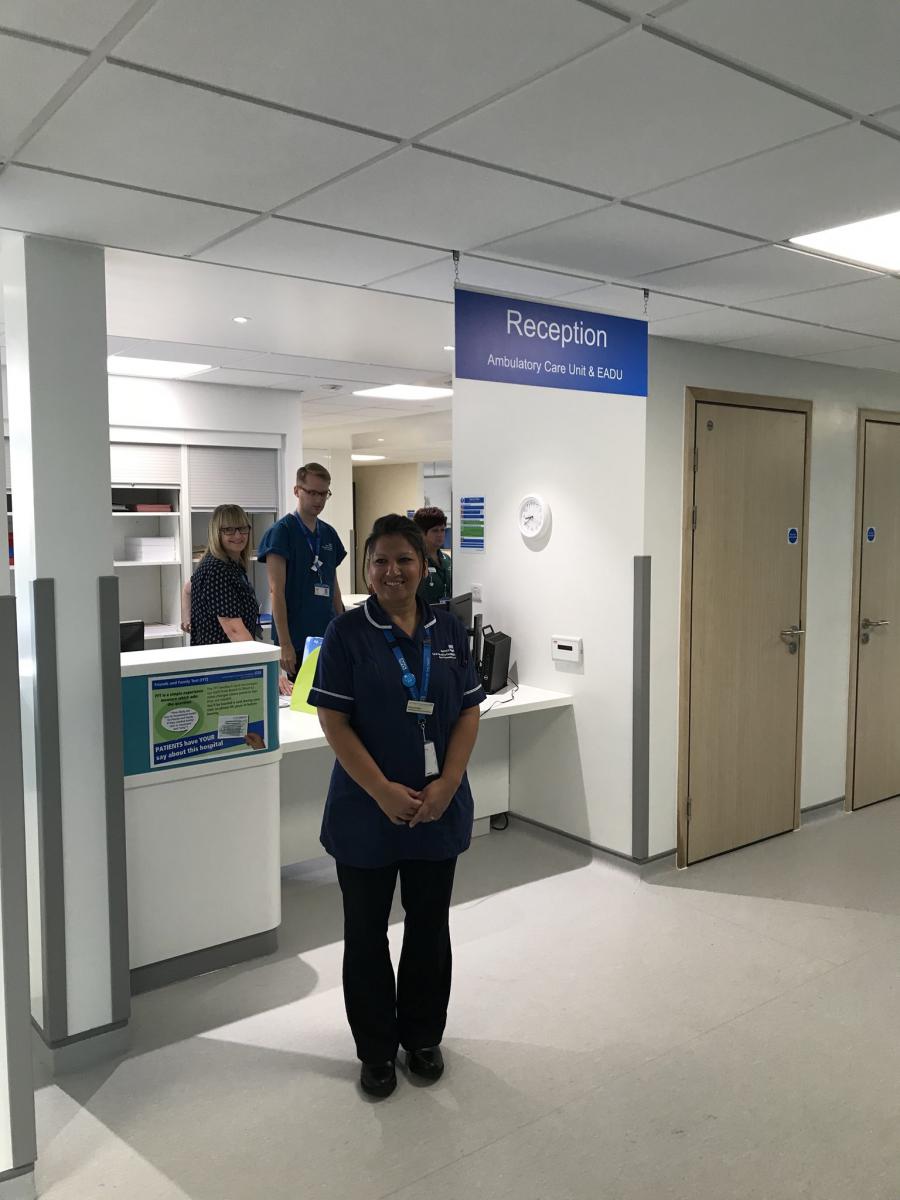 It provides a rich learning environment for SpRs and CMTs who are supervised by consultants.
Short stay Unit 
The short stay unit (ward 16) is closely located to the admissions unit (EADU) and the ambulatory unit and looks after patients whose expected length of stay is less than 5 days. The short stay unit is led by Dr Jo Randall and Dr Al Green, Dr Anna Blackburn and Dr Dom Giles do 2 week blocks in rotation. 
We are able to accommodate the following specialty attachments at James Paget University Hospital:
Respiratory:
We offer a 4 month secondment where the acute medicine works on the respiratory ward as the respiratory registrar. They attend clinic at least once weekly. They also attend and take part in the pleural procedures clinic. They attend the lung MDT and can attend bronchoscopy sessions. They will be supervised by a respiratory physician.
Cardiology:
We offer a 4 month secondment to cardiology where they attend the acute cardiac unit ward rounds together with working on the cardiology ward. They attend cardiology ward rounds and can get experience of echocardiography with the echo technicians. They see transoesophageal echocardiography and perform cardioversions. They also have the opportunity to see angiography and pacemaker insertions at NNUH. They will be supervised by a cardiologist.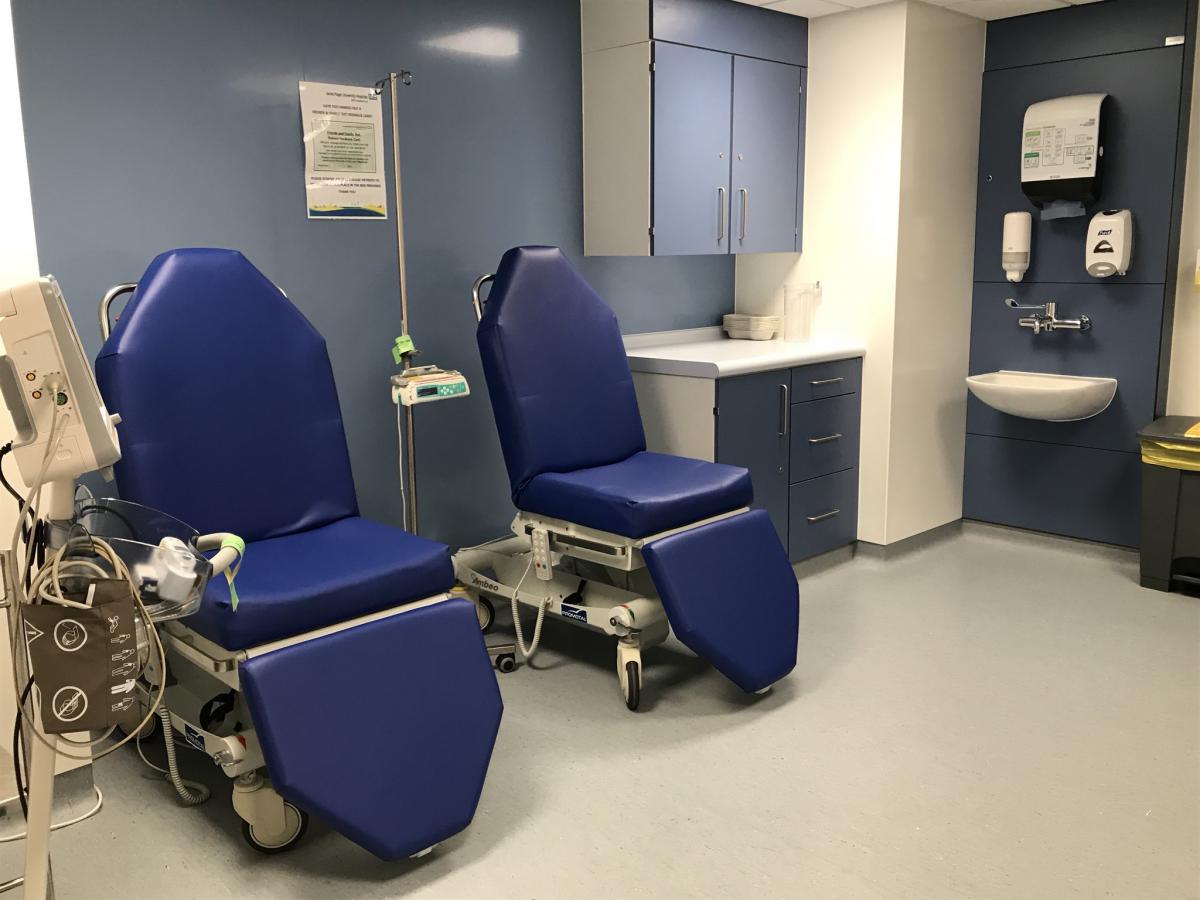 Elderly care:
We are able to offer 4 month secondments to Elderly care where they work on the frailty ward and take part in MDT meetings.
ITU
We offer a 4 month supernumerary secondment to intensive care where they get exposed to all aspects of intensive care medicine, including selection for intensive care, use of inotropes and ventilation as well as the utility of bedside echocardiography and cardiac output monitoring in the management of the critically ill.
Speciality skills offered
Ultrasound and Echocardiography: Dr Stosic will supervise trainees. He is an accredited FICE and FAMUS mentor. We have 2 ultrasound machines available on the acute medical unit. Paul Babu is a level 2 accredited thoracic ultrasound. The trainees can attend training with ultrasongraphers. They will have a session a week to pursue their specialist skill. We have previous trainees who have completed their training at James Paget University Hospital.
Education: Emily Russell and Josip Stosic have postgraduate diplomas in medical education and are happy to supervise trainees in medical education. The trainees would be expected to enrol in at least a postgraduate diploma in medical education and experience and project work can be provided in medical simulation or undergraduate education. They will have a session a week to pursue their specialist skill.
Diabetes: Dr Green will supervise trainees doing diabetes as a specialist skill. They will come to diabetes clinic weekly and then see ward referrals for diabetes. They will be encouraged to sit in with the diabetes specialist nurses and attend a DAFNE course. We have had previous trainees who have obtained their specialist skill in Diabetes whilst at James Paget Hospital.
Bronchoscopy: bonchoscopy as a specialist skill could be offered at James Paget under the supervision of Paul Babu. They will have a session a week to pursue their specialist skill.
Upper GI endoscopy: Dr Josip Stosic is a JAG accredited upper GI endoscopist and could supervise trainees doing upper GI endoscopy. Josip Stosic does an upper GI endoscopy list a week so there is ample opportunity to practice this skill. They will have a session a week to pursue their specialist skill.
Stroke: we can't offer stroke training as stroke training can only be offered as an OOPE in the accredited areas in the region such as Norwich, Cambridge, Southend and Bedford. We can however offer a day a week specialist skill experience to those who have completed this OOPE training to maintain/extend their skills in stroke.
Intensive care:  We can offer stage 1 ICM training to trainees who want to dual accredit in ICM and AIM. Stage 2 training needs to be performed in another centre as it requires paeds, neuro, and cardio ICM, but we can also provide stage 3 ICM training.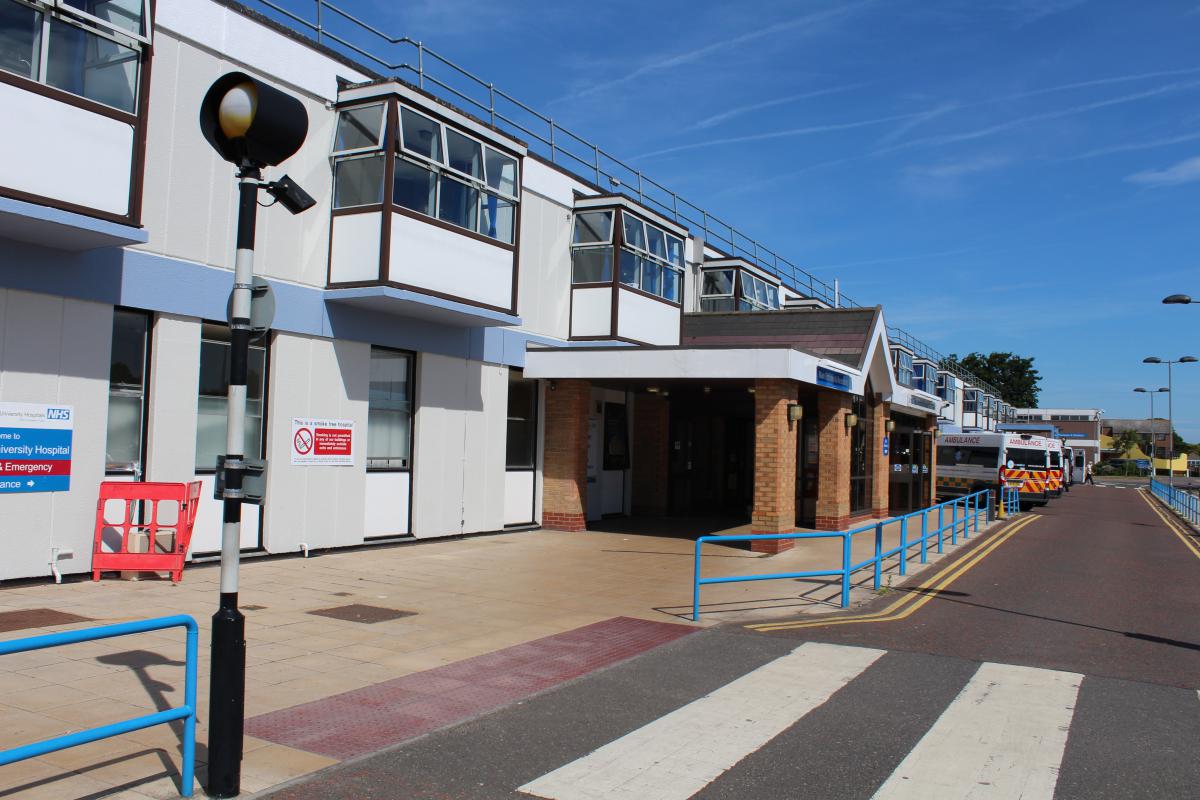 Overview
James Paget University Hospital is a small friendly hospital with a cohesive acute medicine team. Registars are well supported and get broad experience in acute medicine in the defined area of EADU, AmbU and the short stay ward. There is extensive opportunity to do speciality attachments and speciality skills. Feedback from previous trainees has been very positive.
Out of work there is easy access to beautiful beaches, the Norfolk broads and only 30mins away from all the amenities in Norwich.
Hinchingbrooke Hospital.
Hinchingbrooke Hospital is a 304-bed district general hospital located at Hinchingbrooke Park in Huntingdon. It is past of North West Anglia NHS Trust along with Peterborough City Hospital. 
The Acute Assessment Unit has 23 beds for medical patients. There is an Ambulatory Care unit that sees 30 patients per day. The Acute Medical take is approximately 25 patients in 24 hours. There is also a 30 bedded Medical Short Stay ward for Acute Medicine patients. 
There are 7 whole and part time consultants in Acute Medicine and 1 Locum consultant who contribute to the care on the Acute Assessment Unit and the Medical Short Stay Unit.
The Ambulatory Care Unit is a new bespoke area where there are a Specialty Doctor, 3 Physician Associates and 2 Advanced Nurse Pracitioners who work providing care from direct referral from ED, GP's, OPAT and ward follow ups. 
There is one Acute Medicine registrar post in the hospital who contributes to the running of all areas of the Acute Medicine department and takes part in the medical on-call rota (1 in 14).
There are opportunities for training in pleural procedures and other medical procedures in the Ambulatory Care Unit. There are also undergraduate and postgraduate teaching opportunities. The Acute Medical Unit is complemented through a comprehensive set of pathways and well supported from the other medical specialties and especially the close working relationship with the specialist nurses. 
Hinchinbrooke is a small hospital with limited services whose size enables you to get to know most of the staff on the site and they you making it a warm welcoming lovely place to train. 
Specialties:  Elderly Care, Respiratory
This page is awaiting editing
This page is awaiting editing
This page is awaiting editing
This page is awaiting editing
This page is awaiting editing