Neurology is currently a 5 year training programme which follows the successful completion of Internal Medical Training (IMT).  The East of England rotation provides exposure and experience of all aspects of the neurology curriculum.  This includes all aspects of general neurology in the inpatient and outpatient settings along with tertiary specialist neurological services, in line with the JRCPTB Neurology Curriculum (see here). 
Neurology training in the East of England Deanery comprises of 6-12 month blocks across the deanery
Training in the East of England will give you a broad exposure to a variety of care settings, including tertiary (Addenbrooke's Hospital, Cambridge and Norfolk and Norwich Hospital) and quaternary services (Queens' Square, London), as well as District General Hospital (DGH) experience (Ipswich, Peterborough and Stevenage Hospitals). As an East of England Neurology Trainee, you will have the opportunity to develop a broad base of specialty experience covering the full curriculum, allowing for ample exposure to general neurology and specialist clinics, as well as training in neurology ward consultations and in-patient neurology.
Over the course of their training, Neurology registrars will typically spend 1 year at Addenbrooke's Hospital, 1 year at the Norfolk and Norwich University Hospital and 6 months at Queen Square. The remaining training time will consist of 6-month attachments linked to Cambridge and the District General Hospitals which will also include formal rotations in Stroke Medicine at Addenbrooke's Hospital.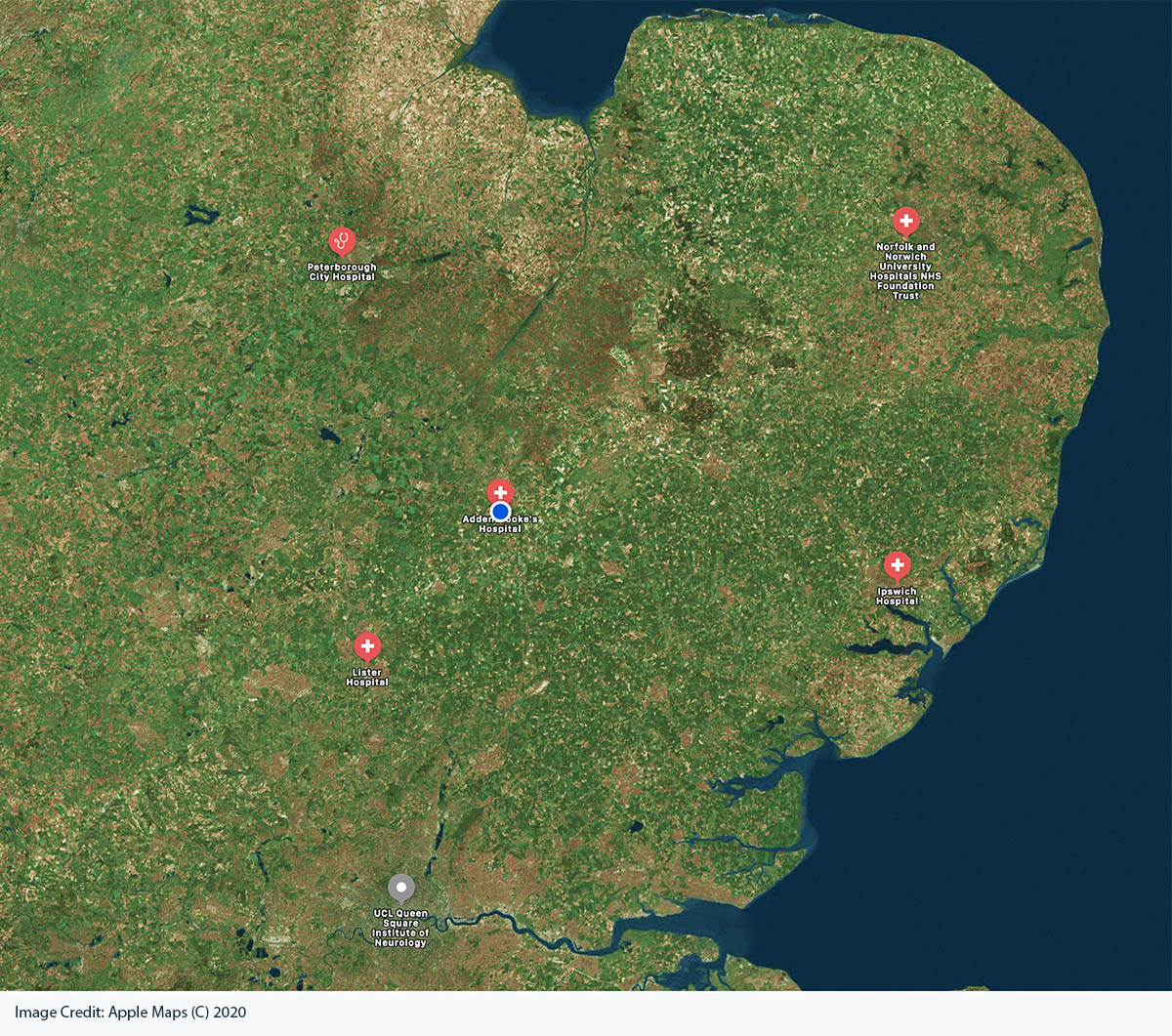 Neuroscience Centres:
Cambridge University Hospitals NHS Foundation Trust: Addenbrooke's Hospital (Cambridge)

The hospital: founded in 1766, on its current site on the Cambridge Biomedical Campus since 1976, Addenbrooke's has 1000 beds and 9,839 staff in 2017/2018.
Addenbrooke's is a tertiary referral centre for a number of specialities. It provides a wide range of neurology services and is also a busy regional neurosurgical centre, has the largest neuro ITU of its kind in Europe, operates a 24/7 thrombolysis service and in hours thrombectomy. The concourse has good on site café and food facilities; There also is an onsite leisure centre with a gym and pool with very reasonable membership fees. There also is a growing biomedical campus as well as the medical school clinical school on site.
Subspecialties: Movement Disorders, Cognitive Neurology, Epilepsy, MS and other Neuroinflammatory conditions, Vascular Neurology and Stroke, Headache, Peripheral Nerve, Neuromuscular, Neurogenetics and MND. Neurophysiology; NCCU, Neurosurgery. Further clinic opportunites include: sleep, vestibular, HD, MSA, Prof Rowe,
Education:  monthly Calman Days, weekly Tuesday post grad educational meeting, Hospital Grand Rounds (with nice lunch for £1!) every Wednesday; Neuroradiology meeting weekly; Stroke journal club
Medical Team:  currently divided up into 5 teams (Movement Disorders, Epilepsy, Neuroinflammatory, Cognitive & Neurovascular, Peripheral Nerve&MND, with a number of consultants in each team (there also are a large number of consultants who are at Addenbrookes some days of the week, and at DGHs at others, as well as consultants in research). There also is a stroke service, which is part of our rotation.
Rota: You will be attached to one of the teams, with a weekly bleep day + a 24 hour on call every 1 in 12 days.
Travel & accomodation: Train (10 minute bike ride or by bus along the guided busway), Bus services from park and ride, Car (on site, park&rides) and bike (Cambridge cycle way, DNA cycle path as well as 'normal roads')
 

Norfolk and Norwich University Hospitals NHS Foundation Trust (Norwich)

​The current Norfolk & Norwich Hospital opened on the western outskirts of Norwich is part of the Norwich Research Park in late 2001. It replaced the original 1771 founded Norfolk hospital and has 1237 beds.
Subspecialties: Epilepsy, headache, movement disorders, multiple sclerosis, cognitive neurology and neuromuscular. Attendance at neurophysiology, neurorehabilitation and vestibular clinics strongly encouraged.
Education: Weekly neurology lunchtime education meeting, neuroradiology meeting and Medical Grand Rounds. Attendance at Addenbrookes lunchtime meeting on Tuesdays encouraged.
Medical Team: 9 neurology consultants, 1 neuropsychiatry consultant, 1 trust practitioner in headache
Rota: 8.30-5.00 Mon-Fri. 1 in 5 weekends.
Travel & accomodation: 1hr 15 mins drive from Addenbrookes, buses direct from Norwich train station.
 
District General Hospitals:
North West Anglia NHS Foundation Trust: Peterborough City Hospial (Peterborough)
Part of the North West Anglia NHS Foundation Trust (along with Hinchingbrooke Hospital). The neurology department delivers daily outpatient general neurology clinics, as well as a fortnightly neuromuscular specialist clinic. The neurology team also receive referrals and provide consults for inpatients with neurological problems. Neurophysiology is also available on site, with regular consultant-led outpatient clinics. The neurology SpR has three clinic lists weekly, including the neuromuscular specialty clinic on alternate weeks. They are also encouraged to attend the neurophysiology clinic on a weekly basis. They also see ward referrals and are encouraged to take part in clinical audits.
 
East and North Heartfordshire NHS Foundation Trust: Lister Hospital (Stevenage)
East and North Hertfordshire NHS Trust includes a large district general hospital in Stevenage (Lister Hospital) and community hospitals in Hertford and Welwyn Garden City. The neurology department is based at Lister Hospital and provides inpatient consultations and daily rapid access clinics. There is a consultant neurophysiologist based at Hertford County and EEG technicians at Lister Hospital. The SpR does a mixture of ward consultations and outpatient clinics at Lister Hospital and an outpatient clinic at Hertford County.
 
East Suffolk and North Essex NHS Foundation Trust: Ipswich Hospital (Ipswich)
Ipswich Hospital is a large district general hospital in East Suffolk. It has most major medical specialties on site. The Neurology department has a small number of inpatients, and clinics including general neurology, MND, spasticity, and has an excellent teaching Neurophysiology department. There also is a Stroke Unit, but this is currently run separately by the Geriatricians with no involvement from Neurology.