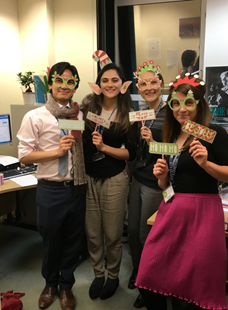 If a career in Clinical Oncology interests you, then please do get in touch. For core medical trainees looking to arrange a taster session, please contact Dr Deborah Gregory. Although not deanery-specific, a great deal of information of what it is like to train in Clinical Oncology can be found on the RCR website including some videos with trainees in other regions.
Clinical Oncology training starts from ST3, usually after completion of UK Core Medical Training (CMT). Training lasts for five years with CCT after finishing ST7. Training duration is adjusted pro rata for those undertaking less than full time training.
Specialty training is divided into Intermediate Clinical Oncology Training (including Core Clinical Oncology Training) and Advanced Clinical Oncology Training. Core Clinical Oncology Training competencies include an introductory module, common malignancies, management of oncological emergencies and the science underpinning clinical oncology. By the end of Intermediate Clinical Oncology Training (ST3, 4 and 5) trainees will have achieved the majority of learning outcomes for common malignancies and some learning outcomes for rarer malignancies. Advanced Clinical Oncology Training covers learning outcomes associated with tumour site specialisation. Further information can be found on the RCR curriculum page. The curriculum is currently being updated and will include closer alignment with Medical Oncology training during ST3.
During this time trainees must take the Fellowship Examination of the Royal College of Radiologists (FRCR). The First FRCR examination contains four written papers in cancer biology and radiobiology, clinical pharmacology, physics, and medical statistics. It can be sat from the start of ST4 (after completion of the first year course). The Final FRCR Part A is a written exam in clinical oncology, followed by the Final FRCR Part B comprising of a clinical exam (similar to MRCP PACES) and an oral (viva) exam. This can be sat after three years of training.
Applying to the training programme
Applications for Clinical Oncology NTNs are co-ordinated through a national recruitment process, advertised via Oriel. To give an indication of timelines, for Round 1 posts commencing in October 2019 applications opened on 30 January 2019, closed on 21 February 2019 with interviews held in London on 9/10 April 2019. Initial offers were released in mid to late April 2019.
Definitive information on eligibility can be found in the person specification attached to the advert, but in general entry requirements are:
MRCP full diploma (MRCP Part 1 at time of application) or equivalent
Evidence of completion of core medical competences, either having completed or currently employed in and on track to complete UK Core Medical Training or ACCS (Acute Medicine). For IMT, Clinical Oncology is a Group 2 specialty.
For non-CMT/IMT applicants, evidence of achievement of core medicine competencies via the standard Alternative Certificate of Core Competence
Recruitment to NIHR-funded Academic Clinical Fellowships is carried out separately; see here for more information.