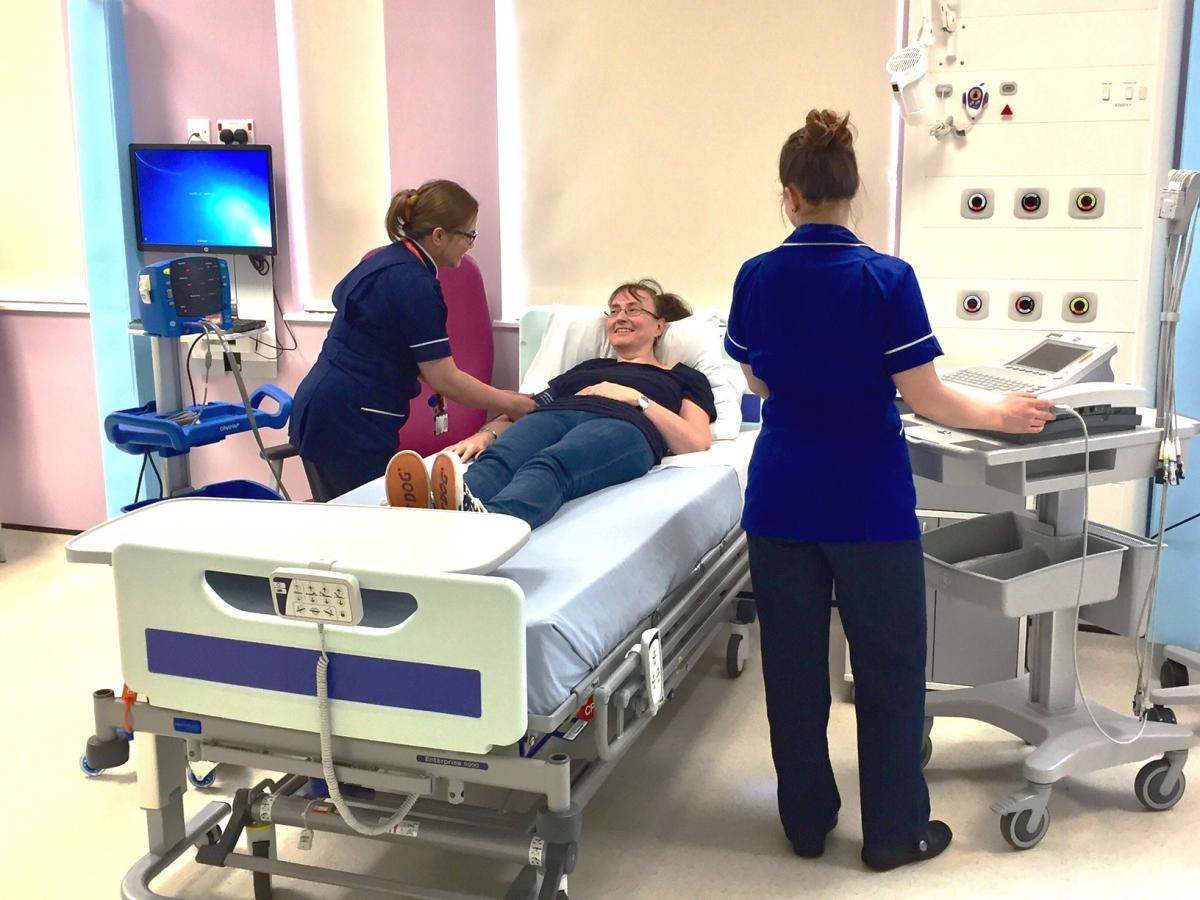 Medical Oncologists supervise and are responsible for the treatment delivered to patients with cancer.  This includes discussing various treatment modalities/ options and managing systemic anti cancer therapy.  The specialty continues to evolve as patients live longer and systemic treatments have become more complex.   
Medical Oncology training first became available in the East of England Multi-Professional Deanery in January 1997, with the appointment of two Medical Oncology consultants at Addenbrooke's Hospital. The training programme in Medical Oncology received educational approval from the Specialist Advisory Committee of the Royal College of Physicians (RCP) during 1997, and the programme was approved for the training of SpRs/StRs.  The Department of Oncology has expanded to the present day, a full list of consultants and their specialties can be found here.  Many posts are University appointments, with the majority of NHS consultants holding "honorary" contracts with the University of Cambridge.  This close integration between the NHS department and University of Cambridge supports excellence in patient care and world leading research.
As would be expected, given the size and impact of research occurring within region (see research tab) our training programme has a strong academic component with research opportunities for NTN post holders and many opportujnities for NTN(A), integrated academic career path, posts (from AFY through to ACL).  Cambridge was awarded Cancer Research UK Major Centre status, one of only two in the UK.  A priority of the Centre is to train the cancer research leaders of the future.
We would like to hear from prospective trainees and informal visits are encouraged, if this is not feasible Dr Pacey (TPD and Academic Training Lead) would be delighted to explain the benefits of training within the East of England, the fantastic opportunities to conduct research and answer any questions not outlined on these web pages.  Equally our trainees, via our trainee representative can also be contacted.  Please use the contacts tab to get in touch.
MEDICAL ONCOLOGY FROM A TRAINEE PERSPECTIVE by Dr Jennifer Harrington (Previous Trainee Representative)
Medical Oncologists assess and treat patients with a wide variety of solid organ malignancies, predominantly with chemotherapy or more recently-approved targeted agents.  We use treatments intended to cure patients of their disease (often alongside Clinical Oncologists and surgical colleagues), extend patients' lives, and/or palliate symptoms to optimise quality of life.
Medical Oncology trainees will typically rotate from one cancer type to another every six months, allowing adequate time for both broad and deep training in each subspecialty.  The majority of a Medical Oncologist's practice is outpatient-based, and trainees will be expected to attend around three such clinics per week where they will see new patients, patients already on Oncological treatments, and patients who are being actively followed up to efficiently detect and manage recurrence, or for symptom palliation.  Comprehensive multidisciplinary team meetings occur weekly for each subspecialty, enhancing training through exposure and contribution to the decision making process for patient care.  In these meetings, trainees will typically be exposed to the intersection of oncological, surgical, medical specialist, radiological and pathological opinions, where holistic care decisions are made.  Trainees also work closely with the comprehensive (community- and hospital- based) Palliative Care service.  Each subspecialty usually has its own specialist nurse, providing invaluable support for patients and the Medical team.
Another important facet to training is experience in Acute Oncology, where we assess and manage myriad complications of both cancer and the treatments we use.  This is managed quite differently on each clinical site.  In Addenbrooke's Hospital, for example, there is a six-bedded Cancer Assessment Unit, which allows for specialised emergency care from 8am to 8pm.  Trainees are expected to provide the medical cover for this unit and for appropriate patients in the Emergency Department when on call.  Trainees also provide advice, when required, to nurses who manage a 24 hour triage helpline for Oncology patients.  Addenbrooke's Hospital has a 34-bedded Oncology ward, where a wide variety of patients are managed, including patients having elective chemotherapy, those admitted as emergencies (the mainstay), and patients receiving end-of-life care.   These patients are managed on a day-to-day basis by a rotating clinical team, led by an on-call consultant and ward-based Oncology trainee.  Trainees also see in-patients from their own subspecialty at least twice a week, usually on a consultant-led ward round, and are available for specialist advice for these in-patients at other times.  The in-patient ward typically has three FY2/CT1-2/Clinical Fellow-level doctors at any one time during the day, and one such doctor provides out-of-hours cover for existing in-patients and emergency admissions.  Higher trainee on call shifts are for 24 hour (weekday) or 48 hour (weekend) periods, and much of the late evening/night part of the on call can be performed from off-site.  There is usually ample time for adequate rest during these shifts.
One morning per week is set aside for valuable educational/academic activities.  This includes a dedicated Oncology Radiology meeting, widely regarded as highly educational.  This is followed by trainee-focussed subspecialty teaching, usually led by a Consultant.  Departmental and research meetings and talks follow, and there is usually enough time left for administrative tasks.  There is a monthly journal club where practice-changing papers are reviewed and discussed.  Ad hoc (protected) training days also occur, currently annually.  Effective use of study leave is strongly encouraged.  Educational supervision in Medical Oncology is close, relevant and useful, and the ARCP process is logical and straightforward.
Evidence-based clinical practice changes frequently in Oncology, and Medical Oncology trainees are expected to become, and remain, up-to-date with these developments.  The other side of this coin is that involvement with clinical research, usually through identification of patients suitable for on-going trials of novel or repurposed drugs, and their management on these trials, is expected from trainees.  Medical Oncology is perceived as a particularly academic specialty, and the large number of our Medical Oncology trainees that complete PhDs before CCT underlines this.  The region affords many opportunities for research towards a higher degree, particularly at the world-class cancer research hub on the Cambridge Biomedical Campus where Addenbrooke's Hospital is based, and trainees are invited to the whole gamut of talks that take place on site from local, national and international experts.  Day-to-day practice, in addition to involvement in clinical trials, affords ample opportunities for trainees to become involved in, and lead, research studies.  While the clinical workload can be unpredictable, there is usually sufficient time for trainees to actively and effectively engage in this manner.  Many trainees will ultimately present their research at conferences or submit it for publication.
Medical Oncology is a highly rewarding specialty, and no two days are ever the same.  It is unpredictable, which helps makes it exciting and interesting.  Treatments change rapidly, and trainees are therefore always learning.  Trainees are remarkably well supported by their consultant colleagues, who are not only approachable and more than happy to help and teach, but also allow trainees to establish plenty of clinical independence.  Probably the most remarkable part of training is the special relationships one builds with patients and their family, often right through from diagnosis to the end of life.  To integrate this journey with clinical expertise and technological breakthroughs is the true art of Medical Oncology. 
Full time clinical training in Medical Oncology takes four years. All site specialisation is covered with multi-disciplinary joint clinics.  Cancer treatment in West Anglia is provided in a  hub and spoke model.  Cambridge is at the hub with major units at Bedford, Peterborough, Huntingdon, Bury St Edmunds and King's Lynn.  Consultant Medical Oncologists are in place who work in Cambridge and Peterborough, King's Lynn and Bury St Edmunds.  All of these consultants support recruitment to clinical trials.  Whilst most training is provided in Cambridge, it is an important feature of the programme that a total of up to one year is spent training at the cancer units (Peterborough, King's Lynn and Southend).  Commonly these are the first training post (ST3) which trainees are placed into, allowing a broad range of experience in Medical Oncology over the first year of specialty training.  Trainee feedback for these DGH posts is positive and we view a strength of the clinical training the ability within the region to have both DGH and Cancer Centre experience.  Where possible trainees are supported within their timetables to attend audit/ academic activities at Cambridge (Tuesday), this maintains and develops stronger links with the trainee cohort and helps prepare for changing location in due course.  See table below for current rotations and Clinical Supervisors, these have been updated from April 2018 in order to cover all the essential elements of the 2017 Medical Oncology Curriculum and include a rotation attached to the clinical trials teams.  On call is part of a joint rota with trainees in Clinical Oncology at Cambridge, trainees placed in Southend participate in the on-call rota at Southend instead.  From Autumn 2019 a post based at The Lister (Stevenage) and Mount Vernon will re-join the East of England programme and excitingly we will be offering additional NTN posts based in Cambridge starting Autumn 2019.  
Location
Tumour site(s)
Supervisor
A. Addenbrookes
Breast
Colorectal/ anal

Dr Baird

Dr Ford

B. Addenbrookes

Thoracic

Upper GI/ HPB

Dr Ford

Dr Basu

C. Addenbrookes

Urology

Gynaecology

Skin

Dr Mazhar

Dr Parkinson

Dr Parkinson

D. Addenbrookes
TYA/ Sarcoma
Dr Hatcher
E. Addenbrookes
Clinical Trials
Dr Pacey
F. Peterborough/ Addenbrookes

Breast

Upper GI

Dr McAdam
G. Kings Lynn/ Addenbrookes

Upper GI

Breast

Dr Ainsworth
H. Southend

Breast

Thoracic

Dr Dancey
I. Stevenage/ Mount Vernon

 Thoraicic

 GI

TBC
 
 
 
During the four clinical years there is much opportunity to be involved in research projects for those who are motivated including clinical trials.  All trainees are expected to undertake a PhD or MD, with support and opportunities for those on NTN training as well as those trainees on the integrated academic programme.
** Watch this space ... exciting new plans being developed for trainees interested in drug development **
The Anglia Cancer Research Network has one of the strongest track records in the UK for recruiting patients into clinical trials.  Many of these patients are treated at Addenbrookes, within the Cambridge Cancer Trials Centre led by Professor Duncan Jodrell.  More recently Cambridge is developing as an early phase clinical trials centre (Dr's Basu, Baird and Pacey).  This means trainees benefit from extensive exposure to clinical trial methodology.  Mentoring from senior investigators is strongly encouraged, ideally including taking responsibility for one or two trials beyond individual rotations over the four year training period.  Many trainees have attended the ASCO/AACR/EORTC Clinical Trials Methodology workshop and work, with support, to write and develop investigator led studies.  Clinical trial research activity is supported by the Cambridge Experimental Cancer Medicine Centre and the Cambridge Biomedical Research Centre.
Cambridge  is in a unique position in the UK to develop translational research, given the high density of basic cancer research on site at Addenbrooke's the new CRUK Cambridge Research Institute, the MRC Hutchison Cancer Research Unit and opportunities in the University of Cambridge.  The breadth and depth of scientific expertise available in Cambridge is unrivaled in Europe.
The Cancer Research UK Cambridge Centre is organised into twelve research programmes which provide excellence across the spectrum from basic biology in the particular cancer type, through translational research and on to clinical practice.  All benefit from the core scientific strengths including bioinformatics and cancer genetics, a highly successful cancer trials centre and a cancer network based in the region with the fastest population growth in the UK.
Extensive opportunities to pursue research exist within the CR UK Cambridge Cancer Centre, see webpage here.  
The Cambridge biomedical campus has been expanding rapidly (see below and here), including bringing Papworth Hospital on site as well as major pharmaceutical company investment (Astra Zeneca) further increasing opportunities for research and collaborations to improve the lives of patients with cancer.
There is excellent integration with the clinical oncologists within a shared weekly audit and academic session, which includes case presentations, x-ray meetings, pathology meetings, journal clubs, audits and invited lectures, together with a rolling programme of "translational talks".  The medical and clinical oncologists have the same on-call rota and cover each other's patients when on call.  There are a number of joint clinics attended by both clinical and medical oncologists, and there is good collaboration between the two disciplines.  There is ample opportunity for the medical oncology trainees to obtain experience in radiotherapy treatment.  Multi-disciplinary teams in many cancer sites facilitate and promote close collaborative working relationships.  The region is well placed to take advantage of the proposed joint ST3 curriculum for medical and clinical oncology following the shape of training discussions.
Thursday, 1 October, 2020
Show Between Dates:
Thursday, 1 October, 2020