ST3 recruitment
Congratulations – you've made the first step towards having the best job in the world! 
ST3 Recruitment for August 2019 will likely start in January 2019 when the job advertisements are traditionally released. The ST3 recruitment website has all the information you need about the application process, and recruitment details will be published in Autumn 2018.  The application process doesn't change much from year to year, so if you want to get a head start you can read all the supporting information for 2018.
The person specification for ST3 Respiratory Medicine can be found here; it's worth looking at this as far in advance as possible so you can see where you might be able to improve your application.  You also might want to consider attending relevant courses (e.g. thoracic ultrasound, bronchoscopy) and conferences (such as the British Thoracic Society Winter and Summer Meetings) to get more of an insight into the specialty.  More information about the training programme and curriculum can be found on the Joint Royal Colleges of Physicians Training Board (JRCPTB) website.
Health Education England, working across the East of England: Respiratory Medicine
There are thirty three respiratory/general medicine training posts in the East of England. Rotations have been devised to provide first class training at both district general hospital and specialist centres.
Respiratory medicine training is offered in Norwich, Ipswich, Bury St Edmunds, Great Yarmouth, Luton, King's Lynn, Harlow, Colchester, Basildon, Bedford, Chelmsford, Welwyn Garden City, Stevenage, Huntingdon and Southend. Specialist respiratory experience is gained at Papworth Hospital (normally during the third year) where trainees will be attached to two of the seven firms (cystic fibrosis, sleep and ventilation, lung defence, lung transplantation, oncology, pulmonary vascular diseases and ILD). Training will include a year in a tertiary unit such as Addenbrookes Hospital, CUHNHSFT in Cambridge, Basildon and Norfolk & Norwich University Hospital.
There are excellent facilities in the region for training and experience in all aspects of respiratory medicine. Research, audit, journal club and grand round teaching is provided at all centres. There is special interest and expertise within the region in a variety of areas including: assisted ventilation, asthma/allergy, COPD, cystic fibrosis, HIV, pneumonia, lung transplantation, interventional bronchoscopy, pulmonary hypertension, ILD/sarcoid and sleep disorders.
Thoracic surgery is performed at Norwich, Ipswich and Papworth and cardiac surgery, pulmonary endarterectomy and heart/lung transplantation at Papworth. Bronchoscopy, respiratory physiology and intensive care are available at all centres. At the end of five years, subject to satisfactory appraisal, the trainees will be awarded CCTs in general internal medicine and respiratory medicine. Single speciality accreditation in Respiratory Medicine or dual training with ICU is available, together with the option to spend one year of the rotation training in respiratory and ICU medicine in Melbourne, Australia.
Respiratory Medicine in EoE from a trainee's perspective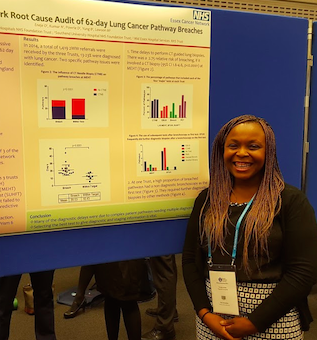 The East of England is geographically large. As a trainee, you benefit from a variety of general district hospitals that provide a range of excellent learning opportunities. Many of these provide the opportunity to learn bronchoscopy, EBUS and medical thoracoscopy. You will get exposure to a wide range of general respiratory conditions including respiratory failure and non-invasive ventilation. General medicine takes are busy so you will easily cover the GIM curriculum.
The region has world-renowned institutes such as Papworth hospital and Addenbrookes hospital. They are our tertiary centers for sub-speciality training.
We have regular training days to cover the respiratory and GIM curriculums. There is a bronchoscopy simulator available to trainees, as well as a range of helpful HEE based websites as learning aids.
Research is strongly encouraged. The Cambridge Institute for Medical Research and the MRC center provide opportunities to participate in world-class research.
East Anglian Thoracic Society (EATS) holds multidisciplinary educational meetings twice yearly. Trainees are elected members of EATS. In the morning sessions trainees present their current research and interesting clinical cases, with a prize going to the best in each category.
The East of England has a lot to offer and I am sure you will find your time in Health Education England, working across the East of England highly rewarding.
Odiri Eneje (ST5 Respiratory Medicine EoE)