Academic Program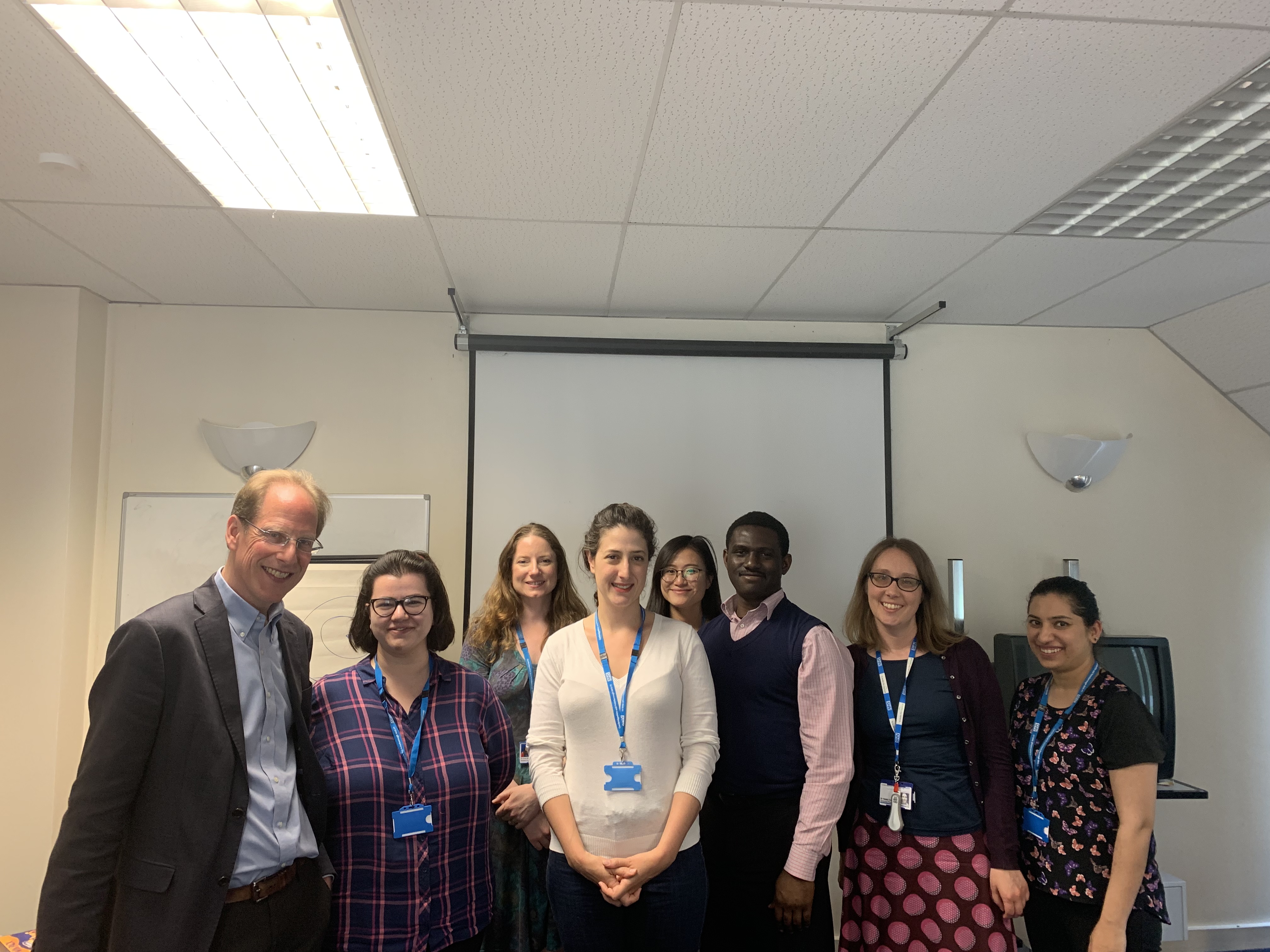 Professor Simon Baron-Cohen (left) with the Higher Trainees in Brookside Clinic
We have a bespoke academic training programme, delivered locally, which follows the CAMHS training curriculum, and is mapped to curriculum outcomes.  Teaching occurs every Wednesday from 10am-4pm within term time and is hosted at Brookside Family Consultation Clinic, Cambridge. Training is delivered by experienced speakers from prestigious institutions including the University of Cambridge and University of East Anglia and clinical experts from across the mental health trusts in the region.
Within the academic training programme we also have the following learning opportunities:
• Neuropaediatric meetings with Consultant Paediatricians from Addenbrookes Hospital, Cambridge
• Group Psychodynamic supervision with a Consultant Psychotherapist
• Peer case discussion
• Journal club/ Case presentations by the CAMHS trainees
• Joint teaching days with Paediatric trainees
• Occasional opportunities to attend intensive courses that complement your training experience. We have had ADOS and ADI trainings. We also have an 8-week systemic family therapy course by experts in the field
You can download our current teaching program
here
Trainees from different specialties  are welcome to join but please let us know if you intend to join one of our sessions. 
Our next exciting opportunity:
"Mentalizing in Clinical Practice: lessons from MBT and AMBIT"
These teaching and training sessions by Dr Dickon Bevington (Child and Adolescent Psychiatrist, CPFT and Medical Director, Anna Freud National Centre for Children and Families) will contain a mixture of didactic teaching (slides, videos), group discussions, and active participatory workshop practice sessions.  All attendees are expected to take part in the latter (there are no 'spectating only' places!) but -  to reassure those people who don't like practical exercises - it is emphasised that any role-playing or live practice is always and only set up in playful and non-exposing ways – public humiliation is not a recognised method of teaching, and is never used!  The curriculum will cover:
Key Theory and Research underpinning the field of mentalization – what is it, how does it arise, why does it matter and how can this understanding be put to good use?
Theory and Practice around the 'Therapist's Mentalizing Stance'
Applying the mentalizing stance in work with individuals and families
Applying mentalization to work in Teams, and across Systems (AMBIT)
Please Note: this is not a formally accredited training in MBT, but by the end of the course the trainees should have a sufficient grasp of theory and practice to apply mentalizing alongside other models in their clinical practice.
For any queries, contact:
Friday, 23 November, 2018
Show Between Dates:
Friday, 23 November, 2018