Claims and Invoices
The financial year for the period 2017/2018 has now closed. Any claims or invoices relating to this period will now not be paid.
The GP School have now launched a fully electronic process for our Educational Supervision Review (ESR) claim forms.
Educational Supervisors complete reviews for their Trainees every six months. For those reviews which are completed whilst the Trainee is in a hospital post a fee of £250.00 can be claimed.
Please note that claims will not be processed if a trainee is in an innovative or GP post. These reports will be covered by the trainer's grant each practice receives. If a report is carried out for a trainee whilst in a GP post but separate to your own GP practice this money should be claimed via that practice through their trainer's grant fund. 
Educational Supervisors (not the Practice Manager) will need to complete the ESR claim form which can be found below (click on PDF image to download). Incorrect claim forms will not be accepted. All sections of this claim form must be completed. Claim forms MUST be received within 4 weeks of the ESR being completed and within the correct financial year in order for them to processed and paid.  
Please ensure that you save the form locally and open the original electronic claim form in Adobe Acrobat or Adobe Reader (not in a web browser or in PDF Previewer as the digital ID field will be disabled).  You will need to set up a digital ID, however, this set-up process only needs to be completed once.  If you have any queries or require assistance with setting up a digital ID please do not hesitate to contact the GP School Administrator.
Step by step guidance for setting up a Digital ID can be found here:
Digital ID set up guide - Click Here
If required, Adobe Reader is available to download for free here:
Download Adobe Acrobat Reader Free - Click Here
Essential guidance for MAC users can be found here:
Electronic form guidance for MAC users - Click Here we strongly recommend MAC users follow this guidance to ensure the form has opened with the correct software prior to completion.
It is essential that you email the electronic form back to the GP School Administrator.  Printed, scanned or posted forms will not be accepted, so please ensure you email us the original electronic form once your digital ID has been added and the form saved. 
We will cease acceptance of the old paper copies of the ESR claim forms from 01/11/2016.
Once authorisation has been given on the claim, the GP School will e-mail the Educational Supervisor with confirmation and instructions to submit a practice invoice to SBS Wakefield. If Practice Managers would like to be copied in to the approval e-mail then please make a note of this on the claim form. 
If the Supervisor would like the payment to be paid to them personally, they will also need to complete and return the General Expenses claim form. Please note that this form MUST be completed electronically and then signed BY HAND.  Please scan and send your General Expenses claim form via email ALONG WITH your ESR claim form.
Each Trainer is entitled to claim £750.00 for their CPD allowance. In previous years, this allowance is paid on production of evidence of the Trainers CPD activity and learning plan specifically enhancing expertise and educational skills for Trainers. Trainers no longer need to submit this evidence, the allowance is paid directly by invoice only.
Please note this allowance is not available to Associate Trainers.
This allowance isn't automatically available. The allowance will be agreed each year when the budgets are reviewed. The GP School would usually write out to all trainers in May/June of each year advising of the claiming process.
The CPD claiming period for 2017 - 2018 is has NOT yet opened.  The financial budgets for this year are still under review.
Expense Claim Forms for Candidates attending GP Selection Assessment Centre 2017
Expenses will only be paid to cover travel to a maximum of £50.  Claim forms must be received into the Recruitment Unit NO LATER THAN 28 FEBRUARY 2017, Claims received after this date will not be processed.  Please ensure the claim form is completed on-line and then signed, handwritten forms will not be accepted.  Forms completed incorrectly or for more than the maximum amount will also not be processed.
Expense Claim Forms for Assessors attending GP Selection Assessment Centre 2017
Claim forms must be received into the Recruitment Unit NO LATER THAN 10 MARCH 2017, Claims received after this date will not be processed.  If submitting an invoice from the Practice, please proceed in usual way or see the section on the Invoicing Procedure.
Expense Claim Forms for Assessors attending GP Selection Assessment Centre 2016  WHO ARE ALREADY PAID BY HEALTH EDUCATION EAST OF ENGLAND, please use HEE Claim Form for employees
Please note: The financial year 2015 - 2016 is now closed we are now in the financial year 2016 - 2017.
We are pleased to join with NHS Shared Business Services, our accounting partner in their effort of creating a Good Invoicing Practice amongst our suppliers. Hence we are providing you with the following options which are in line with sound invoicing principles.
If you are claiming via the GP Practice please kindly provide invoice numbers on your invoices specifying them as being so. You can refer to them as:
·         Invoice number
·         Invoice reference number
·         Bill number
·         Document number
·         Bill reference
This shall be accompanied by the invoice number which should ideally be sequential and alphanumeric (preferably more than 4 characters alphabetic or numeric or both). Please note that numbering of invoices is completely flexible but is mandatory to be done.
The purpose of this is to enable SBS to locate and identify your invoices on the systems as well as to facilitate you to locate your payment status and understand your remittance advices.
Bank account details should always be those of the practice. Under no circumstances should personal account details be provided on a Practice invoice.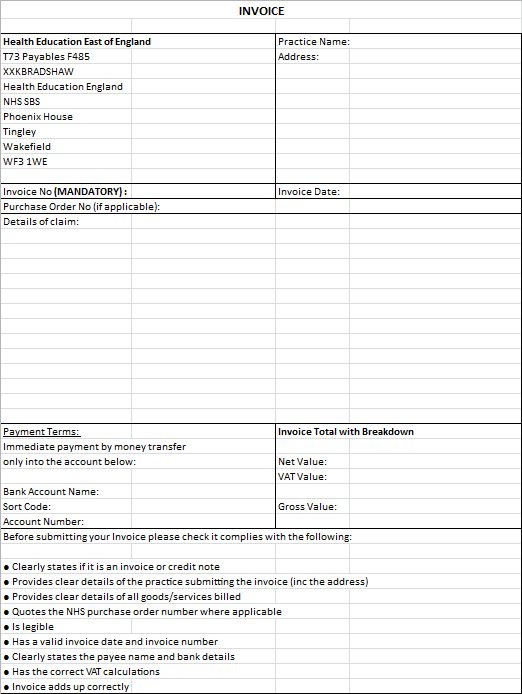 Kindly note that with effect from 1st January 2010, SBS shall reject all invoices without invoice numbers and hence you are kindly requested to place invoice numbers on your invoices.
SBS are unable to accept any handwritten invoices, these must be typed.     
NHS SBS are now utilising an electronic invoicing system called Tradeshift.  If you are interested in submitting an electronic invoice then you can sign up for Tradeshift here.
If you do wish to claim personally for anything you will need to use the General Expenses Claim Form and send into the GP School office for approval.
If you have queries about claims please contact the GP School Administrator on communityschools.eoe@hee.nhs.uk