Welcome to the School of Generalism!
The EoE School of Generalism is a professional development programme for foundation doctors in the East of England.  It is the first pilot in the UK to embed a generalist development programme within foundation training.  It is also part of a much bigger project to reshape postgraduate medical training in the UK.
HEE's future doctor report in 2020 set out a number of important priorities for the medical workforce in the coming years. The theme of tomorrow's doctors as generalists was woven through this work.
We have a very ambitious vision for where Generalism is heading.
 .
. 
Generalism is an exciting new medical training program.  It is about equipping doctors to work across traditional disciplinary and speciality boundaries.
It is NOT the same as general practice; it is NOT the same as general internal medicine although doctors in these (and many other fields) can still be generalists.
Generalism is NOT about being an expert at everything…
BUT
IT IS about a mindset that allows you to extend your skill set to better suit tasks that you come across throughout your career.
IT IS equipping you with a set of skills and values to allow you to work across traditional boundaries.
IT IS enabling our future doctors to deal with increasing complexity…
… in terms of the patient (older, multimorbidity, polypharmacy etc)
… in terms of the systems (new hospitals, new ways of working across primary and secondary care, new services like hospital at home, frailty units, multidisciplinary diagnostic centres and how these fit into, and some cases, replace traditional models of care)
…in terms of the wider world and society (increasingly mobile populations, equality, diversity and inclusion and environmental sustainability).
IT IS about flexibility and adaptability of approach rather than a rigid commitment to a single narrow area of specialist knowledge.
A generalist is a valuable team member, a natural leader and is resilient when the world changes around them.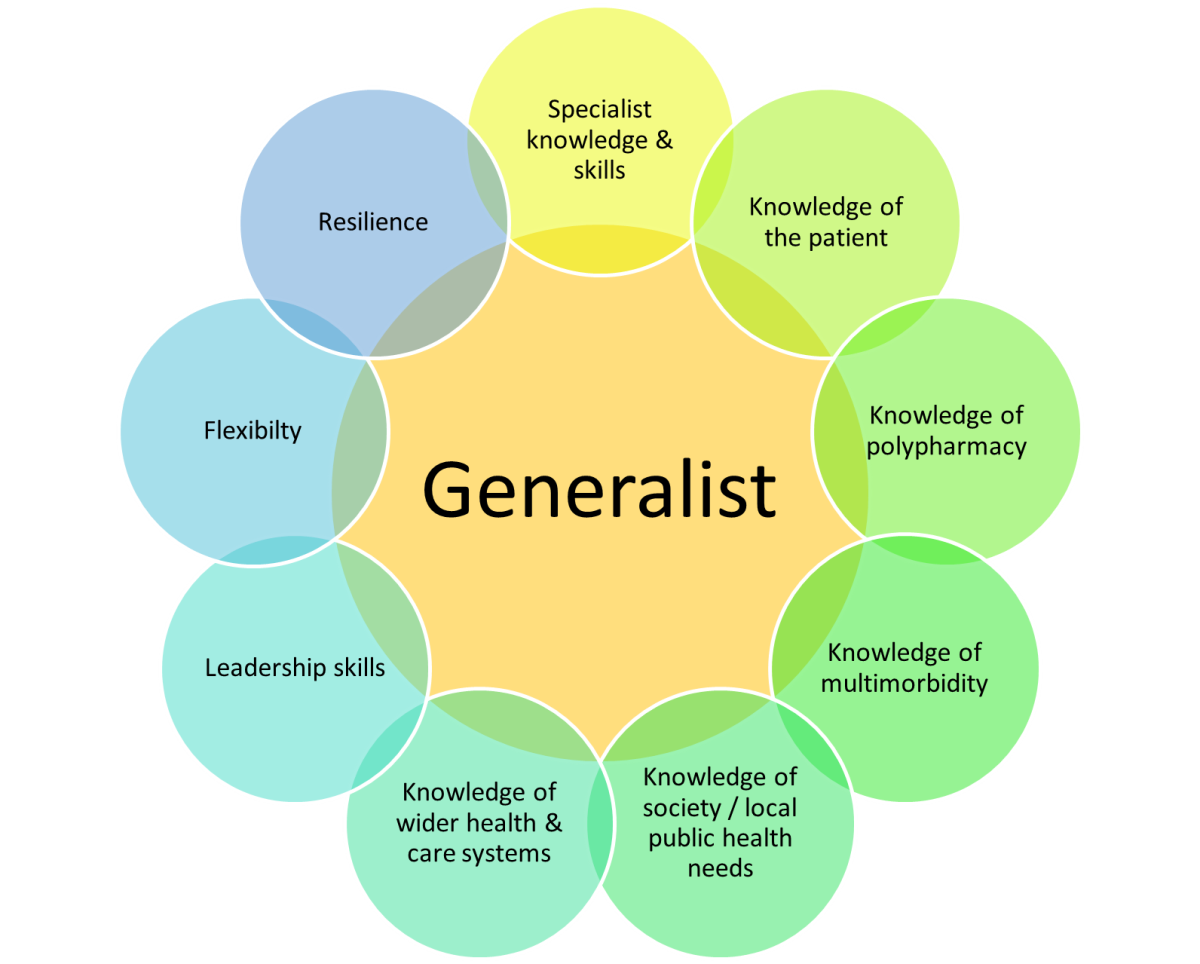 The orthopaedic registrar who has a conversation with a sad patient and can tell the difference between depression and stress IS A GENERALIST!
The consultant geriatrician who sets up a holistic falls service in response to caring for patients with broken hips IS A GENERALIST!
The Cardiothoracic registrar who remembers the Dermoscopy training they had during their FY2 GP job and knows when a clinic patient needs a two-week-wait referral to a dermatologist IS A GENERALIST!
The medical student IS A GENERALIST – the foundation doctor IS A GENERALIST!
Generalism in postgraduate medical education is about embracing broad knowledge as well as deep expertise.
The Generalism programme, also known as "Enhance" contains a clinical element and an educational element - a modular development programme to undertake through your first five years of postgraduate medical training - with unique opportunities to work with subject specialists, achieve accreditation, lead on change projects and build an exciting CV.
The programme is themed around six modules: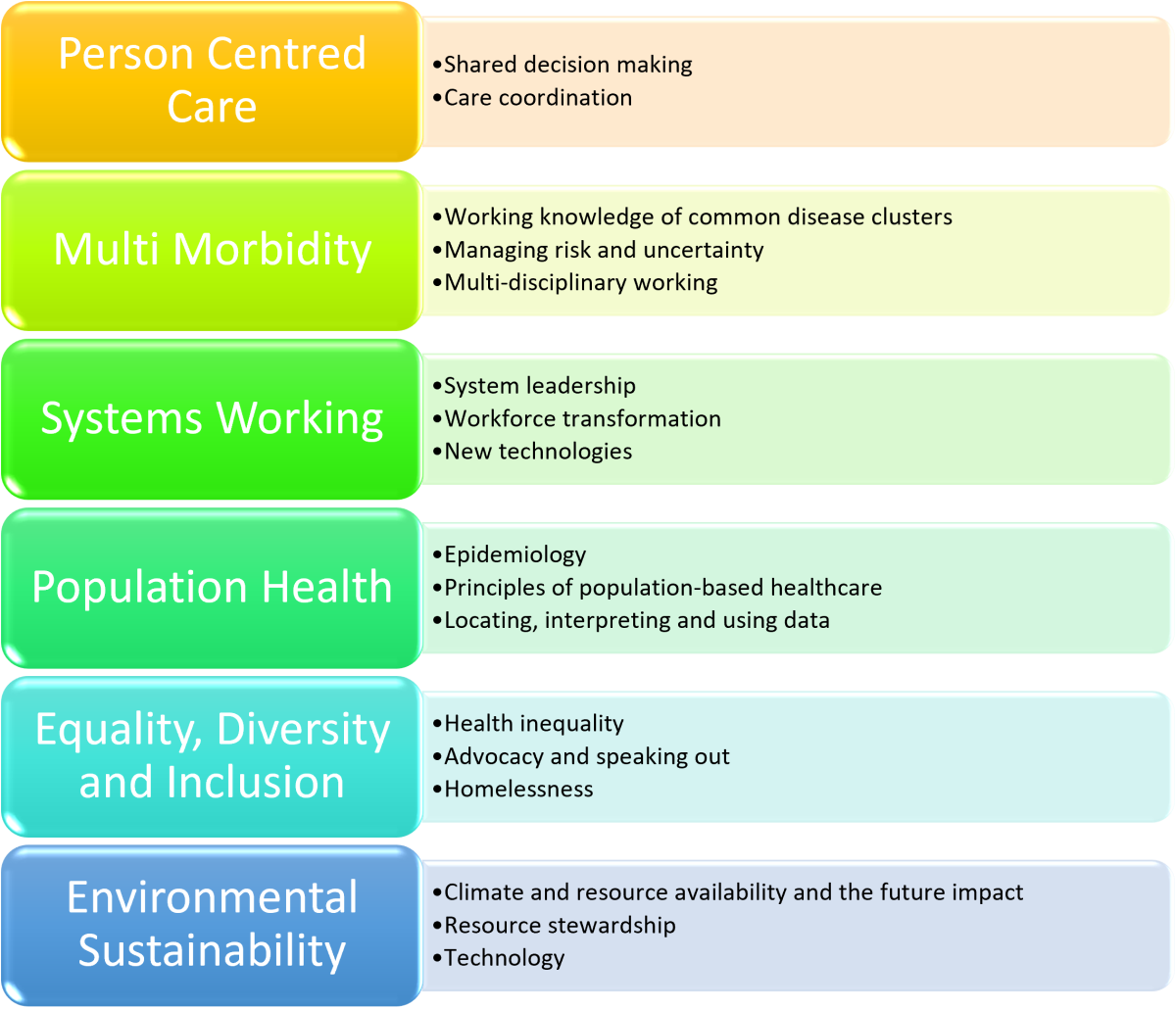 These core units allow the doctor in training, on completion, to develop as a skilled practitioner with knowledge and expertise in a broad range of disciplines that will stand them in good stead to work within the 21st century NHS.
Each module offers triggers for deeper learning, reflective practice and for the opportunity of activism and quality improvement experience.
Our Generalism programme is part of our plan to embed a focus on Generalism within clinical foundation jobs.  It is also part of the national trailblazer offer of Generalism to support the development of the future doctor. 
These posts include additional educational programme elements starting in F1 and a longitudinal integrated clerkship (GLIC) in F2 between primary and secondary care, with exciting additional opportunities aligned with the future doctor strategy. 
This refers to the five year modular development programme, based around 6 units (multimorbidity, population health, person centered care, systems working, equality, diversity and inclusion and environmental sustainability) which will culminate in an accreditation. 
It will involve a combination of taught material and project work, offering opportunities to lead on change, quality improvement and to write, and potentially publish, material.
The Generalism longitudinal integrated clerkship (GLIC) is a new model of rotation for the F2 year where, instead of undertaking a traditional model of three separate full-time clinical placements for four months each, you would undertake two 6-month placements at 0.6 WTE (60%), plus a 12-month placement running alongside in primary/community care at 0.4 WTE (40%). 
Generalism GLIC Model of Rotation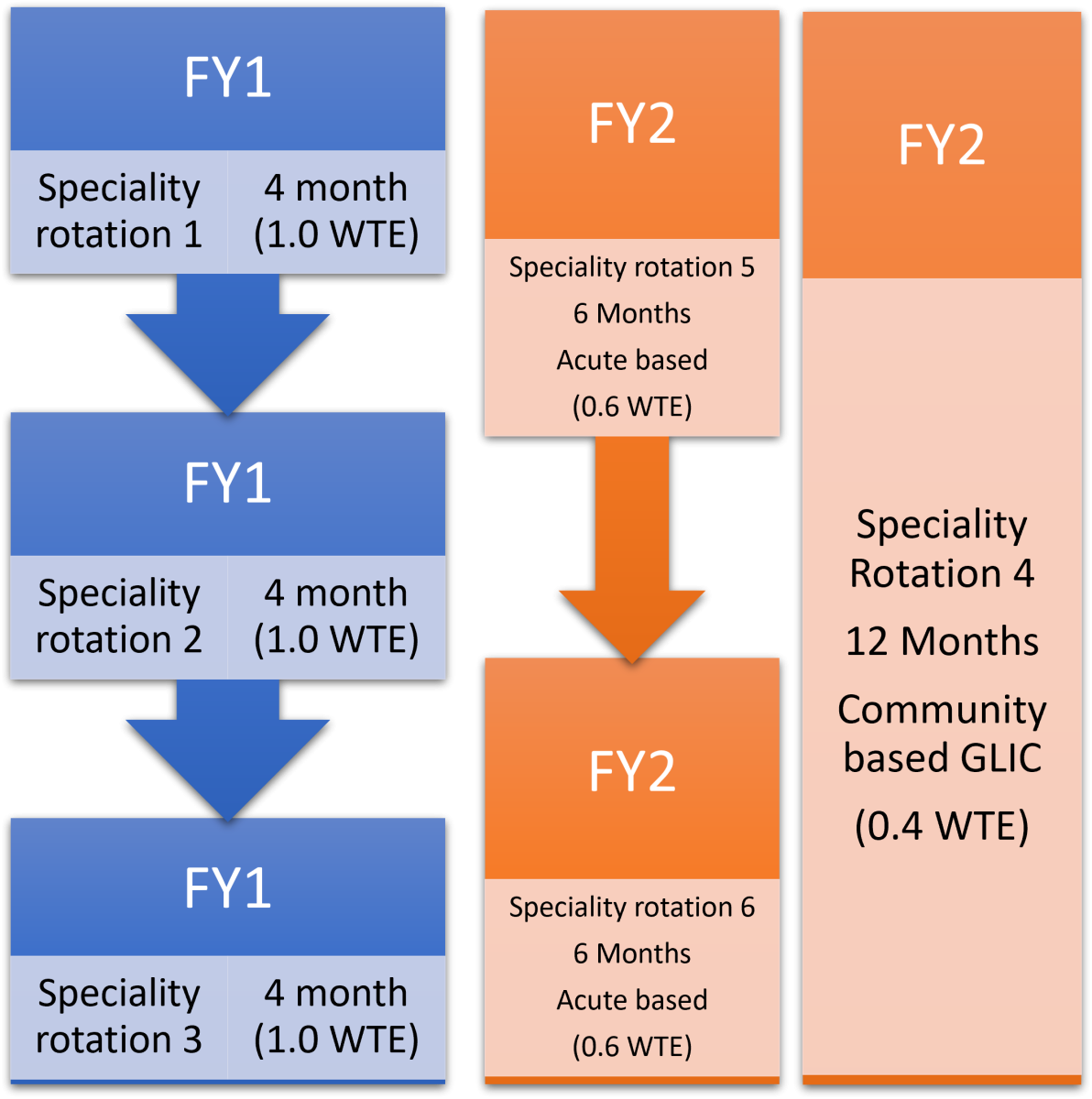 Traditional Model of Rotation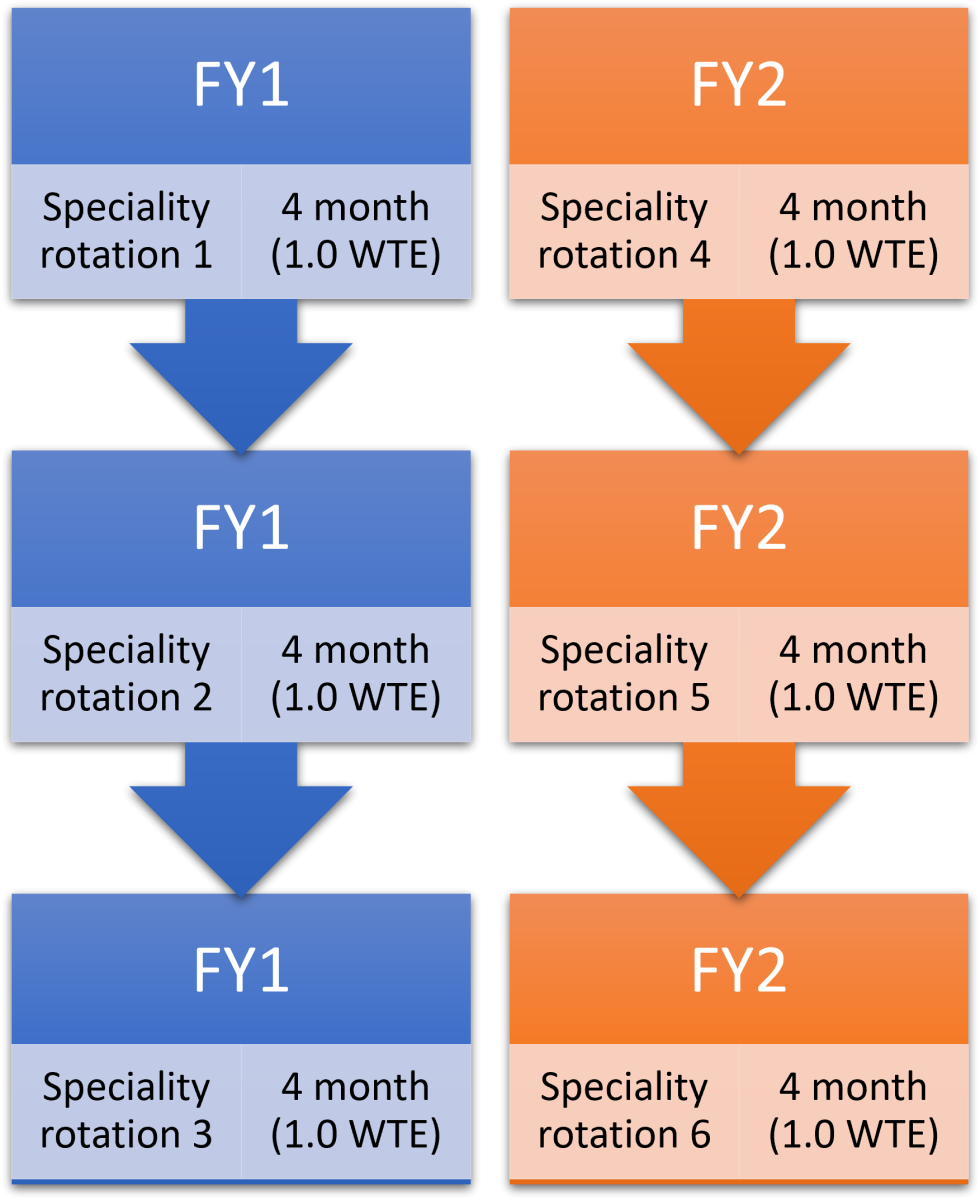 We are currently designing these rotations for F1s starting in August 2022 (F2 year starting in August 2023).  The exact configuration of our new Generalism programmes, and how time between secondary care and the GLIC will be divided, is still being tweaked. 
You would have two 6-month secondary care specialties in the F2 year for 60% of your time.  Alongside these specialties, approximately 40% of your time, throughout the full 12 month period, would be spent in the GLIC - this is likely to be based in a community/primary care setting that complements the secondary care specialties you are rotating through.  
As an example, an ideal F2 year might include 6 months in Emergency Medicine and 6 months in Geriatric Medicine with a 12-month community GLIC placement throughout the whole year based in General Practice.  As part of this GLIC you might spend time in a frailty clinic, joining the weekly ward round(s) of the local nursing home(s), and/or attending a community support group.  You would then get a real feel for multimorbidity across the primary-secondary care interface during that year (if this was a Generalism programme that is of interest to you). 
This is a pilot trailblazer and some of our trusts may consider other innovative GLIC placement options.  
The structure described above is similar to our educational academic training posts, and also the LIFT-GP posts.
We are working with our host trusts and will be updating the website with any developments as they are confirmed.
The Generalism longitudinal integrated clerkship (GLIC), in the F2 year, is one of these opportunities. 
We also plan to set up innovative opportunities/placements in areas not typically part of a foundation programme, these may include:
- working with/shadowing local/regional leaders
- tasters in other clinical environments
- work in public health
- working with primary care networks to improve or review patient pathways
- implementing innovations to reduce health inequalities
These would fit within and around your clinical work in F2 and would be supported by timetabling in your self-development time and GLIC, rather than these being just something you have to fit into your own time.
We are not planning any financial incentive in terms of pay/bonuses for these programmes.
The key incentive is the innovative post, unique experience(s) and enhanced educational offer.
We have collaborated with our partners to create 34 Generalism posts starting in 2022.
Posts are currently available in the following locations:
East Suffolk and North Essex Foundation Trust (Colchester Hospital)
East and North Hertfordshire NHS Trust (Lister Hospital, nr Stevenage)
James Paget University Hospitals NHS Foundation Trust (Great Yarmouth)
Luton and Dunstable University Hospital (Luton)
The Princess Alexandra Hospital NHS Trust (Harlow)
West Hertfordshire Hospitals NHS Trust (Watford)
West Suffolk NHS Foundation Trust (Bury St Edmunds)
Mid and South Essex NHS Foundation Trust (Broomfield Hospital, Chelmsford)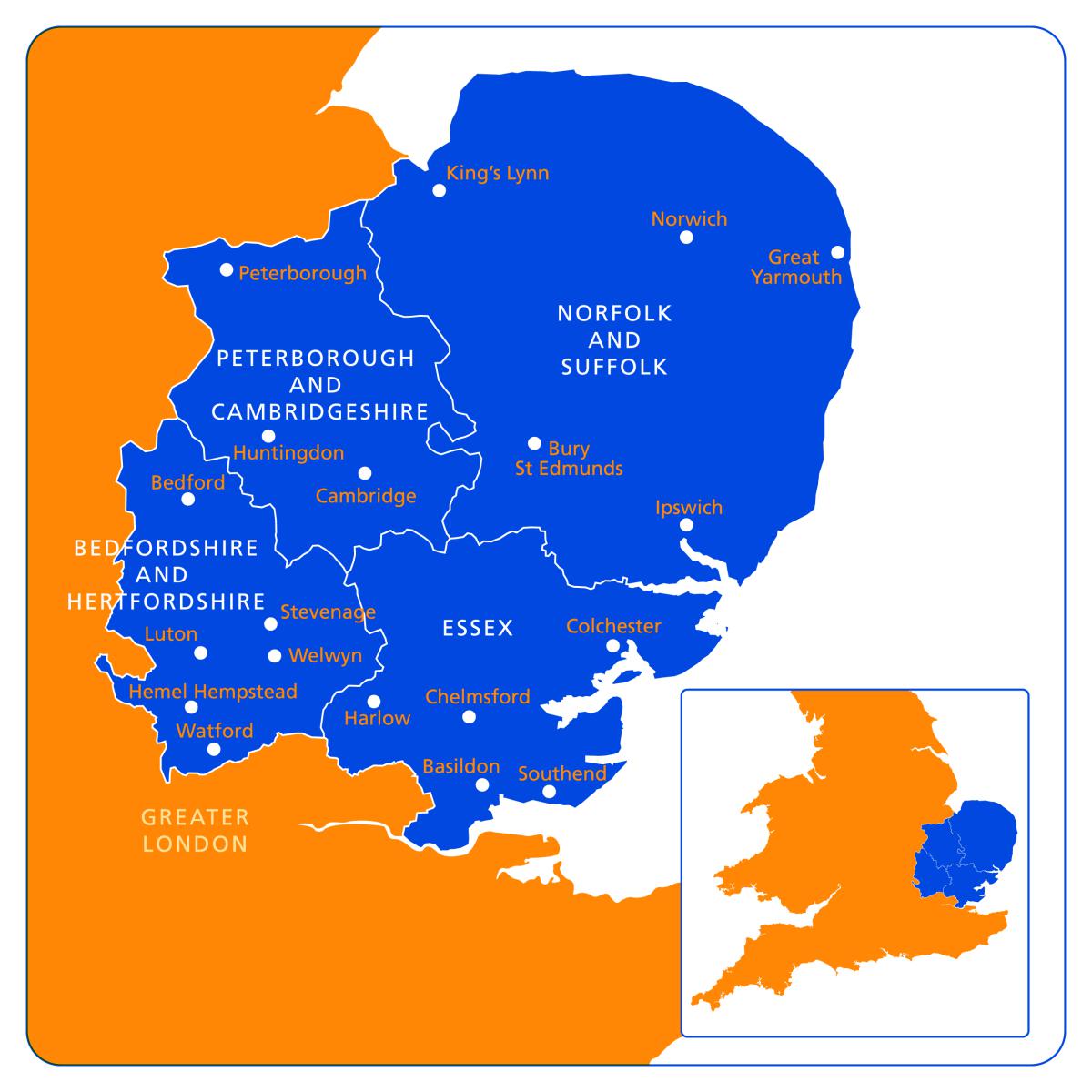 In addition, we will be offering some of the educational aspects to all foundation doctors AND we will be providing taster sessions in some of the GLIC areas to our current F1s and F2s.  Please talk to your local Foundation Training Programme Director (FTPD) for more information.
Any questions? Please contact Generalism.eoe@hee.nhs.uk
Please note: The application window for F1s starting in August 2022 has now closed. We will have many more Generalism posts being advertised in 2022 for F1s starting in August 2023.
Opportunities to sign up for the School of Generalism will be sent to our foundation doctors directly in the coming weeks and months.
For some trainees there will be the opportunity to join pilot schemes with specially designed generalist rotations. Please check back here for more information or contact the School of Generalism team for more information below.  
Tuesday, 26 February, 2019
Show Between Dates:
Tuesday, 26 February, 2019