What is a Foundation School?
Foundation schools are not brick and mortar institutions, but rather a conceptual group of institutions bringing together medical schools, and Hospital Trusts. Both of the East of England Foundation Schools are managed by a shared Foundation team at Health Education England (HEE). These two Schools commission and manage medical training for junior doctors, under the employment of a Trust.
UK Foundation Training is a two year programme which enables medical school graduates to practice as an NHS doctor in the UK. It is, in effect, your first job. Under the leadership and supervision of more senior doctors, you will gain the generic skills essential to professional medical practice, as well as the clinical skills necessary for acute medicine. Your progress will be assessed throughout the programme, and you will independently maintain a personal portfolio of your professional practice.
Why the East of England?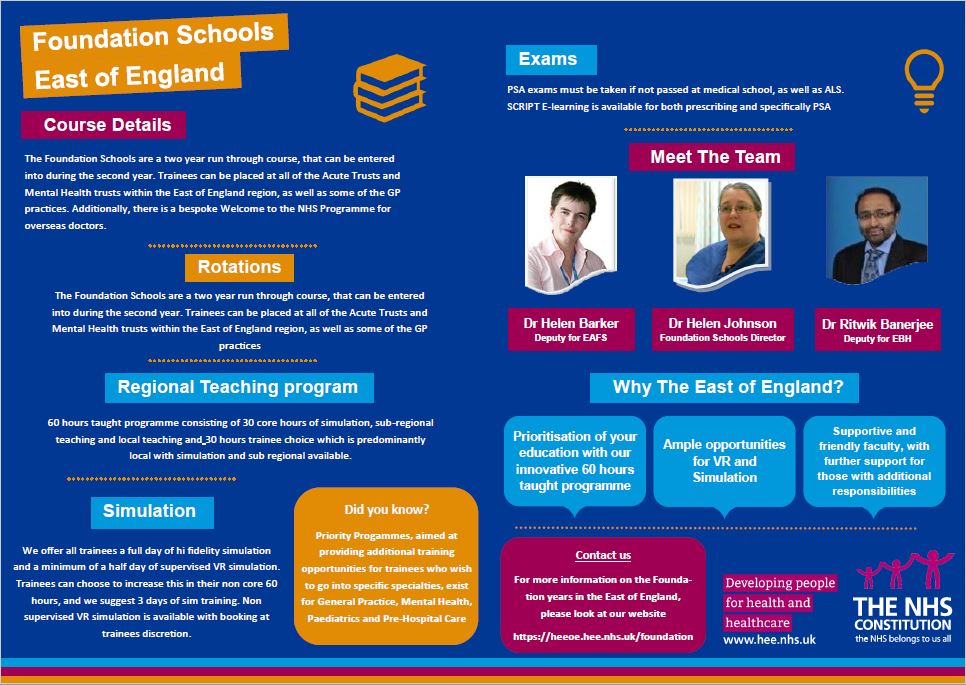 Living Here
We are a popular area to settle, with reasonable house prices which become increasingly affordable the further from London you travel. Our proximity to London is always popular, with plenty of direct trains, the average time being an hour into central London. This gives you the possibility to create an affordable base here with a high quality of living, yet still keep in touch with London life. Many of our trainees come from the London medical schools, particularly to EBHFS since these hospitals are known.
London is not the only city, we have the academic city of Cambridge, beautiful and known for its colleges, museums and punting on the backs. However, it is not all old glory, with a busy shopping district, many fantastic restaurants and an active nightlife scene. Norwich is something of a hidden jewel, with many trainees electing to stay and return there wherever possible. Affordable, with all the expected conveniences of city life, except that you may be able to afford to live in a house rather than a bijou bedsit. 
We have city life, the half way house of town life, and then vast tracts of unspoiled countryside to enjoy. There are miles of coastland with beautiful beaches, tourist resorts and wildlife areas spreading from Essex through Suffolk to Norfolk. My personal favourite beach is Brancaster in Norfolk. There is much opportunity for country sports, with many lakes, rivers and the broads for sailing and many bridle paths for equestrians or just a good walk.
There are good road links not just to London, with the M1 in the west, the A1 and M11 more centrally, and the A12 in the East, but also to the west via the A14 and to the North. our rail links predominantly lead to London, but the hub at Peterborough opens up the north and the west. There are small airports such as the city airport in Cambridge, but our biggest airports are Stanstead [international] and London Luton Airport [international] making overseas travel straightforwards.
Working Here
We passionately believe that we can create and maintain an excellent foundation programme that is focussed on both individual training needs as well as providing for the service requirements for quality patient care. Healthcare delivery is changing rapidly, and the portfolio careers and options available to newly qualified doctors are changing alongside that. We aim to provide you with the training that gives you the flexible skills, both clinical and non-clinical, to achieve your goals. We are constantly working with our educators and trusts to listen to trainee feedback and improve our programmes.
One of our three key themes for foundation training in the East of England is Excellence in Education. We aspire to create a focussed, delivered educational programme of 60 mandatory hours per year for each trainee that covers the curriculum and is also inspiring. In addition there are an additional 30 hours of study leave This will be delivered through a mixture of local taught programmes as generic training, and also the mandated simulation delivered sessions. One of our innovations in 2018 has been our pilot of the new sub-regional or Hub delivered training events. This has had excellent trainee feedback, as well as practical feedback to enable this to run more smoothly in future years. For 2019 we have bought 2 oculus rift and associated hi spec computers to run virtual reality simulation in each trust for our foundation doctors.
We wish for trustworthy training rotations for our foundation doctors. We have worked with the junior doctor recommendations to minimise rotations. Each year is hosted by a single trust, although community placements will rotate out. The exception being Papworth rotations, which are matched with the geographically close Addenbrookes hospital. Most rotations stay in the same unit for both F1 and F2 in EBH, but rotate between a DGH and teaching hospital in EAFS. All our rotations have been 'sense checked' for depth and breadth and community placement. There are, however, some specific more focussed rotations as well. Our hospitals can sometimes be hard pressed, and in those instances we work with them to provide solutions that maintain training and education. Our Foundation Training Programme Directors [FTPD] in each trust are there for your assistance.
Our final strand is in personalising support. Becoming a doctor can be tough, and we want to help this go smoothly. We have an F2 to F1 mentorship programme to support that step from medical student to doctor, resilience training workshops, careers and professional workshops. We are supportive of those requiring part time training [aka Less Than Full Time Training] and if required time out of training or inter-foundation school transfers. For our new to the UK doctors, we provide an extended induction - paid! We have shadowing at the trust they will work, as well as a custom made course including simulation and communication skills, and understanding how the NHS works. We  also have an excellent Professional Support and Wellbeing service for those that need a little more support.
[Photographs of EBH and EAFS trainees with consent by Elinor French, independent photographer. Copyright HEE EoE]