Education in the East of England Foundation Schools
We welcome all our trainees at F1 with a weeks preparation for professional practice. This orients you to your trust, and is a mixture of simulation, lectures, mandatory training and most importantly, shadowing those who are working in the posts you are about to take over! Your local trusts will inform you of their itinerary!
This has been extended for those who are new to the UK to an additional 2 week shadowing, as well as a unique and specifically tailored course prior to the professional practice week. We understand that the NHS can run very differently from the health cultures you may be used to, and this gives you an adaptive head start. Our FTPD with a special interest in overseas trained doctors is available for mentorship throughout the year.
Educational Ethos

 Our aim is to achieve excellence in educational provision, with a vibrant programme that allows our trainees to flourish.

We have taken note of best practice elsewhere, educational research as well as trainee feedback to devise a programme which is interesting, interactive and covers the depth and breadth of the foundation curriculum.

You asked for more simulation and interaction, and we have delivered by increasing simulation at trusts and in our clinical hubs, and by adding our VR resource.

You asked for more choice over your programme and now more than half of the taught educational programme is trainee determined according to preference, skillset and future career aspirations – the hub sessions, and additional options.

We hope our foundation trainees will view the educational programme opportunities as part of a wider continuing professional development that will be life long in a medical career. As such, we expect that the topics of the training sessions attended are broad and balanced across the curriculum including both clinical and professionalism elements

Please review our taught programmes guidance, which shows how the different elements are fitted into the training time mandated for ARCP

Enjoy your training opportunities!

Simulation Training

We have a mixture of simulation modalities in our training programme to enhance your learning. We plan that the proportion of simulation based training will increase, and some modular elements be embedded in the hubs and local generic training programme. Our primary High fidelity simulation day enables learning about human factors, teamwork and prioritisation skills. Other options are with departmental skills and drills and procedural training.

Formal study leave application is required for attendance to the deanery funded simulation, and is likely to be required for other sessions requiring protracted time from the ward.

We are excited to be incorporating virtual reality simulation training into the deanery, the first deanery to commit on a large scale. This allows both group work and individualised simulation using a custom built system and Oculus Rift. Custom developed programmes of 10 simulations changing with each foundation year are installed with individualised log in and feedback. Each trust has 2 complete setups for Foundation use. Each trust will offer at least one facilitated VR session as a small group, but please use more often on your own or with friends and colleagues. The simulations can also be done not as VR for additional practice and improvement at home.

Please see our guideline on using the VR.

Our foundation simulation lead is Dr C Liu based at NWAFT​

The HEE EoE simulation lead is Dr G Winnett based at Basildon [simulation hub]

Hub Events

These are longer block teaching, interactive and often including simulation and direct participation. Please review our Hub leaflet.

The clinical sessions both teach within the foundation curriculum and provide a window into a future career, allowing access to keen trainees and specialists within those areas.

As our foundation curriculum includes the building blocks of future successful careers, this does include sessions on professionalism, ethics and other non-directly clinical aspects of modern medicine.

In our pilot year, our trainees predominantly found this to be an excellent resource, and were keen for us to continue providing this. This is the first year of such a large programme, and will be challenging to run and deliver, but we have a desire to improve training year on year, and strongly believe this will be a valuable addition to local teaching.

Dr Z Khan is our portfolio FTPD with responsbility fo our HUB events. Please have a look at her twitter feed to see some of the hubs that have happened this year

As always, there will be running improvements made based on feedback and curriculum development.

Formal study leave application is required for attendance.

Generic training

We have kept the bulk of the taught programme within local trusts for easy access for our trainees, and would expect most trainees portfolio to evidence a minimum of the 10 mandated hours and suggest for a broad training experience around 10 further additional hours should be attended.

This is the element that has previously been called 'generic teaching' referencing the broad areas of both clinical and non-clinical elements covered within it. This remains the backbone of the delivered educational programme due to trainee and trust considerations, as well as utilizing local educational expertise.

We understand that regularly leaving the trust for a fully centrally provided teaching programme would be difficult to juggle with clinical experience, requiring pre-planned leave and travel. Trusts also have more opportunity to provide width to the programme in the delivered teaching using their multiprofessional experts, as well as enabling some peer to peer teaching.

Locally delivered teaching gives opportunity for trainees to recognize and approach experts and enthusiastic educators in fields other than their own rotations.

E-learning [script and generic e-learning]

We have mandated the use of the script prescribing e-learning system for F1 and F2. Please see the supporting documentation. There is evidence that prescribing errors are significant in early foundation years, and we wish to support doctors in acquiring prescribing skills safely. Completion of 6 modules is required for ARCP

The E-learning for health resource bank has many modules that are specifically aimed for foundation doctors and aligned with the curriculum, as well as other modules that trainees may also find to be of value. We have therefore made time to complete e-learning as part of each trainees study leave allowance. [see FAQ below]

Further information can be found on the e-Learning for Healthcare website here
[Photographs of EBH and EAFS trainees with consent by Elinor French, independent photographer. Copyright HEE EoE]
We hope that this mixture of different training opportunities and modalities should give an exciting and innovative approach to post graduate medical learning. We are always keen to receive feedback through our Foundation team or trainee representatives.
There are also wider training days arranged by HEE that you may find useful. Please look at the training calendar.
Seeing the whole person
Our training packages are not all about clinical education. You will see from the non-clinical hub days and the other options below that we aim to help you transition from medical school to the workplace by providing you with non medical opportunities. This is part of the wider support available to trainees, please look at the wellbeing hub.
Resilience training
There has been much discussion and adverse publicity around whether trainees should have resilience training. This has been seen as focussing on adapting trainees to adverse environments. We disagree with this premise for resilience training. We wish our trainees to have the resilience to face the natural challenges of working as a doctor, to balance their professional lives with personal, and perhaps ease the rites of passage of some of the sad and distressing events they may witness and other transformative experiences during foundation. Foundation doctors have frequently moved areas, and may have less than their usual supportive network. We are sure you will quickly find your feet, but would like to help smooth the transition.
Resilience training is definitely not aimed at surviving the workplace. Should trainees feel that their working conditions are not acceptable, or the support levels require adjustment, this should be raised to their local Foundation Training Programme Director [FTPD], the guardians of safe working within their trust and escalated centrally if it cannot be improved.
Mentorship and mentorship training
We have started an F2-to-F1 buddy system in our trusts, which we hope to be self sustaining. This is predominantly for wardcraft, easing into being a doctor and learning the ropes. Any concerning issues raised should be rare and passed onto educational supervisors and FTPD to help advise. We do have some mentorship hub days for those wishing to take mentorship further, and our mentorship fellows always happy to help if your local trust scheme needs some re-invigoration.
Careers support
We have careers support through your educational supervisors, e-learning specific for foundation, our Hub days, careers fairs in local trusts and also those run by our other schools in HEE EoE
Study Leave
We aim that our study leave guidance should always be current and reflect the latest mandate of HEE and UKFPO. This guidance has undergone very regular updates, so there may be a number of previous guidance documents in circulation. It is not to be seen as a statement of future allowances, as it is subject to change.  We intend to have a fair and transparent process, giving equity of access across our foundation doctors.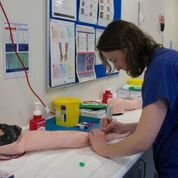 Please look at the supporting documents attached, which clarify the educational requirements for ARCP for foundation, the study leave policy, accessing hub events and simulation.
This is an eLearning programme designed to improve your prescribing competency.
SCRIPT is fully integrated in the HEEEoE programme for both EAFS and EBH.  You are required to complete a minimum of 6 mandatory modules per year. These mandatory modules will be part of the checklist for your ARCP at the end of each year.
Please download the SCRIPT guidance document (found below) for full information.
e-Learning for Healthcare
The Foundation e-learning programme is a free e-learning resource for foundation doctors
---
The e-learning sessions are mapped directly to the Foundation professional Capabilities (Training Outcomes) in the 2016 Foundation Curriculum. They can be found from quick links on each line of the curriculum in the e-portfolio. The material has been developed by the Academy of Medical Royal Colleges in partnership with e-Learning for Healthcare (e-LfH) and is approved by UKFPO.
Each session takes around 20 minutes to complete, designed to fit in with busy work/study schedules and can be used:
As a reference tool
To revisit topics to refresh learning
As directed preparation for a formal education session
To ensure coverage of aspects of the curriculum that are not often encountered in the work place
The Foundation e-learning programme is designed to underpin practical clinical experience and ensure the application of pre-existing knowledge in a safe manner.
The e-learning material is designed to enhance and blend with the existing teaching within Foundation schools.
Further information can be found on the e-Learning for Healthcare website here
The 60 minimum hours taught programme is included in your study leave. We anticipate most trainees will attend more local teaching and in F1 utilise all their study leave allowance of 90 hours. This is recognised in our study leave guidance. Please read it.
F1 are not anticipated to have any study leave outside that guidance, and aspirational leave is exceptionally rare.
F2 again will have the majority of their study leave from the taught programme and a taster week [please use this opportunity, as this will be seen as positive for specialty application]
Please read the study leave guidance for both Foundation and the HEE EoE general.
Aspirational leave applications can be made. To receive funding, something similar should not be available in the taught programme [which includes all elements, hubs, sim, VR] and the amount of funding received if it is funded will be capped - this amount may vary.
Balancing the individual needs against the needs of all our trainees requires us to make careful judgements on funding. We spend from this budget to provide funding for hubs, script, simulation,VR etc. We always aim to utilise the whole budget effectively, fairly and transparently. Should there be surplus money, we may redistribute some to those who had partial funding, and we may use for the benefit of all trainees in providing additional teaching or support resources.
Thursday, 31 January, 2019
Show Between Dates:
Thursday, 31 January, 2019