East of England
Dental Core Training
Back to Map
This section of the website provides an overview of Dental Core Training (DCT) in England East of England.
Here is a map showing the location of DCT Posts across East of England Region. The posts are also listed in order below the map. The DCT 1 posts are shown with red markers and the DCT 2 with blue markers. Each post has a reference letter and if the post is in more than one location, a marker will appear at each location. Please run your mouse over the markers on the map to see a summary of information about the post and its location in the box beside the map..
Clicking on a marker will take you to the full description about the post in the list of DCT posts further down the page. Alternatively, clicking on the button beside each of the listed posts will display the information for that post.
List of DCT Posts in East of England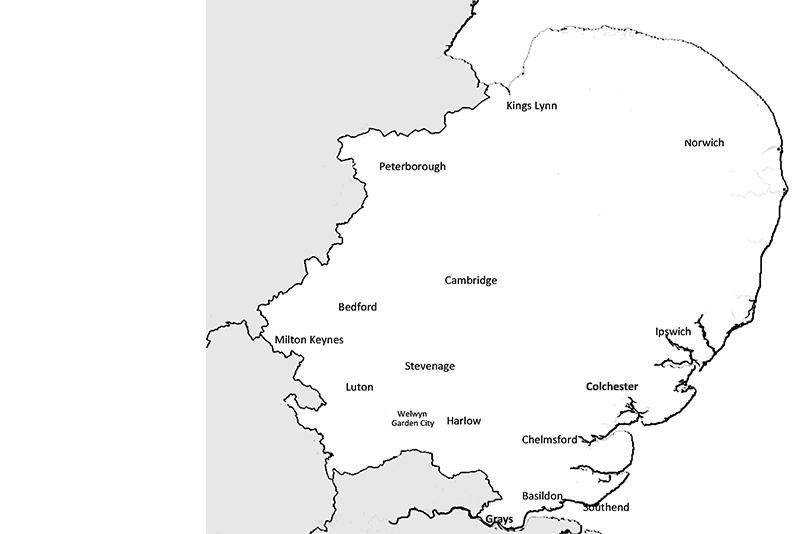 DCT 1 Posts in East of England
Beds, Herts & Bucks OMFS Network (Northern Rotation) ‐ DCT 1 ‐ OMFS
Beds, Herts & Bucks OMFS Network (Southern Rotation) ‐ DCT 1 ‐ OMFS
Cambridge University Hospitals NHS Trust - Addenbrookes Hospital - DCT 1 - OMFS
Mid Essex Hospital Trust - Chelmsford and Basildon - DCT 1 - OMFS
Mid Essex Hospital Trust - Chelmsford and Southend - DCT 1 - OMFS
North West Anglia NHS Foundation Trust - DCT 1 - OMFS
The Ipswich Hospital NHS Trust - DCT 1 - OMFS
The Princess Alexandra Hospital NHS Trust - DCT 1 - OMFS
The Queen Elizabeth Hospital King's Lynn NHS Trust - DCT 1 - OMFS
Norfolk and Norwich University Hospital - DCT 1 - OMFS
DCT 2 Posts in East of England
Beds, Herts & Bucks OMFS Network (Northern Rotation) ‐ DCT 2 ‐ OMFS
Beds, Herts & Bucks OMFS Network (Southern Rotation) ‐ DCT 2 ‐ OMFS
Cambridge University Hospitals NHS Trust - Addenbrookes Hospital – DCT 2 - OMFS
Mid Essex Hospital Trust - Chelmsford and Basildon - DCT 2 - OMFS
Mid Essex Hospital Trust - Chelmsford and Southend - DCT 2 - OMFS
Norfolk and Norwich University Hospital - DCT 2 - OMFS
The Ipswich Hospital NHS Trust - DCT 2 - OMFS
Community Dental Services - Grays and Colchester - DCT 2 – CDS
Tuesday, 13 November, 2018
Show Between Dates:
Thursday, 10 January, 2019