About Us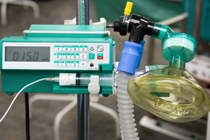 Welcome to the Postgraduate School of Anaesthesia. The site showcases the excellent training and education offered by the East of England Multi-Professional Deanery in Anaesthesia. The site will provide a portal for prospective trainees interested in joining the specialty. In addition it allows ease of communication, the opportunity to share good practice and a forum for the promotion of new ideas and developments to existing trainees and trainers.
The Postgraduate School of Anaesthesia has responsibility for the delivery of training for doctors in anaesthesia, critical care and pain medicine. The School has a key role to play in ensuring the quality of patient care through commissioning posts, setting standards, developing trainers, assessing trainees and assuring the quality of training.
The Head of School is managerially responsible to the Postgraduate Dean and professionally responsible to the Royal College Of Anaesthetists. One of the main intentions of the School is to bring together and locally coordinate the work of the Deanery and the College. The College has always been involved in training, with the new training curricula and e-learning Anaesthesia being key examples of important developments by the College.
Anaesthetics is the largest hospital specialty with a great diversity of clinical activities. Anaesthetists are primarily involved in the delivery of the surgical workload of the NHS, but also are the main providers of Intensive Care medicine (ICM) and Pain Management. This link is evident in the bodies responsible for ICM and Pain Medicine being located within the Royal College of Anaesthetists (RCoA).
RCoA Schools have been in existence since 1996. Deanery boundary changes after this date created the East of England Multi-Professional Deanery. The East of England Multi-Professional Deanery now covers the counties of the old Anglia region, Norfolk, Suffolk, Cambridgeshire and Bedfordshire, with the later addition of Hertfordshire and Essex. Initially, the hospitals in Hertfordshire and Essex remained within the three North London Schools of Anaesthesia, namely North Thames East, North Thames Central and Imperial, although the posts are funded by East of England. However, these hospitals are now in the process of a phased repatriation of posts.