Application for Approval of Eligibility to Claim Reimbursement of Removal or Rotational Travel Expense Form
Instructions for completing your eligibility claim form
Please read the information below carefully before completing your form.
This form must be submitted by email - Hand written, posted or scanned application forms will not be accepted as this will deem the electronic signature fields unusable and the form invalid. Please type your answers in the spaces provided, and sign the document with a digital ID. Step by step guidance on how to set up a digital ID to sign this document is available here. 
Please ensure you have downloaded the application form, saved it locally and opened it in Adobe Reader or Adobe Reader. This should happen automatically as Adobe Reader is pre-installed on most computers.
♦  Trainees must ensure they have read the policy for the Reimbursement of Removal or Rotational Travel Expenses for Doctors in Training to ensure they meet the eligibility criteria before submitting an application. Applications that do not meet the eligibility criteria will be declined.
♦  Please submit all supporting evidence/receipts with eligibility application to your employing NHS Trust.
♦  It is the trainee's responsibility to submit the application form via email once complete and signed, within 2 months of incurring the costs.
Troubleshooting
If you receive the following error message the form has been opened incorrectly, (in the webpage or a previewer) in this case you must save a copy of the form by clicking the 'download' button and choosing a file/location, then go to that file/location on your PC/laptop and open with Adobe Reader or Adobe Acrobat.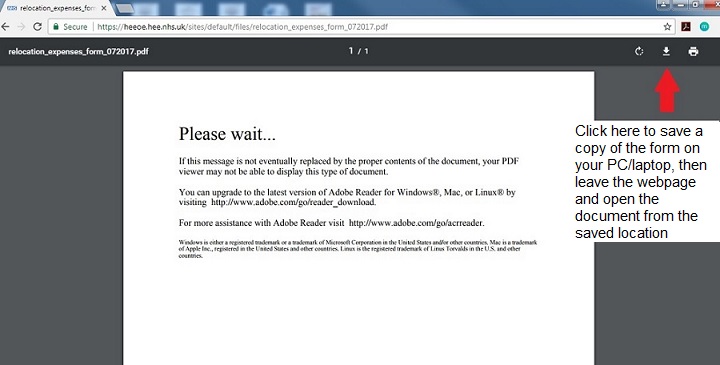 Step by step guidance on how to set up a digital ID - Digital ID instructions
Electronic form guidance for Mac users - Mac user guidance
Download Adobe Acrobat Reader Free - Click Here