Living in the Peterborough Area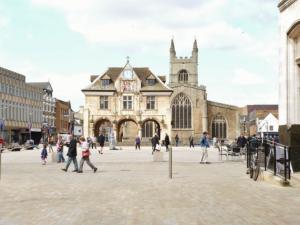 Situated between East Anglia and the East Midlands, the city is at the centre of one of the fastest developing regions in Europe. It offers a wide range of housing, education, sporting, leisure, and commercial facilities.
To the east of the city are the wide open landscapes and skies of the fens which stretch far across East Anglia and continue far into South Lincolnshire. To the west of the city there are the rolling hills and picturesque villages of the shire counties Northampton, Nottingham and Leicester.
 
The City & Surrounding Areas
Peterborough is a city of energy, alive with culture, colour and community, with much to discover and explore. A historical and cosmopolitan city with diverse food, music, heritage and retail.
Peterborough has a thriving population of over 171,000 residents.
There is a rich multicultural society with about 13% of the population non-white British, compared with around 12% in England and around 7% in the region.
Average house prices are around £175,000 with a mix of style and location – from a vibrant urban environment, to villages set in the rural idyll of John Clare country.
There are large area of green space within the city. Just beyond the city borders you will find historic market towns and rolling countryside with villages full the rural character of Cambridgeshire and Northamptonshire.
 
Housing
There is a wide range of housing available in the city centre and the surrounding established townships of Orton, Bretton and Werrington.
Because Peterborough is a growing city there are many new housing developments in the area. The Hampton township currently under construction will provide a further 5,000 houses and is the largest privately financed housing development in Europe.
Houses in the surrounding villages vary from older traditional country cottages and large houses to more modern homes of varying sizes.  With the excellent parkway system travel from a village location to City Hospital can  take under 15 minutes.
 
Education
State Schools
£100m has recently been invested in new schools, including Thomas Deacon Academy and the award-winningVoyager School, with a further £135m investment planned in Peterborough's education development. There are a raft of excellent schools in the city including the highly acclaimed Cathedral School, Kings with a 470 year history.
Public Schools
Peterborough is a superb location to be in easy reach of some truly outstanding schools. Tatler's Public School of the Year 2012 was Oundle School which is just 12 miles from Peterborough. Also within easy driving distance arePeterborough High School, Stamford Endowed Schools, Uppingham School and Oakham School.
Further Education
The £8m University Centre Peterborough provides progressive higher education courses through Anglia Ruskin University. Further partnerships are being developed with Cranfield University, Middlesex University and others.
 
Shopping & Leisure
Peterborough is a renowned location for shopping, attracting people from a wide area. There are three covered shopping centres linked by tree lined, traffic free streets, containing many shops large and small.  The award winning Queensgate is the largest shopping centre in the city with over 100 stores, including John Lewis, Boots, Bhs, Marks & Spencer, Disney  and several restaurants. There is also a large covered market open five days a week and various out of town shopping centres.
In the city centre the Broadway area is the focus for a lively night out with late night bars and clubs. Peterborough boasts two theatres the Broadway and Key Theatre and Tolthorpe Hall, home of the Rutland Open Air Theatre and the popular Stamford Shakespeare Company is not far away. Peterborough Cathedral is used for many concerts and festivals. There are a diverse range of eating places available from pubs, wine bars and hotel restaurants to Indian, Chinese, Thai and Italian eateries within the city and many fine village pubs nearby offering a warm welcome and delicious food, often in delightful riverside locations.
 
Access
Access to the rest of the country from Greater Peterborough is quick and easy.
Road
Two miles from the A1 and A47 giving access to major routes in all directions. Peterborough is within easy driving distance of London and Cambridge.
| | |
| --- | --- |
| 38 | miles to Cambridge |
| 42 | miles to Leicester |
| 45 | miles to Northampton |
| 56 | miles to Nottingham |
| 80 | miles to London |
| 85 | miles to Birmingham |
The Peterborough Parkway is a dual carriageway that runs around the city and linking to the A1 and the A47. This makes the city centre, outer suburbs, and surrounding towns and villages all highly accessible.
Rail
Peterborough is on the main intercity East Coast Line between London and Edinburgh. Several trains an hour depart to London Kings Cross which has a non-stop journey time of only 45 minutes. Trains to other popular destinations include Cambridge, Newcastle, Leeds, Manchester, Liverpool, and Norwich. There is also direct link to Stansted Airport.
Airports
Stansted and Luton approximately 80 minutes by car
Birmingham and East Midlands approximately 90 – 110 minutes by car
There is a direct rail link from Peterbrough to Stansted Airport.
Bicycle
Peterborough is a cycle friendly city. The Peterborough Green Wheel is a 26 mile cycle route encircling the city that provides access to the city centre from many points.