Recruitment - Why Choose Chelmsford?
On this page you will find all the reasons why the Chelmsford Programme is an excellent choice!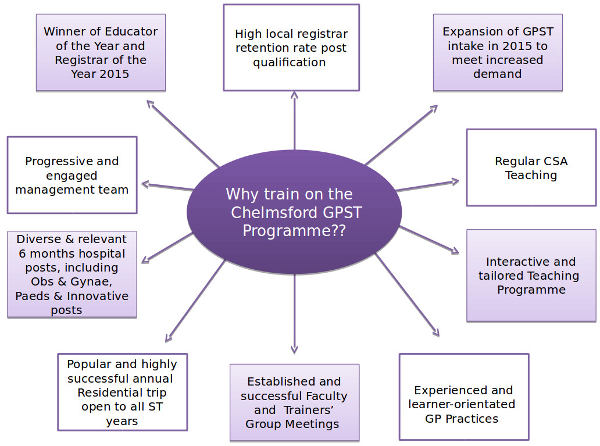 …and don't forget the option of Out of Programme Experience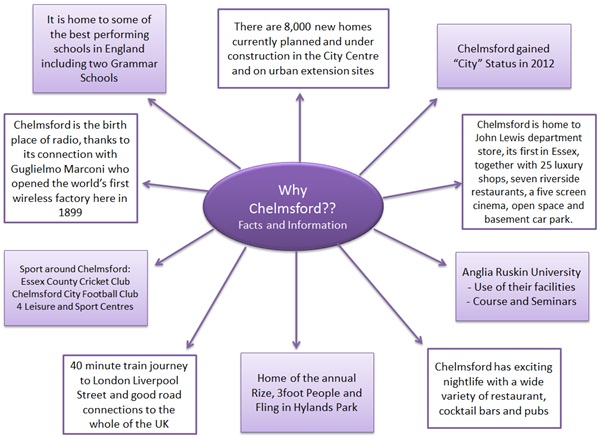 Here's what our trainees say…
GP training in Chelmsford has given me a good basis for my future career in general practice. The TPD's and support staff are fun, approachable and hard working. They can be relied upon to provide medical, practical and career support when needed. Over the course of your training you'll become part of the GP family, with friendships cemented at teaching sessions each Wednesday, and at the annual Residential Programme. This is always a highlight, staying in a fancy stately home or hotel with your friends and colleagues for interesting teaching sessions and some relaxation and respite from the daily grind. 
GP training for me has been a very sociable 3 years, much more supported than my junior training, with a much better quality of life overall compared to other training schemes. 
Broomfield hospital, like most around the UK, is busy but well led with a great community of knowledgeable and friendly consultants. I enjoyed my hospital posts here, in rotations relevant to general practice, giving me a solid basis for my GP posts. 
Chelmsford itself is a great town for junior doctors, with loads of shops, bars and restaurants as well as good schools and housing. It's really well placed in the beautiful Essex countryside and coastline, but is still within really convenient reach of London.
"I am a GP trainee in my first year of the GPST programme in Chelmsford. I would highly recommend choosing a scheme in Essex as it is a pleasant and exciting place to live, being a commutable distance to London and generally quite accessible. There is lots to do in the area, from shopping to enjoying the annual V festival! General practice is a fulfilling and rewarding career choice for anyone who enjoys continuity of care with their patients and is able to adapt to a variety of clinical conditions. The training scheme in Chelmsford is a fantastic one and I am so pleased I chose it."
I have just entered my final year of GP training at Chelmsford and have thoroughly enjoyed the scheme so far. The GPVTS programme is constructed in six monthly rotations which provide enough time to really get to grips with a specialty before moving on. As expected the scope for general practice is huge and cannot be covered by hospital placements alone. The Wednesday afternoon teaching sessions provide a good basis for highlighting areas for development whilst also allowing time to socialise with peers who are in a similar situation, or seek advice from those in the years above. One of the highlights of this year was the residential and I would definitely recommend looking into this and booking early on.