The Purpose of Revalidation
On the 3rd December 2012, the General Medical Council (GMC) introduced revalidation, a new system of regulating licensed doctors. The purpose of revalidation is to provide greater assurance to patients, the public, employers and other healthcare professionals that licensed doctors are (a) up-to-date with current knowledge and (b) fit to practice.
Every doctor who is fully registered with a license to practice will need to revalidate, usually every five years. In addition, for doctors in postgraduate training, you will also revalidate when you receive your Certificate of Completion of Training (CCT).
This will happen through a recommendation being made to the GMC by the Responsible Officer, normally a senior licensed doctor in the doctor's organisation or designated body.
Revalidation is directly linked to the annual appraisal process and for trainees this will take place at the Annual Review of Competence Progression (ARCP).
Revalidation for Doctors in Training
For trainee doctors, the five year revalidation cycle will start at the point of full registration with a license to practice, which usually occurs at the start of Foundation Year Two (F2).
The GMC have set revalidation dates for approximately 60 days after expected CCT date.  For those whose training programme lasts less than five years, as in General Practice, their first revalidation will take place at CCT.
The designated body for trainees will be the Local Education and Training Board (LETB), and the Responsible Officer (RO) will be the Postgraduate Dean, or an appointed deputy. As a trainee in the East of England, your designated body is Health Education England working across the East of England (formerly EoE Deanery) and your Responsible Officer is Professor Bill Irish, Postgraduate Dean, for the purpose of revalidation.
The Postgraduate Deans, acting as Responsible Officers, will base their recommendations for revalidation on information supplied for the Annual Review of Competence Progression (ARCP).
Changes to the ARCP Process for Revalidation
In order to incorporate revalidation, the Annual Review of Competence Progression (ARCP) has been enhanced by developing the existing documents. The Form R part B, Educational Supervisor's report and ARCP Outcome form now include sections relevant to revalidation.
The ARCP panel will determine whether or not there are any causes for concern, and the chair of the panel will relay this to the Responsible Officer via the ARCP Outcome Form. This will happen annually, although revalidation itself is on a five-year cycle.
The revalidation process is carried out via the ARCP process, with a little additional information from employers about clinical governance, and information from trainers about scope of practice.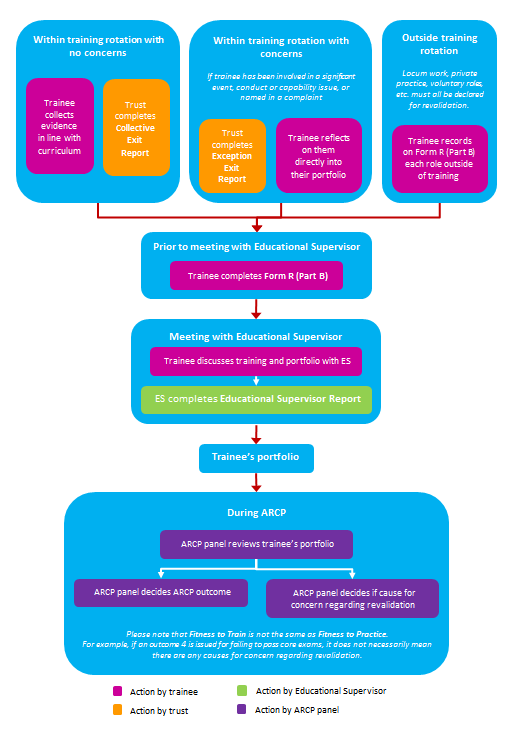 Revalidation Recommendations
The RO has three options in making a recommendation. These are, in summary:
Recommendation to revalidate
Deferral request
Notification of non-engagement
Outside of the revalidation process, doctors about whom an RO or medical director has serious concerns regarding their fitness to practice will be referred to the GMC at any time using regular fitness to practice channels.
This decision should be made when the need arises and not wait until the next revalidation recommendation is due. A GMC team of Employer Liaison Advisers is available to provide advice and support on such cases.
Please note that the ARCP and revalidation processes are interlinked, but they are not co-dependent.
For example:
A trainee achieving outcome 6 at ARCP for completion of training would do so based upon their achievement and demonstration of all required competencies in the curriculum. Providing there are no ongoing clinical governance concerns the Responsible Officer will be able to make a positive revalidation recommendation. However if the trainee had, for example, an ongoing GMC fitness to practice investigation for drink-driving, but had achieved all the necessary competencies in line with their curriculum they can gain their CCT and move out of training but their revalidation recommendation will need to be deferred until the conclusion of the GMC investigation.
A trainee has received outcome 4 at ARCP and been released from programme due to repeated exam failure. Whilst this is considered "unsatisfactory", provided there are no concerns about the doctor's Fitness to Practice it should not, in itself, impede revalidation in the future or prevent the Responsible Officer from making a positive revalidation recommendation.
When you will revalidate
When you revalidate depends on how long your training lasts:
 If your training programme lasts less than five years, your first revalidation will be at the point of eligibility for CCT. Your revalidation date can be set up to 60 days after your CCT date.
If your training programme lasts longer than five years, you will be revalidated five years after you gained full registration with a licence to practise, and again at the point of eligibility for CCT. This means your second revalidation may fall less than five years after your first. Your ARCP date and revalidation submission date do not need to align, and you can revalidate with fewer than five ARCPs.
Your revalidation submission date will be:
Sent to you at least three months before the date* (when they become 'under notice'
Recorded in your GMC Online account
Communicated to your responsible officer via GMC Connect.
Your responsible officer must make their recommendation on or before your revalidation submission date, during the statutory notice period (usually from four months before your date). You do not need to have received your CCT in order to revalidate. If your CCT date moves forward, and you're not in your notice period, your responsible officer can ask us to bring forward your revalidation date.
A recommendation to revalidate This shows that you are up to date and fit to practise.
A recommendation to defer  - This provides flexibility where a doctor is meeting the requirements for their revalidation, but their responsible officer or suitable person needs more time to make a recommendation to revalidate.
* A deferral of your revalidation submission date:
• is not a penalty
• does not imply any judgement about your fitness to practise
• does not affect your licence to practise
• is not publically available or published on the medical register. There are two reasons why we would accept a recommendation to defer: • You have been unable to complete ARCP or provide the necessary full scope of practice information.
• You are participating in an ongoing local HR or disciplinary process and your responsible officer or suitable person needs that process to conclude before they can make a recommendation to revalidate.
Queries
If you have any questions around revalidation, who is an RO, what is involved, etc, please check out our Frequently Asked Questions.
Health Education England, working across the East of England will continue to provide you with regular updates and other information.
All revalidation queries can be directed to the Revalidation Team at revalidation.eoe@hee.nhs.uk.
Revalidation for Nurses
Please note this is not carried out by the GMC or HEE EoE.  For queries and information regarding revalidation for nurses, please see the Nursing & Midwifery Council Revalidation website.
Thursday, 20 December, 2018
Show Between Dates:
Thursday, 20 December, 2018