Health Education East of England O&G Training Hospital Rotations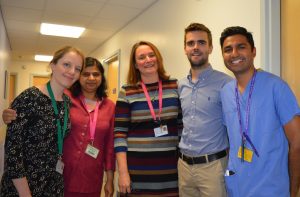 The East of England is a geographically large deanery but this provides diverse training within a variety of units. 
Training Programme Directors (TPDs) recognise that our deanery is far-reaching therefore are supportive in aiming to club hospital rotations to a geographical area within the deanery - typically clustering around the north, south (particularly accessible to commute to or from London), west and east of our deanery. In December each year you are asked for your three preferred units for rotation the next academic year and rotations are organised accordingly. So come join our deanery without worrying about having to commute for hours each day. 
Typically each trainee will spend 12 months for each hospital placement before rotating, except in ST2-3 where we recognise that there is a substantial step up to registrar level; therefore TPDs will try to ensure the trainee remains in the same hospital for those two years to support their training and progression to being a registrar (unless the trainee would prefer not to do this).
Please find below information about each training hospital's department from their corresponding RCOG College Tutor.
For a list of the current Trainee Representatives for each unit please click HERE.