The short video below gives an overview of the steps you need to complete to become a GP Educator in the East of England: 
The Educator Training relates to 3 types of GP Educator:
Tier 2a - Out of Hours Supervisors - who can provide Clinical Supervision to GP Trainees in Out of Hours Settings
Tier 2b - Associate Trainers - who can provide Clinical Supervision to GP Trainees (up to ST2) and Foundation Doctors in GP practices. 
Tier 3 - GP Trainers - who can provide Clinical and Educational Supervision to all stages of GP Trainees and Foundation Doctors in GP practices. 
Please follow the links above for details about the training pathways and how to apply.
If you are interested in becoming an educator please first contact your local Training Programme Director and/or the Clinical Lead at your Out of Hours organisation who can help guide and support you through the process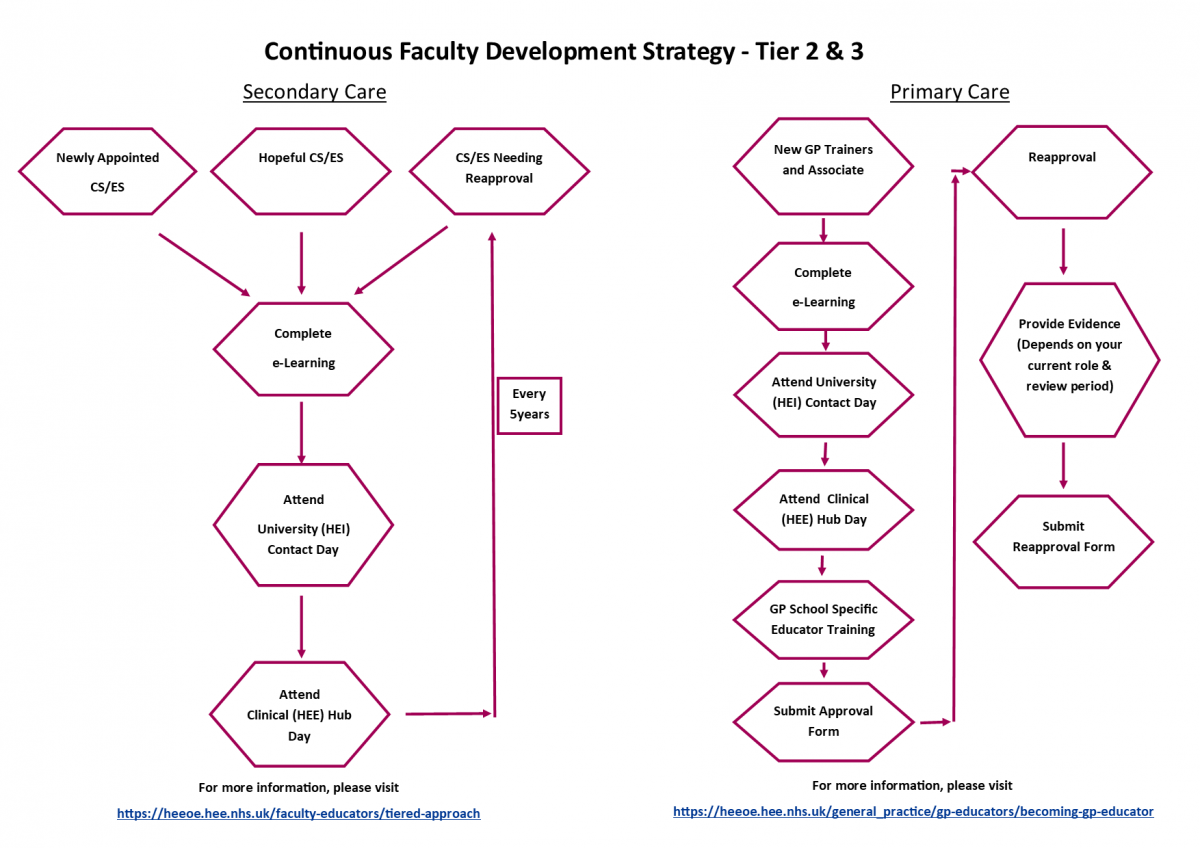 Teaching Cambridge Undergraduates
"Are you an enthusiastic GP who would like to teach Cambridge undergraduate students in your practice or at the university? We send students to practices across the East of England. If you become a GP tutor at Cambridge University, you also have the opportunity to develop your skills by attending our GP development programme. This leads to associate status of the Higher Education Academy (AHEA). We are always keen to hear from GPs who are interested in finding out more about opportunities for involvement in undergraduate teaching. Please feel free to get in touch by telephoning the GP Education Group office on 01223 330364 or the admin team on 01223 762516, or visit our website for more information."
Teaching UEA Undergraduates
"Norwich Medical School has a modular, integrated, Problem Based Learning Course with emphasis on early patient contact. This is achieved through the involvement of a network of Practices across East Anglia. Students spend a day in Primary Care, in groups of 10, during approximately 8 weeks of each module. The day involves a combination of core teaching on the topics for the day (e.g. history taking, clinical examination skills, prescribing skills) as well as patient interviews and discussion of the issues raised as a result. GP Practices and Primary Care Tutors are supported by Practice Development Tutors and there are Tutor Development sessions at UEA. The time spent in Primary Care remains one of the most highly evaluated learning activities by the students.
If you are interested in teaching our enthusiastic and capable students, contact the Head of Primary Care teaching, Dr Richard Young (wm091@uea.ac.uk) for more details or ring our placements team on 01603 591476."
Sunday, 24 February, 2019
Show Between Dates:
Sunday, 24 February, 2019