Training Centres 
Cadaveric Simulation in General Surgery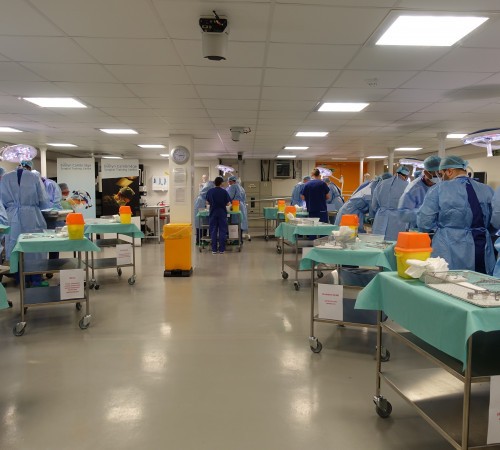 Provided by Evelyn Cambridge Surgical Training Centre.
Trainees in the East of England have access to an extensive surgical cadaveric simulation program which provides training that is as close to real life as possible.
The courses are mapped to the surgical curriculum in General Surgery and the use of cadaveric specimens provides risk-free practice under close expert supervision with real-time feedback. 
All general surgery sub-specialties are covered within separate themed training days with a low student:teacher ratio supervising sub-specialty relevant operations (both open and laparoscopic). 
It is clear that practical skills aren't purely learnt in a book and so cadaveric simulation provides a stepping stone from basic knowledge to the operating theatre for our trainee surgeons.
Using cadaveric human tissue, set up in such a way as to mimic the real living human experience, trainees develop the confidence and skills to do the procedure without error in the living situation. 
Trainees learn a great deal more from mistakes they make in the cadaveric lab, as these can be discussed with the expert supervisors and the steps needed to avoid the mistake in future can be demonstrated.  
In the East of England, we offer a wide range of teaching days with the latest technology. This provides the best possible environment for trainees to learn and perfect their techniques on cadaveric material.
Trainees testimonies about the cadaveric training:
ST3 Trainee - I attended the Transplant Course and the Trauma Course, these 2 days have provided me with my current limited experience of transplant and trauma in my ST3 training and are the only procedural activities I have linked to these 2 mandatory topics on my ISCP.  They have improved my understanding of anatomy, tissue handling and management of specific infrequent but all important transplant/trauma situations. In addition to providing me with confidence during trauma calls, they have also been relevant to my upper GI and emergency surgery rotations in these respects. The cadaver and faculty:trainee ratio is excellent. I could not have booked 2 more useful courses and have found these among the highlights of my ST3 training year.  
ST6 Trainee - I attended the UGI course. I couldn't believe this level of teaching was offered for free within the region. I got to perform multiple procedures throughout the day from a laparoscopic inguinal hernia repair to a subtotal gastrectomy. It was run by an expert consultant faculty mainly from Addenbrooke's Hospital. I thoroughly enjoyed the day and look forward to booking on to similar cadaveric courses covering other surgical sub-specialties in the near future.
ST8 Trainee - General surgical simulation days have enabled senior trainees to act up as future trainers in junior grade procedures such as laparoscopic cholecystectomy and appendicectomy. I've found that ST7s and ST8s in particular have developed their leadership skills using the simulators in training junior registrars.