SAS Doctor's Development & Leadership Days
Introduction
Last year we organised a number of SAS Development and Leadership Days. These days focus on topics that have been identified in a SAS Survey or on the Activity and Budget planners submitted by the SAS Tutors. These training opportunities are also open to LED Doctors. Due to COVID-19 these activities are being replaced by virtual workshops. We are working with various providers to ensure we offer interesting topics:
Burning Out or Burning Brightly
A pre-recorded session is available to all SAS doctors via the Online Platform, Bridge. 
Managing others in a climate of change
A pre-recorded session is available to all SAS doctors via the Online Platform, Bridge. 
Managing others in a climate of change 
One of the challenges of managing in the NHS is the frequency of change. This change can take place at both the macro and micro socio-economic level. By understanding more about managing change it will help you to think differently about how you can take some of the principles gained in this session and how you can apply this to your own teams.
By the end of this webinar you will: -
Explore change in relation to personal and organisational change within the NHS.
Appreciate the stages of change and how people respond differently to this. What you can do to support yourself and your teams as you navigate through this complexity.
Learn more about your change management skills and how to build on these for the future.
Working as a Clinician in the UK
Date: 13/10/2021

Time: 13:00 - 17:00

Date: 12/01/2022

Time: 13:00 - 17:00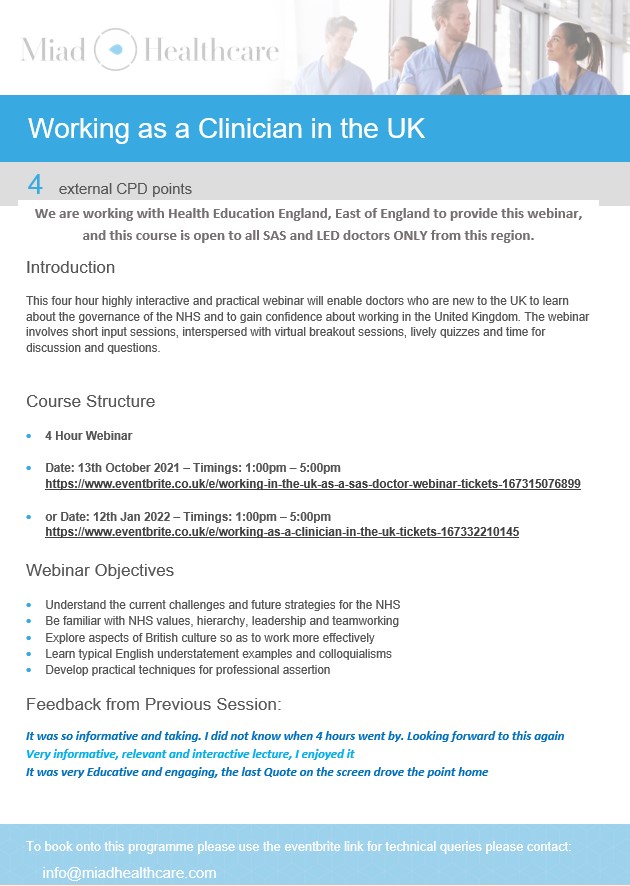 The Art of Resilience and Managing Through Difficult Times
Remaining Effective: The 7 Habits Part 1 & 2
Creating & Delivering a Medical Presentation
Patient Safety Incident Investigation and Complaint Management
Service Improvement and Delivery
Leadership for SAS Doctors - 3 Day Webinar
Dates:
 

Day 1 - 09/11/2021

Day 2 - 23/11/2021

Day 3 - 07/12/2021

Day 1 - 08/02/2022

Day 2 - 23/02/2022

Day 3 - 08/03/2022
Timings for all three dates: 10:00 - 16:00 (09:45 registration)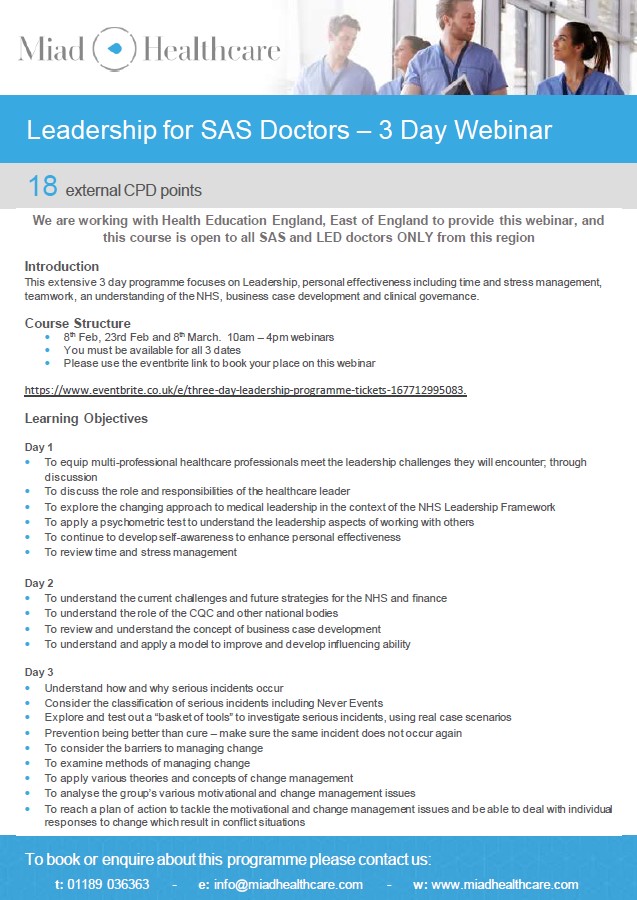 Mindfulness - Don't just do something, Sit there
Date: 10/11/2021

Time: 09:30 - 12:30

Facilitator: Jennie Thornton & Mark Chambers

Date: 26/01/2022

Time: 09:30 - 12:30

Facilitator: Jennie Thornton & Mark Chambers

 
About this event
This three hour module will introduce the principles and practice of Mindfulness. Participants will experience and be taught simple Mindfulness techniques and will be able to start to introduce them immediately in their personal and professional practices.
Please note that you will be sent a Medical Disclosure Form to complete before the course. This will need to be completed before your booking is confirmed, and joining instructions are sent.
Please note that this webinar is being hosted virtually and delegates will be sent a zoom link to join the session following successful registration.
Interpersonal Skills 1 day
Date: 23/11/2021
Time: 09:45 - 15:00
Facilitator: Point Taken Training - Charlotte Grundy
About this event
This Interpersonal Skills workshop is an interactive workshop carried out over 1 or 2 days. The aim is to improve the doctor patient relationship by developing the doctor's communication skills. The workshop is delivered through teaching, role play and feedback.
The NHS is focused on a more patient centred approach, so it is vital that medical professionals understand how to build an open, trusting rapport with their patient through active listening, understanding, clear speech and empathy.
This interpersonal skills workshop has been designed to develop the participants' knowledge, skill and confidence in the different styles of communication. We address verbal, non verbal and para verbal communication and how all three need to work together, and complement each other to produce effortless and effective communication.
What will be covered:
Body Language or Non verbal Communication Understand the components of effective non verbal communication and understand non verbal cues and how to read them.
Active Listening Understand the importance of active listening and perspectives
Open and Closed Questions How to take concise, relevant history using a blend of open and closed questions. Proving a clear, reasoned style. How to use the right questioning to encourage dialogue. Recognise that patients do not present their history in a structured fashion. Tips and tactics for influencing others and arriving at a win win situation.
Accent Softening Speed of delivery, stresses on words, articulation and diction, and using pauses effectively. Avoiding medical jargon. Instead being able to explain thoughts in a clear, concise way.
Empathy Understand when and how to show empathy. Be aware that the way bad news is delivered can affect your patient for the rest of their lives. Sensitively communicate bad news as an essential part of professional practice.
Dealing with Conflict 1 day
Date: 03/02/2022
Time: 09:45 - 15:00
Facilitator: Point Taken Training - Charlotte Grundy
About this event
In large organisations, conflict is unfortunately inevitable. This can be down to mismatched personalities, differences in opinion, work/life stress and miscommunication. If not resolved, conflict can cause a breakdown in relationships, stress and a loss in confidence.
This course will address:
Skills on how to deal with conflict.
Recognising your own emotional state and how to manage it.
How to develop empathy and understanding for other people's positions.
Active listening.
Compromise.
Each topic will be discussed, and will offer advice and techniques to deal with conflict, how to resolve conflict, all the while staying positive and not allowing it to knock your confidence.
Role play with an actor will allow the delegates to practice what they have learnt and hear constructive feedback to help with their progression.
A handout with pre course reading will be available to each delegate.
Success: what lies behind the Mask? An exploration of the imposter syndrome
Date: 22/02/2022
Time: 09:30 - 12:30
Facilitator: Kate Atkin
About this event
Overview:
Have you ever experienced a sinking feeling of being 'found out'? Worried that someone will discover that you are not good enough after all? You are not alone, over 70% of the population experience this 'Imposter Syndrome' at some point in their lives. This workshop explores what the Imposter Syndrome is, why it develops and importantly, how to deal with and mitigate against the effects. And why it is not really a syndrome, but a phenomenon!
Outcomes:
Participants will leave equipped with the tools to identify it in themselves and others, and how to cope with and overcome the feelings.
The workshop will include:
what the imposter phenomenon is
why it isn't a syndrome
how it differs from self-doubt
what are the possible causes and triggers
strategies for handling and overcoming imposter feelings
Re-writing your "story"
how to help others.
Appraisal, Reflective Practice & Revalidation for Appraisees
Date: 22/03/2022
Time: 09:30 - 16:00
Facilitator: Res Consortium - Dr Mark Davies
Educational objectives
Gain understanding of Appraisal & Revalidation processes & policy
Be able to work effectively to achieve successful outcomes in appraisal & revalidation
Be able to apply the core skills of reflective practice in both appraisal and professional practice
CPD approval: This programme is subject to 6 CPD points
About the trainer
Dr Mark Davies, Director Full time NHS consultant until ten years ago when left to take an MBA and work across a range of sectors including the NHS. Now director of Res Consortium as well as honorary NHS consultant. Delivers educational and service development programmes across the UK with a focus on supporting key clinical groups with extensive work with Consultants, SAS doctors, Clinical Directors and Managers on management and leadership development. Works with all levels of the NHS including providers, commissioners and primary care, delivering wider projects around organisational development, service redesign, commissioning strategy and primary care redevelopment. More specifically with clinicians focuses on key programmes including leadership in service development, appraisal, service redesign, clinical/manager joint working, negotiation, job planning, commissioning, cross agency working, and wider performance issues. Is a visiting lecturer with Nottingham University Health MBA.
Core Management & Leadership Skills for SAS doctors
Date: 14/12/2021
Time: 09:30 - 16:00
Facilitator: Res Consortium - Mr Graham Knight
Educational objectives:
Understand core models and approaches to management and leadership as a clinician
Build core management and leadership skills
Be able to apply these skills to local professional roles
CPD approval: This programme is subject to 6 CPD points