We also run additional training days in the region, beyond the Core Program. 
Trainees can use some of their remaining 20 days of study leave to attend these. 
They cover Simulation, Exam Preparation, Research, Professional Development and Induction.        
Organised by Liam Sullivan, Addenbrookes
Typical Agenda
945 Registration + Coffee
1000 PRP
1015 Macula Laser
1030 Yag PI
1045 Yag capsulotomy
1100 TEA / COFFEE
1130 Simulated Yag Laser / Indirect laser
1145 Indirect laser / Simulated Yag Laser
1200 Cyclodiode
1215 LUNCH
Afternoon - Simulation stations
Simulated Cyclodiode
Simulated Indirect PRP
Simulated PRP / Macula Laser
Contact pgme@jpaget.nhs.uk
Venue:
Postgraduate Education & Training Centre
Course Faculty:
Mr Tom Butler, Consultant Ophthalmologist, JPUH &
Mr Craig Goldsmith, Consultant Ophthalmologist, JPUH
Mr Daniel Pharoah, Consultant Ophthalmologist, JPUH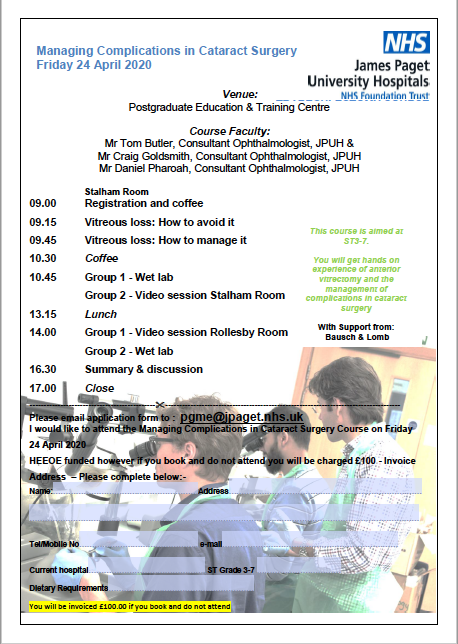 Organised by Narman Puvanachandra & Anthony Vivian
Agenda to be finalised. Trainees will be having ARCP on the same day and will rejoin the seminar after their ARCP
Venue : HEEoE, Fulbourn
Hopefully Dinner that evening to celebrate a great year!
Norfolk & Norwich University Hospital – Regional East of England
ST1 Ophthalmology Induction Week
Depending on number of ST1s appointed
Contact : Louise Richards 
East of England trainees get an amazing discount for this international conference. Make sure you book early!
Cadaver surgery course at the University of East Anglia in Oculoplastic and Reconstructive surgery
Hands on cadaveric dissection course aimed at trainees, fellows and junior consultants in ophthalmology, plastics and maxillofacial surgery. Organised by Bridget Hemmant and Supervised by experienced faculty members including, Bijan Beigi, Carolyn Cates, Steve Byard, James Sheldrick Fariha Shafi and Rachna Murthy. Other faculty members include Richard Haywood Plastic surgeon and Eunice Tan Mohs surgeon and dermatologist.
This is the third oculoplastic cadaver surgery course held at the UEA and will focus on Oculoplastic and reconstructive techniques to include Mohs surgery and margin control for tumour excision. There are limited spaces as a ratio of 1 faculty member to 2 delegates is maintained.
The 3 day Course fee is £1,200
Observer fee £350
Course information and program available and the link below (may not be active yet)
http://store.uea.ac.uk/conferences-and-events/faculty-of-medicine-and-health-sciences/current-events/east-anglian-oculoplastic-lacrimal-and-orbital-surgery-course
Event Details
When
Start date: 8thSeptember 2020
End date: 10thSeptember 2020
Start time: 09:00
End time: 17:00
Where
Address:
Anatomy department, University of East Anglia Norwich Research Park Norwich NR4 7TJ University of East Anglia
City: Norwich
Country: United Kingdom
---
Further information
Contact:
Bridget Hemmant
Consultant Oculoplastic and Lacrimal surgeon
Course director
University of East Anglia
Costs: £1,200 for 3 day course
Clinical Governance Morning Session - Organised by Nitin Gupta  (email link to Jo Milton for attendance)
Location : Apex, Bury St.Edmunds
Organised by Avinash Prabhu,  James Paget Hospital, Great Yarmouth
​This course is for a limited number of 8 trainees. 
Trainees attend free
Mr Liam Sullivan
Consultant Ophthalmologist
Strabismus morning and Oculoplastics afternoon
Trauma Simulation Training Day            
Organised by Deepak Vayalambrone,      Consultant      Ipswich Hospital
​Faculty            Ramy Bassily                      Consultant     Ipswich Hospital
                        Rachna Murthy                   Consultant     Ipswich Hospital
                        Inderraj Hanspal                 Consultant     West Suffolk Hospital
                       Richard Goble                     Consultant      Ipswich Hospital
Sunday, 25 November, 2018
Show Between Dates:
Sunday, 25 November, 2018