BDS (India), MJDF Rcs (Eng), Msc Restorative (Eastman)
The Educational Supervisor: After qualifying I completed my DFT in Ilford, Essex in 2009. I went on to work as an associate in two mixed practices in Essex until 2013. In addition in 2010, I passed MJDF Exams from RCS (England).
In 2013 I became a principal at Thames Dental Surgery and in the same year I enrolled on the MSc Restorative Dentistry at Eastman Dental Institute and was able to successfully complete my masters in 2017 with Merit, alongside working full time at the practice. The MSc was a breakthrough in my professional career. It has changed my clinical approach to dentistry and broadened my knowledge and skills. I was awarded distinction for my dissertation topic on "Feedback and how it facilitates learning process". I completed the Inman Aligner course in 2018. I feel passionate about the whole learning process and believe in life long learning. I have a broad range of dental interests however I particularly enjoy restorative dentistry. I was appointed ES in 2019 and have thoroughly enjoyed it. I am considered to be approachable, always have an open door and am available to offer guidance and support whenever required, to my team.
I find it very rewarding to have seen my FD grow in confidence and develop skills as the year has progressed. My aim is to help FD's to grow in to a competent, empathetic practitioner built on strong foundations of high ethical and moral standards. Away from dentistry, I relax by spending time with my family, listening to music, reading books and going  for walks.
The Practice: Thames Dental Surgery is a busy mixed NHS/Private dental practice in Leigh-on-sea, Essex. We have about 6000 registered patients and a steady stream of new patients most of which are from word of mouth referrals.
The practice is known to be a warm friendly family practice and has a good reputation within the local and surrounding area. The original practice was founded in 1950 and practice was relocated to new premises in April 2015 which enabled us to create the ideal environment for both our patients and staff. The practice occupies the entire ground floor of the new building and has a large reception area, 3 modern fully equipped surgeries each with air conditioning, a staff room, a decontamination room with pass-through hatches to two surgeries, separate staff toilet and a disabled access patient toilet. The practice is air-conditioned, fully computerised with digital radiographs and run on R4+ Clinical software. There is ample restriction-free parking is the local area.
Each surgery is spacious, bright and equipped with its own computers and X-ray units.
The practice uses rotary endodontic equipment, has a variety of modern restorative materials, sectional matrix band, sandblaster, Denar semi adjustable articulator mark 2, Denar face bow and Digital SLR camera are available for clinical use.
There is broadband internet and WiFi connection throughout the building.
The practice currently has 2 dentists, 1 receptionist, 2 nurses, 1 hygienist/therapist and 1 practice manager.
The practice offers all aspects of general dentistry and offers Botox and cosmetic treatment too. 
We pride ourselves on having a close team and members of staff are very friendly, supportive and fun to work with.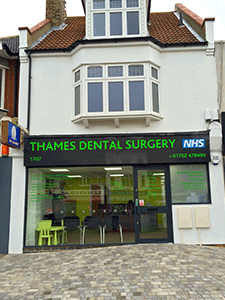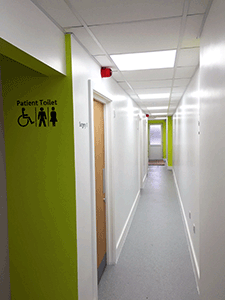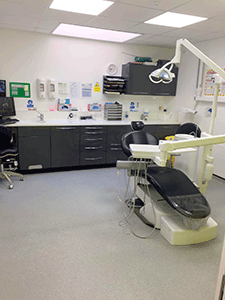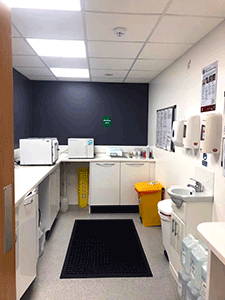 The Area: Leigh-on-sea is a vibrant coastal town with population of 250509 situated close to Southend-On-Sea on south east coast of Essex county. It is a sought after area in which to live and was voted 'The happiest place to live in Britain"for the second time according to survey published by Stephen Little in Nov 2018. Southend pier and aquarium are around 15mins from the practice and Leigh-On-Sea boasts some of the finest restaurants and pubs in Essex. The area is well known for its nightlife.
The area is well connected through rail networks and is considered to be part of London commuter belt. It takes 45 mins by train from Leigh-on-sea to London Fenchurch street.
The practice in about 10-12 mins walk from Leigh-on-sea station and is 5-10 mins walk to sea front.
Leigh-on-sea has vibrant Broadway which has many good restaurants and shops.
The practice itself is situated on London Road amongst an parade of shops and cafes and is situated in close proximity to major road links, we are 30 minutes aways from junction 29 of the M25 motorway.
Both A127 and A13 lead to Leigh-on-sea.
The practice is within reach of Basildon (15 mins), Lakeside (20 mins) and Bluewater (40 mins) shopping centres.
Other Points of Interest: We are a friendly team which makes our working environment a very relaxed one. We regularly arrange social gatherings for team members. The practice has a motto of being professional, supporting and respecting each other and to provide consistently high quality of care for patients. We work hard to make the  experience of each one of our patients a pleasant one. As a practice we have always been actively involved in training. Since the practice was brought in 2013, we have had 5 trainee dental nurses and we provide full support to staff members to progress in their respective careers. We have also encouraged those looking to join the profession through work experience. One of our nurses has successfully completed Impression taking course at Eastman and looking to complete Forensic dental nurse training  in future. Our associate has also completed a Botox course and has been offering these services at the practice since then. Our hygienist had an article on critical appraisal  published in the March 2015 edition of the British Society Dental Hygiene and Therapist Dental Health Journal.  We strongly believe in prevention, working together with patients to help them maintain their oral health and to prevent progression of disease in future. We work very closely with specialist services in oral surgery, orthodontic, endodontic, periodontology and implantology. Overall a very supportive staff and relaxed atmosphere makes it an excellent learning environment for the FD. The FD will be given full clinical freedom during the year.