Bradwell & Gorleston (Great Yarmouth), Norfolk
BSc (Bris) 2008, BDS (Bris) 2013
Old Medical Centre, Beccles Road
Bradwell, Norfolk. NR13 8HB
_________________________________
The Dental Surgery 30 Sussex Road,
Gorleston, Norfolk NR31 6PF
Phone Number:
Tel Bradwell: 01493 662717
Tel Gorleston: 01493 604666
The Educational Supervisor:  I qualified from Bristol Dental School in 2013 and completed my Foundation Training on the Taunton Scheme in the South West. Prior to this I graduated, from Bristol, with an honours degree in Neuroscience. I really enjoyed my first year as a Foundation Dentist and I totally put this down to being in a lovely practice and having 2 great trainers. Ever since that point I have wanted to help other young dentists to hone their skills and aid them in this important year. 
Born and bred in Lowestoft, I moved back to the area in 2014. I was appointed as an Educational Supervisor in 2017 and really enjoy having a young dentist in the practice, to see someone go from undergraduate level to a competent and confident general practitioner is special. I want our Foundation Dentist to have a challenging but fun year that enthuses them in their chosen career.
Clinically I enjoy the variety of work in being a general dentist, however I have completed training in sedation and hope to add an oral surgery masters to this. Outside of work I enjoy playing guitar, golf, squash and cycling.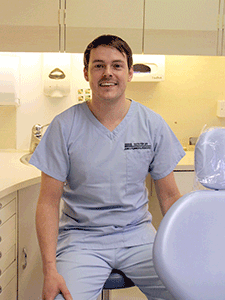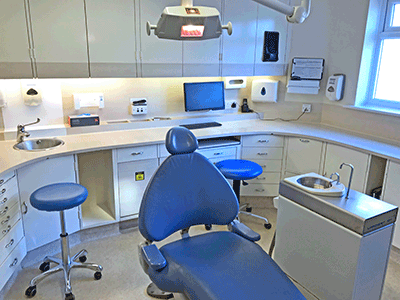 The Practice: We are a successful independent NHS & Private group of practices with 10 sites between Lowestoft and Norwich with the following accreditations - IIP (Investors in People), NVQ III Training Centre Accreditation, ISO 9002 (Business Systems Accreditation). With so many dentists working it is possible to gain experience in almost every specialty ranging from oral surgery and implants to periodontics and facial aesthetics.
We have our own Nurses training school and have an intake of 12-16 new candidates per year. We have been involved with Vocational Training since it's inception and have currently 10 trainers within our group. 
The Gorleston practice is a 3 chair practice located in a quiet road just off the main high street through the town. The Bradwell practice is a 4 chair practice located on the main thoroughfare through Bradwell. The Bradwell practice benefits from digital radiography, and this will be rolled out in the Gorleston practice in the future. Both practices benefit from a wide range of patients with a wide range of patients needs making the Foundation Training year both challenging and rewarding.
The Area: Gorleston is a popular coastal town in Norfolk and Bradwell is situated only 5 minutes west of Gorleston. Norfolk is a beautiful county and Norwich is the jewel of the county.
Norwich is a safe,  rapidly developing city with many bars, pubs, restaurants and shops. There are 2 shopping centers and several nightlife areas so there is always plenty to do. There is a central train station with good links to Cambridge and London daily. Norwich airport and Stansted airport provide low cost flights to many local and international locations.  Outside the city you will quickly find yourself in a beautiful scenic county with its sandy beaches and the renowned Norfolk Broads. A variety of outdoor activities such as paint balling, clay pigeon shooting, cycling, Go-Karting, and sailing are available depending on your interests. 
Other Points of Interest: Accommodation has never been a problem  FDs, either sharing houses in the City or living in affordable accommodation provided by the practice. Rent is low, even in the city, we can give advice on finding suitable property. 
Even for people who know nothing of the area, the practice group provides the perfect opportunity for FDs to gain experience and enjoy the year in a relaxed and sociable atmosphere with young Dentists and staff in a non corporate environment. 
Events: 
    Regular Practice Meetings with interesting topics
    Study Groups
    Peer Review
    Clinical Audits
    Social Events - including golf days and our annual Dentists vs Accountants evening.