Sutton Coldfield, West Midlands
BDS MFGDP MSc PGCert Med Ed
BDS(Hons) MFDS RCPS ( Glasg)
1-2 Walmley Chambers
3 Walmley Close
The Educational Supervisors: Alison, from Holywood in Northern Ireland, qualified from the University of Edinburgh in 1986 and has been an Educational Supervisor since 2011. She has an MSc in General Dental Practice (2008) and a Postgraduate Certificate in Medical Education (2015) from Birmingham University.  Her special interests are Endodontics and Implant Dentistry. Alison has 3 adult children (medic,teacher,chef).  She now has more time to enjoy playing piano, tennis and road cycling. 
Harpreet will be absent owing to maternity leave, and will not be playing an active role this training year. 
The Practice: Walmley Dental Practice was set up in 1994 by husband and wife team Peter and Alison Thornley. This was after a stint doing Aid work overseas and then a few years of working in General Dental Practice in Warwickshire.  The Practice is situated in the busy row of shops with parking in Walmley.  Peter Thornley BDS MFDGP MGDS FFGDP MMedEd is a Training Programme Director for Foundation Training in the West Midlands but provides an Orthodontic Service to our patients in Walmley 2 days a week. He grew up in Sutton Coldfield.  Harpreet is our main Associate Dentist and has an interest in Endodontics.  We are also fortunate to have Devan Raindi BDS (Hons) MJDF RCS (Eng),who was Alison's FD in 2014. He is developing a Periodontal Service in the practice part-time while he is a Specialty Registrar in Periodontology at Kings College London.  Dev publishes papers regularly and enjoys practice and academia.  We are supported by 3 Dental Therapists and a welcoming nursing and reception team.  
The practice is well-equipped with digital radiography including an OPT and Lateral Ceph machine, a 3D Itero Scanner, a Global operating microscope and Carestream R4 computerised records. There is a range of expertise in the practice and our previous Foundation Dentists have benefitted enormously from this.  There is on-site parking.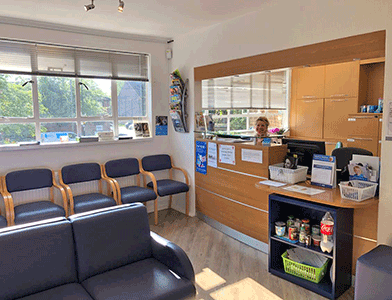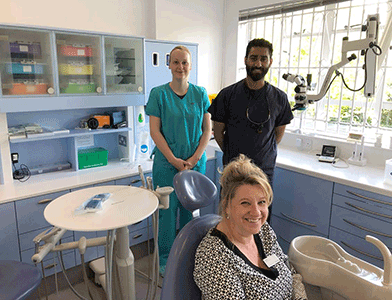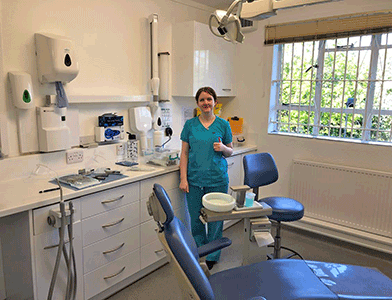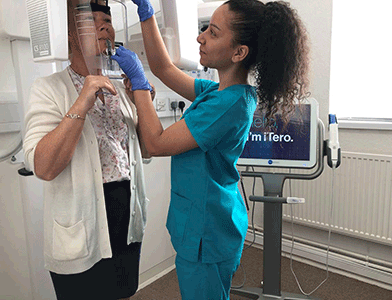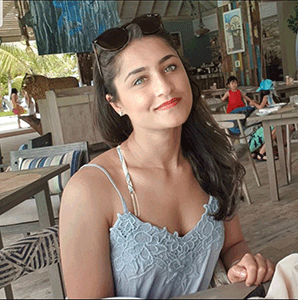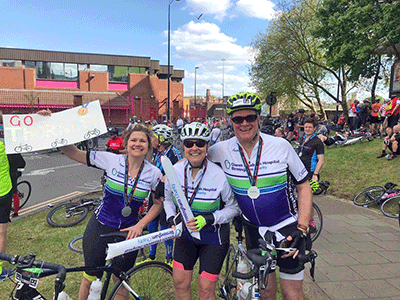 The Area: Walmley Village, as it is known locally, in Sutton Coldfield is a pleasant suburb 6 miles from the city centre of Birmingham. It has good bus links and the local primary, secondary and grammar schools are popular.  The community is active and thriving with the whole range of ages and social groups represented in our patient base.  New Hall Valley Country Park is within 500m of the practice along with a local library and community hall.  We have a post office, supermarket and various food outlets including a café, pizza place and restaurant. There are gyms and sporting clubs in Walmley including tennis, cricket, football and rubgy.  
Other Points of Interest: The practice has been involved in fundraising activities over the years. One of our nurses has been out to Tanzania twice with Bridge2Aid.  There were overwhelming donations from patients matched by the partners for this groundbreaking dental charity.   Peter and Alison recently completed the 100 mile Birmingham Midlands Velo cycling road race to raise money for the Queen Elizabeth Hospital Charity. Again we were delighted by the support from patients and other dentists in the local area. The QE is our outstanding referral centre for Maxillo-Facial Surgery.  
We pride ourselves on developing the full potential of our whole team. One of our therapists and our practice manager started as nurses at Walmley Dental Practice.  Two of our FDs have returned to work with us. At Walmley Dental Practice we like to 'Care for your smile'.