TPD Information Day - Victoria House, Fulbourn 
2019 dates - 6th June, 5th December
https://healtheducationyh.onlinesurveys.ac.uk/tpd-information-day-05122019
HEE EoE run two TPD Information Days per year. These are an opportunity for HEE EoE to discuss and share relevant information with Training Programme Directors, offering a valuable opportunity to learn, develop and network. 
The days include a variety of different workshops, examples include:
Programmes Team  
Assessment and Revalidation 
Quality Framework 
Faculty Development - Tiered Educator Development 
Annual Development Planning 
Simulation Strategy 
Study Leave - Understanding the new policy and process
Finalised programmes for these days are circulated nearer to the dates of the events. 
Please note this day is for Training Programme Directors working within the east of England only. HEE reserves the right to cancel your booking if you are not a TPD, or if you do not work within the east of England. Please do not attend this day if your booking has not been confirmed. 
Booking for 6th June 2019 is now closed as the date has passed. 
Booking for 5th December 2019 is now open, details available below. 
Booking available here: https://healtheducationyh.onlinesurveys.ac.uk/tpd-information-day-05122019
Date: Thursday, 5 December 2019
Time: 9:00 - 15:00
Venue: West Wing, Victoria House, Fulbourn, Cambridge, CB21 5XB
Programme: Finalised programme for the day will be circulated nearer the time, to include relevant HEE EoE updates and information. 
Once the event is fully booked it will show as 'closed', if you would like to be added to the waiting list please email your full name, specialty and employing trust to educatorsfaculty.eoe@hee.nhs.uk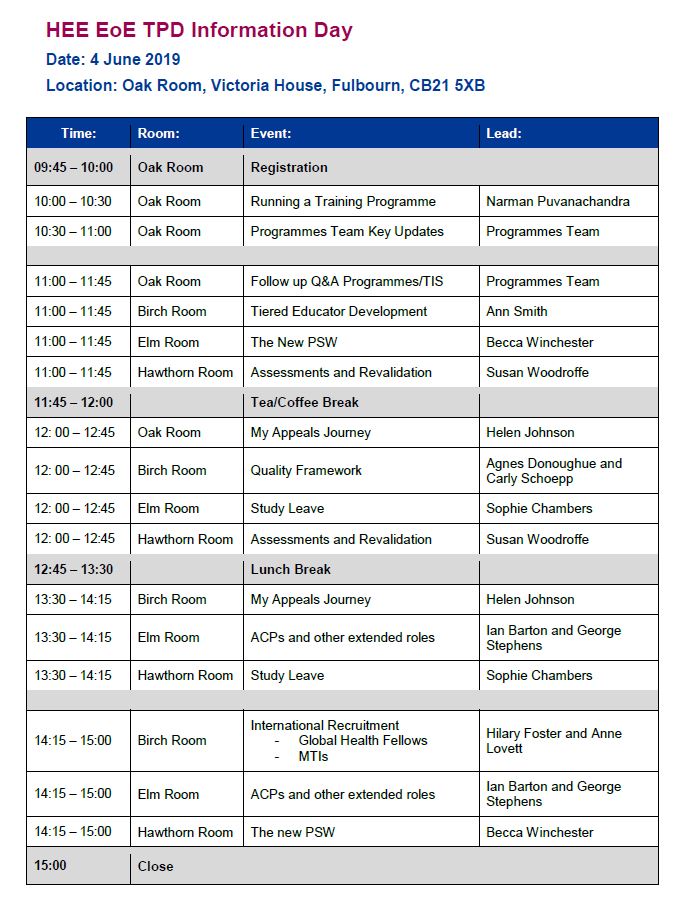 Show Between Dates:
Friday, 6 September, 2019

to

Friday, 4 October, 2019