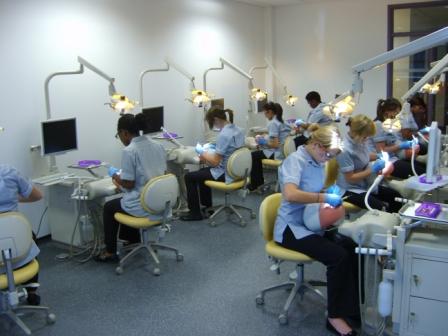 Training to be a Dental Hygienist or Dental Therapist requires more than just the acquisition of knowledge, attitudes and skills. As a student Dental Hygienist or Dental Therapist you are likely to be in contact with people who are ill and distressed and it is therefore important that you are trustworthy, honest and professional.
To practice as a Dental Hygienist or Dental Hygienist/Therapist you need to have successfully undertaken an appropriate course approved by the General Dental Council. This will allow you to register with the General Dental Council, which is a mandatory requirement. You will then be required to maintain your registration on a yearly basis by demonstrating CPD.
There are a number of aspects to consider before embarking on a Dental Hygiene or Dental Hygiene/Therapy programme; it is important that you choose the right place and programme to develop your career in dentistry.
Consider what interests you and what you would like to be doing in 5 years post qualification- is this a clinical role in periodontology or restorative dentistry? This may assist you in deciding whether you apply for dental hygienist or dental hygienist/therapist courses.
Do you want to study at a Diploma or a Degree level? This decision may be influenced by your current academic qualifications and ability so check the entry requirements for your chosen programme provider.
A Diploma or a Foundation Degree is likely to be 2 years in duration and a Bachelors Degree is 3 years duration, so can you put the rest of your life 'on hold' for this amount of time?
Are you prepared to study in a different region of the country to where you live as this will have an impact on both your study time but also your family life?
There are many combined Dental Hygiene/Therapy programmes and a number of single-qualification Dental Hygiene programmes available across the country. It is recommended that those interested in applying for these courses contact the training provider directly for further, up-to-date information.
The Foundation Degree in Oral Health Sciences (FdSc) at the University of Essex is the only programme available in the east of England region. This is a 2-year full time programme with successful completion enabling you to register with the GDC as a Dental Hygienist; this is an innovative curriculum that introduces you to clinical practice at an early stage making your academic learning highly relevant from the outset. Students on this programme spend 2 days in the University and 3 days a week in a variety of practice placements across the region, with the day-to-day supervision by recognised Clinical Educators who provide and monitor the clinical work undertaken. www.essex.ac.uk/hhs
Other programmes within the south of England include: