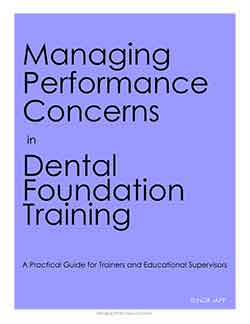 Managing Performance Concerns -  A Practical Guide
Elinor Japp (Training Programme Director for Stevenage DFT Scheme) has produced a guide 'Managing Performance Concerns' . 
This is practical guide for managing the concerns and challenges that can arise during Dental Foundation Training (DFT). It is intended for use by DF trainers and educational supervisors (ES) in conjunction with the full guidance for Managing Trainees in Difficulties (Health Education England (HEE) 2016). The guide can be downloaded below.