Peterborough Scheme Study Days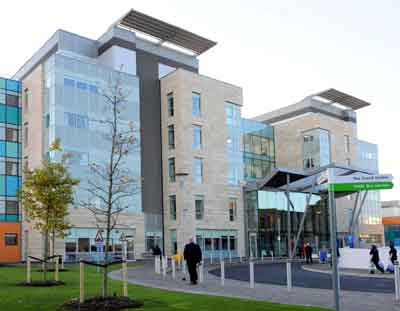 Since December 2010, the home of the Peterborough Scheme is the all new Learning Centre located on the 4th floor of the new Peterborough City Hospital. Traveling by car, the Hospital is easily reached from the A1(M), and Peterborough is only 50 minutes by rail from King's Cross. Parking is in the hospital's multi-storey car park and the fee is reduced to £2 for the whole day. Two thirds of the year's study days are held in one of the many seminar rooms available to us, and we have the use of clinical skills room when we have a hands-on training session. The remaining study days involve away days such as meetings arranged for the Region with other schemes, visits to the BDA and GDC, visits to other dental practices and laboratories, and also the BDA Conference.
Amongst the other facilities boasted by the learning centre are the latest audio-visual facilities, a library with internet access, and we have a refectory within the learning centre that offers hot and cold snacks. Also during lunchtime, you may take refreshments from Starbucks or the restaurant within the hospital grounds.
Organised for you to take place on study days will be a variety of educational activities designed to aid learning and development. These include presentations, hands-on sessions, group work, case-based discussions, peer review, group problem solving and other interactive exercises. All participants are encouraged to share their knowledge and experience so as to enhance and advance peer learning.
Comments on the Peterborough Scheme from previous FDs
Great support structure: Lots of people ready and willing to help make your transition into GDP as smooth as possible.
I thought the study days where extremely useful and structured well. 
The organisation of the study days were good and Uday was a great advisor.
The Peterborough scheme is well organised and led by a supportive advisor
I believe The Peterborough scheme contains a diverse group of practices
Great setup at hospital, brilliant facilities
Excellent speakers at study days
On a number occasions in my interviews people have said that I have already done so much compared to peers
 Return to Peterborough Scheme Page