Birmingham, West Midlands
BDS (U'Birm). PG Cert. in Healthcare Professionalism (U'Birm.)
BDS (Kings College). PG Cert. in Restorative Dentistry (Level 1)
The Educational Supervisors: Ashok Solanki qualified in 1982 from University of Birmingham and have since worked in general dental practice.  Having established 3 Practices from the outset I have vast experience in every aspect of NHS and Private Dentistry including the huge changes that has faced this profession. 
Serving as a member of the Local Dental Committee over 20 yrs and various other committees has provided me with a greater experience of dentistry outside of a surgery. 
In 2008 I was appointed an Educational Supervisor and continue to do so at present.  The practice strives to train and mentor the FD in all aspects of general dental practice so that by the year end the FD is a confident general practitioner working within ethical guidelines set by GDC. In 2012 I gained a Certificate in Postgraduate Education for Healthcare Professionals from U'Birm.
Kaajal Solanki Having graduated from Kings College in 2012, I have since been with this practice, where I treat a wide variety of patients and undertake a huge range of work on a daily basis. The transition can be difficult but this practice has a robust system in place to enable the FD to seek advice and help with the advantage of having 2 Educational Supervisors.  I am thoroughly committed as an ES here and the varying aspects of day to day practice provide an enjoyable environment to work in.
Being a member of the Birmingham LDC it enables me to keep up to date with current dental issues and provides a platform to seek advice from other me
The Practice: Solanki Dental Practice is well established since1984.
A thoroughly modern practice of 4 surgeries located over three floors, DDA complaint and fully computerised with totally paperless and networked R4 Carestream system. Each surgery has wall mounted x-ray machines, in-built digital x-rays, intra-oral cameras and e-signature pads. 
We have 4 dentists working, including the FD. Our previous FDs have continued to work with us as associates since 2016. 
Our staff include eight qualified and registered DCPs.  
Three DCPs are also qualified Dental Radiographers.
One DCP has certificates in Oral Health Education and Fluoride Applications.
Four DCPs are qualified to take Dental Impressions
Our staff are encouraged to continue to undertake post graduate courses and further qualifications.  
A rarity in dental practices we are fortunate to retain our staff for decades making it an extremely friendly environment to work.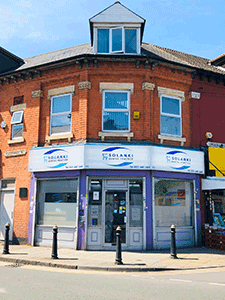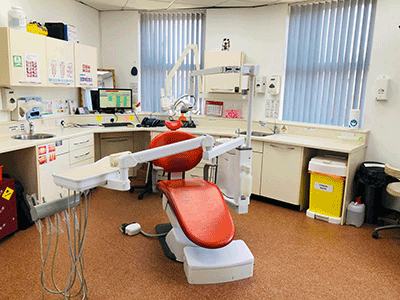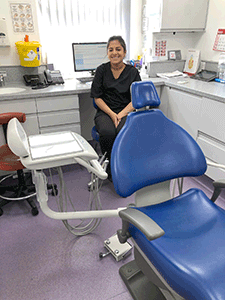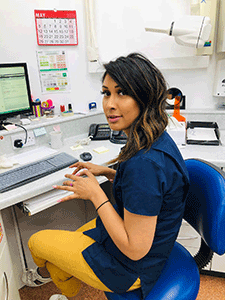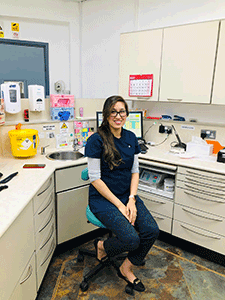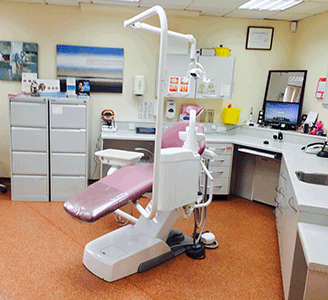 The Area: The Practice is on a prominent corner location within a very busy shopping vicinity.  Ladypool Road is a well established residential area and famous locale for restaurants and eating hubs with an unrivalled vibrancy. All bus and train routes are easily accessed from here towards city centre in both directions.  Parking is plentiful and easily available. Being an inner city practice many of our patients need extensive dental treatments including gross caries and severe periodontology disease. A large percentage of our list is children.  We can boast of treating our third generation of patients. Our patient base is one of the best training grounds for new FD by providing good exposure to a wide range of dental treatments to include; 
Restorative dentistry - including crown/bridgework 
Endodontic work -single and multi-rooted teeth using the latest Waveone machines
Prosthetics including F/F, P/P, IRDs both Acrylic and Co-Cr denture-work 
Periodontology 
Childrens' dentistry 
Oral Surgery including simple and surgical extractions
In addition to gaining total competency in all aspect of general dental practice we ensure that our FDs have thoroughly enjoyed their experience, which we always mark with a farewell end of year celebration.
Other Points of Interest: We are a Member of The BDA Good Practice Scheme since 2007 whose criteria is to provide the highest standard of dental care as set by the professional body BDA.
The ethos of the practice is to maintain good team spirit and give support at all times and is reflected by the longevity of retention of staff.  Members of our excellent team are on hand to provide advice from work matters to pastoral. 
Outside of work our team bonds from cinema trips to lunches, to shopping and there have even been team holidays!  It's a reflection of our practice that nearly every previous FD has remained in contact and one was even willing to "handcuff" herself to the dental chair at the end of her training!