Intrepid Self Service
Intrepid Self Service
Health Education England (HEE) understands the need for high quality and transparent data in order to support the ongoing learning requirements of all Doctors in Training within the East of England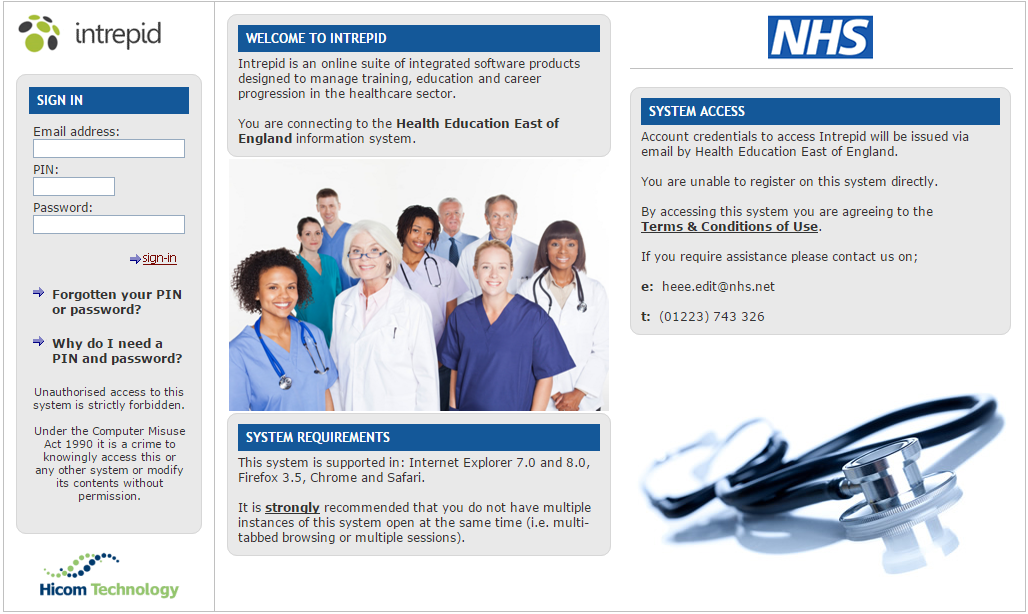 (EoE).
It is for this purpose that HEE is launching a new tool available to all trainees within the EoE, Intrepid Self-Service. Intrepid is the secure database that holds all the information HEE has relating to trainees, placements and programmes. Intrepid Self-Service will open up this database for all trainees to access 24/7, allowing doctors to view placement information and edit personal details simply by logging in through any internet browser.
As with any pioneering new system, the scope of Intrepid Self-Service is ever-changing and future developments will include even more tools for aiding the administration of doctors in training. This will include modules for existing processes such as the Form R and Relocation reimbursements alongside new features that look to improve the ease, accessibility and transparency of many HEE procedures.
As a HEE trainee within the East of England, you should receive your login to Intrepid via email before the end of January 2016. The system can be accessed by clicking here and logging in using your pin and password given via email. If you have not received your login after this date, are having difficulty using Intrepid or would like to provide any feedback on this new tool, please contact HEE by email at HEEE.edit@nhs.net and one of the team will be happy to help.
Can we remind trainees that as part of the trainee agreement it is your responsibility to ensure that your contact details are up to date, this is essential as this will ensure we are able to contact you to ensure you are able to meet your commitments to us and the GMC, such as the GMC survey, ARCP dates and for your revalidation.