SAS Doctors and Dentists
Introduction
HEE is committed to maximising opportunities for the development of SAS Doctors in the East of England (EoE). We recognise SAS Doctors and Dentists are a very important group who provide stability and service delivery across Trusts and Dental Practices. SAS Doctors and Dentists are a diverse group of doctors ranging in experience from four years post qualification to, in some cases, over thirty years of medical experience. Consisting of Specialty Doctors, Associate Specialists, Staff Grades, hospital practitioners, clinical assistants, senior clinical medical officers and clinical medical officers, this group of staff is referred to as the Staff, Associate specialists and Specialty Doctors (SAS) group. Each has their own personal and professional development needs extending beyond their delivery of clinical service. Service provision has traditionally been viewed as the main role of SAS Doctors and Dentists, and they make significant contributions to the advancement of medicine and the profession in areas of leadership, education, research and governance. 
SAS Doctor's Development Days
Due to the success of the SAS Development Days held earlier this year, HEE will be organising a two SAS Development Days, both of which will be mirrored twice (total four throughout the year.) Each day will be held in different localities across the region in order to increase accessibility. 
| | | | |
| --- | --- | --- | --- |
| Date  | Approx Location | Topic(s) | Booking status |
| Wednesday 4th March 2020 | Whittlesford  | Career Progression and Wellbeing | Fully Booked |
SAS Leadership Days
In order to provide access to Leadership Development skills, HEE will organise a Leadership Development Day which will be mirrored in four locations across the region, with the aim to increase accessibility. These days will be spread across the year as much as possible and will be facilitated by an external speaker.
| | | |
| --- | --- | --- |
| Date | Approx Location | Booking Status |
| Tuesday 24th March 2020  | Cambridge | Fully booked |
SAS Doctors Development Guidance 2019/2020
This guidance document provides information and guidance relating to the SAS Development Funding for this financial year (April 2019 - March 2020). It outlines the various areas of development available and how the funding is being used to support SAS doctors.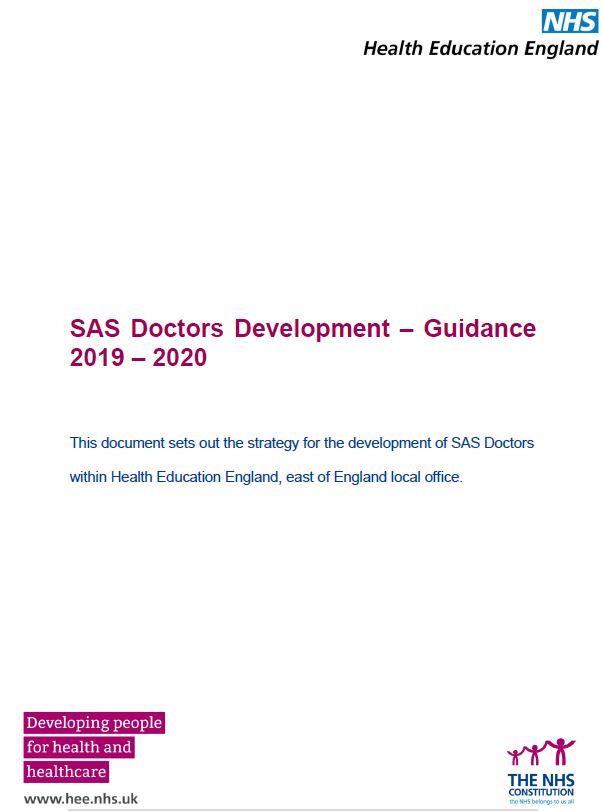 HEE Contacts
HEE administrative support for SAS Doctors is provided by the Faculty Support Team.
Please contact the SAS Doctors Administrator for any local enquiries - sas.eoe@hee.nhs.uk 
Useful Links:
The British Medical Association (BMA)
COPSAS (sub-committee of COPMeD)
Maximising the potential: essential measures to support SAS doctors
Individual Royal Colleges will have further information on SAS Doctors. Please visit the relevant College website for more information.
FAQs
Each Trust has it's own SAS Tutor who provides local leadership and guidance, as well as being responsible for the local use of individual development funding. 
To find out who the SAS Tutor at your employing Trust is please see our SAS Tutors Contact page (click here)
SAS Tutors meet 2-3 times a year to collectively develop training for SAS Doctors through the SAS Doctors Steering Group hosted by HEE.  Minutes of these meetings can be found by clicking here.
To enquire about becoming a SAS Doctor, please contact the SAS Tutor at your Trust who should be able to advise the best course of action for you to take. Trust grade doctors are not part of the SAS Doctors group and we encourage Trusts to offer Specialty Doctor contracts to these Doctors where possible.
Monday, 19 November, 2018
Show Between Dates:
Monday, 19 November, 2018