Upcoming Events and Courses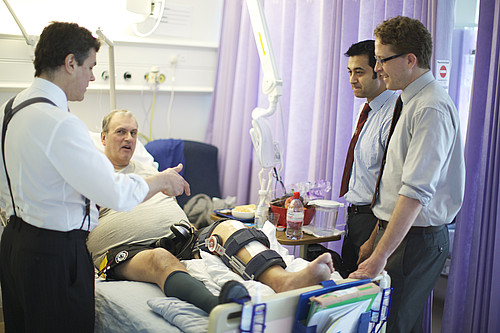 Within the School of Medicine we seek to keep our trainees informed and up to date about a range of courses and programmes that will be of benefit to them as they progress through their training.
Offered either by us or in connection with a number of trusted partners, all courses listed on this page are good opportunities for you to take part in.
For details on study leave policies please see the main study leave page on this site, or alternatively speak with your employing trust.
Simply click on any of the blue drop down boxes below for full information about a course and its contacts. You can find booking forms at the bottom of this page in pdf format for download.
Opportunity for a National presentation: Diagnostic and therapeutic mistakes encountered in challenging cases
Medical Education UK is pleased to announce the return of Lessons Learned, the 6th annual not-for-profit medical education conference focused on challenging cases where diagnostic and therapeutic mistakes were encountered. Please register today to attend this unique conference centred on the sharing of personal experiences at a National level.
This is an excellent opportunity to present nationally in a format designed to promote learning from difficult cases, and which provides a welcome boost to specialty applications!
The best abstracts will be selected for oral or poster presentations in four medical specialties (below), with each session chaired by a leading consultant in the field.
Chair Prof Michael Heneghan, King's College Hospital
Cardiology Dr Robert Smith, Royal Brompton and Harefield Hospitals
Respiratory Dr Jo Szram, Royal Brompton Hospital
Acute Medicine Dr Jane Evans, St George's Hospital
Gastroenterology Dr Natalie Dirkze, Imperial College Hospitals
Guest Speaker Professor Sir Norman Williams, Chairman of the National Clinical Improvement Programme, Department of Health
Topic: Gross Medical Negligence
Date: 30th January 2019
Abstract submission deadline: 1st December 2018
Venue: National Liberal Club, Whitehall Place, London, SW1A 2HE.
Prizes available for best oral and poster presentations.
Non-presenting delegates are most welcome to attend this highly regarded and unique educational conference.
Course fee: £120
Early Bird: £100 before 1st November 2018
For further information and for abstract submission and registration visit our webpage: www.medicaleducationuk.com
Best wishes,
Christopher Orton MRCP, Christopher Allen MRCP, Bjorn Thomas MRCP
Lessons Learned has been approved by the Federation of the Royal College of Physicians for 6 category 1 (external) CPD credits
Turner-Warwick lecturer scheme 2019
We're pleased to announce that applications are now open for the Turner-Warwick lecturer scheme for trainees in the Eastern region.  Traditionally, presentations at the regional Update in Medicine conferences have been delivered by consultants. For 2019 the RCP again plans to appoint a lecturer from the trainees in each region. The lecture will be given at the regional Update in Medicine conferences.
The Eastern Update in Medicine conference will take place on 28 June 2019, more details will be available closer to the time.
Eligibility
Trainee physicians at CMT, ACCS-AM or ST3-7 (or equivalent) can apply and should not be expecting to complete training (ie obtain their CCT) before the date of the regional Update in Medicine (28 June 2019).
If you are a consultant physician, please consider encouraging trainees to apply.
How to apply
Applicants need to submit an abstract relating to the subject of the proposed lecture, which
should be based on work in one of the following areas:
 clinical research
 successful quality improvement programme
 achievements in medical education.
The closing date for applications is: 27 January 2019 at 11.59pm.
PLEASE CONTACT gill.brown@rcplondon.ac.uk, 01858 465944 for further details on the application process.
For final year Medical Students, FYs & CMTs
Tuesday 24th September 2019
Clifford Allbutt Lecture Theatre, Central Biomedical Campus, Hills Road, Cambridge, CB2 0SP
for further details please contact sarah.munro@btuh.nhs.uk
Tuesday, 24 September, 2019
Show Between Dates:
Wednesday, 3 April, 2019

to

Tuesday, 24 September, 2019