Health Education England, working across the East of England: Nephrology
Introduction from the Training Program Directors, Dr Sarah Fluck (Lister Hospital in Stevenage) and Dr Lisa Willcocks (Addenbrookes Hospital in Cambridge).
Welcome to the Renal Medicine pages for the East of England! Renal Medicine is a fantastic speciality, encompassing lots of different aspects of medicine, from fascinating science to the pastoral care of long term patients. The East of England is a great place to train in Renal Medicine, with friendly, dedicated clinical teams and lots of opportunities to develop your specialist interest, whether it is in dialysis, transplantation, autoimmune renal disease or acute kidney injury.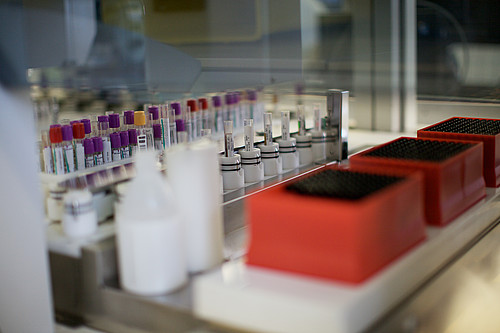 Renal medicine encompasses the prevention, evaluation and management of all aspects of renal disease, including the management of immune-mediated renal disease, including vasculitis and systemic lupus erythematosus, hypertension, and fluid, electrolyte and acid base disorders. Management of acute kidney injury and chronic kidney disease, and provision of renal replacement therapy forms a major element of renal medicine. Renal trainees gain experience in:
- Hospital haemodialysis,
- Home haemodialysis and peritoneal dialysis in the treatment of chronic renal failure,
- The evaluation and selection of candidates for renal transplantation, and their pre-operative and post-operative management,
- Long term follow up of renal transplant recipients.
Training is provided in a number of technical skills; these include the biopsy of native and transplant kidneys, and the insertion of temporary and permanent vascular access.
Our Training Programme
The specialist training programme in the Eastern Deanery currently involves rotational appointments that include Cambridge University Hospital, Ipswich Hospital, Norfolk and Norwich University Hospital, Lister Hospital (Stevenage), Broomfield Hospital (Chelmsford) and Basildon Hospital.  The programme has expanded as a result of repatriation of posts from London, but we are still one of the smaller training programs. This allows us to be both friendly and flexible, and we try hard to adapt each trainee's placement to suit their personal circumstances and career aspirations. From August 2019, the training programme will be divided into Northern and Southern Carousels. Trainees based in the Essex Hospitals of Broomfield, Chelmsford and Southend, as well as at Lister Hospital in Stevenage, will be able to rotate into London (Royal Free Hospital) for 1 year or to Cambridge for 1-2 to enable them to obtain transplant experience (the Southern Carousel). Trainees in the Northern Carousel will rotate through Ipswich, Norwich, Lister and Cambridge with posts of one-two years at two-three locations depending on preference and availablility. This will reduce commuting time and preclude trainees from needing to relocate during their training, unless they wish to. We will retain flexibility, however, for trainees to cross Carousels if they wish. We will try to accommodate what would work best for you!
Regional Teaching
We have regional training days every 2 months as well as 6 monthly Eastern Region Multi-Disciplinary Research and Training Days which all SpRs are encouraged to attend. These are friendly and fun opportunities to meet co-workers across the whole region. SpRs are encouraged to attend UK Kidney week, and the Eastern Region is well represented at this national meeting.
Research
If you wish to undertake a period of research, the opportunities in the Eastern Region are exceptional! There are excellent opportunities for clinical and laboratory based research, and if you are interested, we will support you to apply for a fellowship to undertake a period of research during your training. In Cambridge, the NIHR Cambridge Biomedical Research Centre provides an outstanding environment for translational research leading to a University of Cambridge MD or PhD. Recent trainees have secured fellowships from Kidney Research UK, the Wellcome Trust and MRC to undertake research in the fields of vasculitis, transplantation, immunology, genetics and vascular biology https://www.med.cam.ac.uk/renal-medicine-2/. The Lister Hospital has strong links with the University of Hertfordshire and is regarded as one of the foremost centres for clinical research in the field of chronic kidney disease and haemodialysis.
Lastly, the Eastern Region is a lovely place to live! There is something for everyone, from bustling, lively towns within easy reach of London (but with lower house prices!) like Stevenage and Chelmsford, the beautiful rural coastlines of Norfolk and Suffolk, and the historic University town of Cambridge. We love it here and are sure you will too!
Please get in touch if you have questions or about pursuing renal research in the East of England  - lisa.willcocks@addenbrookes.nhs.uk
It is anticipated that trainees will take advantage of the academic opportunities available.  Trainees are encouraged to apply for fellowships to undertake a period of research leading to a higher degree during their training.  Kidney Research UK has further information about research in nephrology.
In the Eastern Region, trainees usually undertake research based in Cambridge or Lister. 
Through the Cambridge University School of Medicine, the Cambridge Institute for Medical Research and the Cambridge Biomedical Research Centre there are excellent opportunities for translational and clinical research, focusing on the broad areas of immune-mediated renal disease and renal genetic disorders. Professors Clatworthy and Smith have large laboratories investigating basic and translational research into immune mediated renal disease, including vasculitis and transplantation, whilst Professor Jayne and Dr Hiemstra's groups are more clinically focussed, leading a number of multi national clinical trials in Vasculitis and Chronic Kidney Disease. Professor Karet's leads a world renowned group investigating tubular and genetic renal disorders. There are usually at least 7 trainees undertaking a period of research in Cambridge, supported by Fellowships from KKRF, Wellcome Trust and MRC. We are lucky to have the Addenbrookes Charitable Trust, which often supports trainees to start in research so they are well placed to obtain one of these prestigious Fellowships.
The Lister Hospital is linked to the University of Hertfordshire. Professor Ken Farrington is a world leader in Dialysis Research and is Head of the Centre for Health Services and Clinical Research at the University of Hertfordshire. His group is an excellent place for those trainees with a special interest in Dialysis.
Broad general medical interest and experience
Ability to offer consultative advice to a wide variety of different specialities (for example: intensive care, haematology, obstetrics, paediatrics) involving excellent communication skills and conscientious follow up
A genuine interest in the management of chronic disease
A capacity for teamworking
| | | |
| --- | --- | --- |
| Further Advice | Position | Location |
|   | Chair |   |
| Dr Lisa Willcocks | Training Programme Director & Consultant Nephrologist | Cambridge University Hospitals NHS Foundation Trust |
| Dr Sarah Fluck | Training Programme Director & Consultant Nephrologist | Norfolk & Norwich University Hospitals NHS Foundation Trust |
| | Trainee Representative | Cambridge University Hospitals NHS Foundation Trust |
| Dr Fraz Mir | Head of School of Medicine & Associate Postgraduate Dean | East of England Multi-Professional Deanery |
Detailed guidance on the Nephrology assessment blueprint and curriculum is available from the JRCPTB website.
Useful links
The Norfolk and Norwich University Hospital provides secondary care services to a population of around 700,000, and specialised tertiary care (including nephrology) more widely. All major specialties are represented with the exception of transplant surgery, cardiac surgery, and neurosurgery.
The Department of Renal Medicine covers a population of around 800,000, including the catchment area of the James Paget University Hospital in Great Yarmouth. All aspects of renal medicine are covered apart from acute transplantation, and in addition the department contributes to the inpatient care of general medical patients. Staffing consists of 5 consultants, 4 specialist trainees (ST3 and above), and 6 more junior staff (F1s, Core Medical Trainees, and GP Trainees).
The departmental base ward (Langley Ward) provides facilities for acute dialysis (24 hours a day if required) and plasma exchange. Chronic haemodialysis is currently provided on site and at two satellite units (one at Cromer Hospital and the other at the James Paget Hospital). There is an active home haemodialysis and peritoneal dialysis programme. Transplant surgery is provided at Addenbrooke's Hospital in Cambridge, and patients are normally referred back to Norwich at 3 months for ongoing follow up.
Specialist renal trainees participate in all aspects of the inpatient and outpatient work of the department, including practical procedures such as temporary and tunneled haemodialysis catheter insertion and native and transplant renal biopsies. They also have the opportunity for secondment to the Acute Medical Unit to gain experience in Acute Medicine. Specialty Registars participate fully in the departmental clinical governance programme and the directorate management meetings. There is a weekly radiology meeting, a weekly departmental educational meeting, and a monthly histopathology meeting at which renal biopsies are reviewed. Within the Trust there is a weekly medical grand round.
Higher Specialist Training in Renal Medicine/Dual Renal and GIM
 Lister Hospital, ENHT
ST3 –ST7
The Lister Hospital has 6 Clinical Training Posts for Higher Specialist Trainees [HSTs] in Renal Medicine/Dual Training in Renal and GIM.
5 Posts rotate through different areas of the Renal Department to give a broad experience in all aspects of Renal Medicine [Common Nephrological Presentations, Management of Advanced Kidney Disease, Special Circumstances and Procedural Competencies], as detailed in the Renal Curriculum [see 2010 Renal Curriculum; amendment 2012; at www.jrcptb.org], with the exception of Acute care post Renal Transplantation. There is close support and appropriate supervision from the Renal Consultants. Inpatient experience is gained managing inpatients on the Specialist Renal wards [6A and 6B], co-ordinating transfer of patients from other hospitals in the region for specialist Renal care and consulting on referrals to the renal team within the Lister Hospital. Patients may also be assessed on RITA [Renal Intervention and Therapy Area] and the onsite Dialysis unit. There are regular opportunities for training to perform Essential and Desirable procedures in the Renal Curriculum. Outpatient experience is delivered through attending regular sub-specialty renal clinics [Nephrology, Chronic Kidney Disease, Post Renal Transplantation and Dialysis] at the Lister Hospital and linked Hospitals. Additional experience is gained with consulting on In-Reach specialist referrals at linked hospital sites, with appropriate Consultant support. The large cohort of patients on Haemodialysis and many patients on Home Therapy treatment also provides experience and training opportunities through regular inpatient and outpatient care, together with formal and informal teaching. Additional Teaching Clinics are available for trainees to attend including Living Kidney Donation Assessment, Young Adult and Transition Renal Clinic, Home Therapies and Dialysis Access Assessment clinics. There are multiple opportunities to undertake Audit or Quality Improvement Projects under Consultant Supervision. Senior Trainees are also invited to attend Departmental Managerial Meetings to develop additional skills. These posts allow the Trainees to make appropriate progress on the Higher Specialist Renal Curriculum and achieve ARCP requirements [see Renal ARCP Decision Aid at www.jrcptb.org].
These 5 Trainees contribute to a Specialist Renal On Call Rota, together with 2 Research Fellows. The regular pattern of work occurs between 0830-1800. Out of hours work includes a shift until 2100 on weekdays, with a Non Resident On Call pattern for other out of hours work. A Renal Consultant is always available to support the Trainee during On Call periods.
The 6th Clinical Training Post contributes to the General Internal Medicine Rota. This Trainee has a regular Rotation of Acute Unselected Medical Take, managing current Medical In-Patients and providing acute medical assessment of in-patients under other Teams in the Hospital, as required. Attendance at regular, appropriate outpatient clinics is scheduled. Formal and informal educational opportunities are regularly available, as for all the HSTs within the Renal Department. This post allows the Trainee to make appropriate progress on the Higher Specialist GIM Curriculum and achieve ARCP requirements [see 2009 GIM Curriculum; amendment 2012; and ARCP Decision Aid at www.jrcptb.org.uk].
During Higher Specialist Training, at the Lister Hospital, in Renal Medicine/Dual Renal and GIM all HSTs will have
An Educational Supervisor from the Renal Department, who will meet the Trainee for appropriate Appraisal Meetings and agree a Personal Development Plan [PDP] with the individual Trainee.
Support to complete required pro-rata work based assessments and to satisfy ARCP requirements linked to the relevant training programme.[See Renal/GIM ARCP Decision Aid at www.jrcptb.org.uk].
Support to undertake a suitable Audit or Quality Improvement Project, as required to satisfy ARCP requirements.
Local Informal Educational Opportunities through Ward Rounds, during Clinics and regular Clinical and Managerial Meetings. [See Timetable below].
Local Formal Departmental and Trust Educational Opportunities [See timetable below].
Access to required Regional Training, with appropriate Study Leave planning.
Support to undertake their SCE required to Complete Specialist Training.
Access to Quarterly Renal Education Faculty Meetings.
Renal/GIM Higher Specialist Trainee  Educational Opportunities Timetable
                                                                        Rotating Activities
Monday

AM

 

Consultant Ward Round.

Satellite Haemodialysis Clinic with In-Reach Referrals.

Supporting Professional Activities:  Audit/QIP preparation, ePortfolio updates, Educational Supervisor Meetings [SPA]

PM

 

Ward Work.

Supervised Procedures.

Onsite Dialysis Unit work with 1300 Consultant Dialysis QA.

Satellite Haemodialysis Clinic with In-Reach Referrals.

Tuesday

AM

 

Ward Round and Ward Work

Supervised Procedures.

Nephrology Out Patient Clinic [New and Follow up patients].

Clinical Administration.

1230 Joint Urology-Renal Radiology Meeting.

PM

 

Departmental Education Timetable: Clinical Governance/Audit; Renal Education Faculty Meetings; Timetabled Departmental Teaching; Timetabled Departmental Managerial Meetings; Living Kidney Donor Assessment [Teaching Clinic]; Transplant Listing MDT Meeting.

Wednesday

AM

 

Consultant Ward Round

SPA

1200 Departmental Clinical Meeting- Informal Teaching with opportunity for Trainee Clinical presentations.

PM

 

Ward Work.

Renal Transplant Follow up Clinic with Transplant Consultant QA.

Clinical Administration

Thursday

AM

 

Ward Round and Ward Work.

Supervised Procedures.

Satellite Dialysis Unit work with In-Reach Referrals.

Chronic Kidney Disease Clinic with MDT.

Young Adult and Transition Renal Clinic [Teaching Clinic].

PM

 

1300 Hospital Grand Round.

Satellite Nephrology/CKD Clinic.

Clinical Administration.

Friday

AM

 

Consultant Ward Round.

Satellite Nephrology/CKD Clinic.

Access Assessment Clinic [Teaching Clinic].

Home Therapies Clinic [Teaching Clinic].

PM

 

1300 Medical Grand Round

1430 Renal Biopsy Clinical Meeting [Monthly].

SPA/Clinical Administration.

Ward Work and Weekend Handover.

Emergency Cover

 

 

As per Work Schedule Templates
Renal Higher Specialty Training at the Ipswich Hospital NHS Trust
Welcome! We are very pleased that you are interested in joining us for your higher specialty training at the Ipswich Hospital. We hope the following will give you a clear idea of what to expect when you join the renal team at our hospital. Please feel free to contact us if you still have any queries – details of contact email addresses are found below.
The Ipswich Hospital (IHT) and ESNEFT
The IHT provides acute services for a local population of approximately 400,000. The IHT became a NHS Trust on the 1st April 1993. In July 2018, the IHT will merge with Colchester Hospital to form the East Suffolk and North Essex Foundation Trust (ESNEFT). The renal higher specialty trainees are currently based at the IHT.  
The IHT has over 650 beds on a 45 acre campus, approximately 3 miles from the town centre. The majority of the hospital is of the nucleus design and has been developed in three phases since 1984. The Trust provides a comprehensive range of acute surgical, maternity, medical and accident and emergency services. It is also a sub-regional centre for neurology, nephrology and clinical oncology.
Geographical profile
Ipswich is the county town of Suffolk with a population of around 125,000. It lies at the head of the River Orwell, at the seaward end of which lies the East coast port of Felixstowe. The proximity of Ipswich and Felixstowe to Europe renders the area a natural centre for trade and commerce. Both towns have developed rapidly over the last 10 years with a considerable influx of business and population from other areas of the country.
Ipswich Renal Department
The purpose-built Ipswich Hospital Renal Unit operates a 24 station dialysis unit, which runs six days a week, with three patient shifts a day. There is a 5 station satellite unit at Adelburgh. It also runs a home peritoneal dialysis programme (40 patients) and trains and manages patients at home on haemodialysis (7 patients).
Renal transplantation is carried out at Addenbrooke's Hospital in Cambridge. Patients are then transferred to the IHT for long-term follow-up. There are around 240 kidney transplant patients followed up in Ipswich currently.
The Unit provides a comprehensive renal service for all acute and chronic kidney disease management, and provides haemodialysis, peritoneal dialysis, home dialysis, conservative management and also manages chronic transplant patients.
We run regular nephrology, pre-dialysis, transplant, haemodialysis and home therapies (home haemodialysis and peritoneal dialysis) clinics. Joint transplant assessment clinics with consultant transplant surgeons from Cambridge take place once a month in Ipswich. Potential living kidney donors are assessed in ad hoc clinics.
We also provide a robust interventional nephrology service including temporary and permanent dialysis line insertion, renal biopsies and peritoneal dialysis catheter insertion – medical and surgical.
Consultants:
Dr Gerald Glancey- Haemodialysis
Dr Brian Camilleri- Transplant
Dr.Richard Smith- Transplant and haemodialysis
Dr Praveen Ande- Home dialysis and transplant
Trainees:
2 Renal Specialty Trainees
1 Core Medical Trainee
1 Foundation Year 2 trainee
1 Renal Trust Doctor
The Unit also has 4 nurse specialists who assist with the care of transplant, predialysis and diabetic nephropathy patients.
Linda Cartmel – Lead specialist nurse
Diodel Golena
Joseph Deguara
Stuart Graham
Gill Coulthard- Dialysis unit manager
Suja Varughese- Renal ward manager (Debenham Ward)
SCOPE OF WORK IN RENAL/GIM DEPARTMENT
You will rotate through the different areas of the renal medicine department. These are:
Renal ward
You are expected to join and lead the ward round and you will be supported in gaining experience in the management of acute and chronic renal problems. Trainees have plenty of opportunities to gain experience in renal procedures such as dialysis lines (temporary and tunnelled), renal biopsies (native and transplant) and peritoneal dialysis catheter insertion.
Outpatients
You will join various clinics including general nephrology, low clearance, dialysis and transplant. You will be expected to run independent clinics after fulfilment of the necessary supervision.
Dialysis/Renal unit
You will also be expected to cover the in-centre and home therapy patients with support from senior medical team. This will give you the experience and confidence of dealing with problems encountered by dialysis patients.
Procedures
You will have plenty of opportunities to learn under supervision at inserting temporary and tunnelled dialysis lines, to perform native and transplant renal biopsies, and insertion of peritoneal dialysis catheter under local anaesthetic. You will be able to become independent in doing these procedures and eventually supervise other trainees.
Oncall
The post is on-call on a 1:12 partial shift with nights for unselected medical takes.
SUPPORT, TRAINING AND OPPORTUINITIES
Trainees will have a tailored induction according to their needs. You will be assigned an Educational Supervisor and will be working under supervision and support. You will be expected to attend the regional renal training days and will be encouraged to participate in renal MDTs including renal biopsy video-conference link with Cambridge and journal clubs. You will have the opportunity to undertake research.
CLINICAL QUALITY AND SAFETY
You will be encouraged and supported to undertake audits and quality improvement projects with a view to submitting such work to national and international conferences for presentation
RESEARCH AND DEVELOPMENT, EDUCATION AND TRAINING
There is opportunity to participate in education, training and development of undergraduate medical students from Cambridge and University of East Anglia (UEA). You are also encouraged to participate in research activities when opportunities arise including roles such as sub-investigator on research studies which will help you understand the procedures for research within hospitals. GCP training will be provided.
EDUCATION AND TRAINING, SELF DEVELOPMENT
You will be encouraged to identify your own training and development needs and undertake appropriate training/education as required. The Postgraduate Education Centre is situated centrally within the Trust's campus and has a well-stocked library with on-line literature search facilities and Internet Access. There is an active programme of teaching, including hospital consultants, general practitioners and junior medical staff. There are full-time supporting administrative staff and medical librarians. The library is open 24 hours a day.
Contact for further information:
Dr. Brian Camilleri/Dr. Praveen Ande: 01473704168
Brian.Camilleri@ipswichhospital.nhs.uk
Cambridge University Hospitals NHS Foundation Trust (CUH) is a thriving, modern NHS hospital based in Cambridge, England. The hospital fulfils a number of important functions. It is the local hospital for people living in the Cambridge area, it is a specialist centre for a regional, national and international population, it is the teaching hospital for the University of Cambridge, and it is a world-class centre for medical research. CUH's is a flagship NHS hospital having achieved NHS Foundation Trust status in July 2004. It is also working in partnership with the University and their research partners (the MRC and CRUK) to make The Cambridge Biomedical Campus an internationallp leading centre for biomedical and translational research. CUH has:
Around 7500 staff
An income of around £700 million per annum
Around 1,000 beds
Five intensive care units
The Nephrology Department at CUH is a great place to work. We offer a number of specialist services and aim to provide excellent care in a research focused setting. Our Renal Unit provides renal replacement therapy for patients in East Anglia offering peritoneal dialysis, Unit and home haemodialysis and transplantation. The main Dialysis Centre in Cambridge has 36 stations dialysing 140 patients – it is less than 2 years old. We also have Satellite Units in Bury St Edmonds, Huntingdon and Kings Lynn. We have an expanding home therapy program offering home haemodialysis as well as peritoneal dialysis.
We have a 26 bedded renal ward which offers inpatient dialysis. Our inpatient work covers the full range of renal pathology. We also provide a specialist vasculitis and lupus inpatient service led by Professor Jayne (a world renowned expert in Vasculitis and lupus).
Our acclaimed Cambridge Transplant Centre has become one of the largest transplant Centres in the UK. We provide highly specialised care for patients with abdominal organ failure for much of the East of England and beyond. In addition to more than 160 kidney transplants (DCD, DBD and LD) each year, the Addenbrooke's Transplant Team also performs 20-30 combined kidney / pancreas transplants.
We also provide a full range of renal clinics including general nephrology, transplantation (Pre-Transplant assessment as well as Post-Transplant care), low clearance and dialysis. We have a number of specialist clinics, including a pregnancy and transition clinics. In particular, we have two world renowned rare disease clinics - the vasculitis service (led by Professor D Jayne, seeing more than 1000 patients per year) as well as a renal genetics and tubular disorders clinic (led by Professor F Karet). Patients come to these clinics from across the UK and beyond. In both services, there is a strong emphasis on post clinic MDTs, allowing unparalled educational experiences in these rare disease areas.
We have a weekly teaching program for our SpRs, including a regular Journal Club. Our SpRs are encouraged to attend UKKW, and we have some funding available to support this, in addition to Study Leave, for SpRs who are presenting. We also have a monthly teaching afternoon for GIM that is well attended.
Our trainees rotate through attachments to the main renal ward, the transplant ward, the dialysis unit, the vasculitis team, renal referrals/outlying patients and acute medicine. We also encourage trainees to untake QIP and research projects, and provide support to attend National meetings, including UKKW.
Cambridge is a fantastic place to live! It is easy to cycle to work, as well as into town. The schools, both State and Independent, are excellent. The city is growing rapidly, as are the train links – it takes only 45 minutes to get to London. The town centre is full of beautiful buildings and green spaces. Trainees that undertake research at the University of Cambridge will become a member of one of the Colleges and become part of this historic, world famous institution.
Broomfield (Chelmsford) Basildon and Southend Hospitals have well established renal departments that provide a wide range of opportunities in renal training such as Acute kidney injury, pre-dialysis care, renal replacement therapies including transplantation, home therapies and conservative management. Basildon also run specialty clinics for Adult Polycystic Kidney disease and cover the regional Cardiothoracic hospital which runs a renal denervation service. The three trusts are currently in the process of a merger which will provide renal support to a population of 1.2 million, caring for 500 patients on dialysis and 350 patients post-transplantation. Each hospital has two renal higher specialty trainees that also contribute to the general medical on call rota. Southend trainees form part of the North London rotation. Acute transplantation and plasma exchange experience is provided at the Royal Free and Royal London Hospitals (although trainees can request Addenbrookes experience also). Basildon hospital also has exciting opportunities for trainees to expand their portfolios including A Quality Improvement accredited course (QSIR), Train the Trainer Teaching courses, an extensive simulation-based education program and opportunities to gain leadership experience and training.
Previous trainee testimony about training at Basildon Hospital ' there is plenty of opportunity for training in renal medicine including procedures such as biopsies and dialysis lines. As an ST3 I was supported to see referrals independently, formulate management plans and discuss with Consultants which helped me to progress my abilities as a registrar. I was also supported to develop myself as a teacher and really enjoyed the opportunities to facilitate training using simulation'
https://thehub.btuh.nhs.uk/application/files/8215/2179/5007/QSIR_course.pdf
https://thehub.btuh.nhs.uk/workspaces/services-and-departments/simulation-suite
We thought it would be useful to clarify the minimum requirements in terms of SLEs for passing the ARCP, as most of you are joint training in GIM and Renal concurrently, and using the Decision Aids together can be confusing:
For joint years you need a minimum of 8 SLEs [GIM 3 ACATs/1 Cbd/1 MiniCex; Renal 1 ACAT/1 Cbd/1 MiniCex]. This will allow you to obtain the minimum of 10 SLEs for GIM (with 6 ACATs) for Stage 1 GIM during ST3 and 4. By the end of ST7, you will have a total of 25 GIM SLEs, including 15 GIM ACATs. This is less than the 30/18 required for the GIM  decision aid by CCT, but we have confirmed with the GIM TPD that some of your Renal SLEs can be counted to the total.
We have also confirmed with the GIM TPD that these should be spread across your 5 years of training, so even if you have done additional GIM ACATs earlier in training, if you are doing joint training in ST7, you should complete GIM 3 ACATs/1 Cbd/1 MiniCex in that year.
This will also give you a total of 5 Renal ACATs, CbDs and MiniCexs - you should have 6 of each in total across the 5 years of training to complete the targets in the decision aid, so please try to get some extra assessments done where possible.
You should also have an MCR with at least 4 responses every year - two of these should be GIM for a joint year.
In terms of procedures, if you have been signed off at CMT and are doing them regularly, then please ask your ES to counter sign them for you about three times during training (eg lines - although you do need 6 line DOPs for the renal curriculum over the 5 years). However, for a procedure that you have not done for more than a year, you are likely to need a DOPs prior to CCT.
In terms of linking - each curriculum item usually needs 2-3 pieces of linked evidence to reach highest level sign off - on occasion a single piece of good evidence may be sufficient. The maximum numbers of linkages for a single SLE are ACAT 8; Cbd/MiniCex 2.