Health Education England, working across the East of England: Clinical Genetics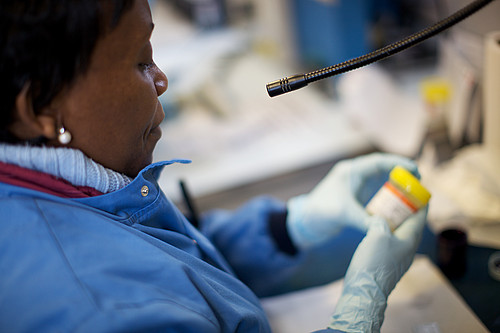 Clinical Genetics is the medical specialty which provides a diagnostic service and "genetic counselling" for individuals or families with, or at risk of, conditions which may have a genetic basis. Genetic disorders can affect any body system and any age group. The aim of Genetic Services is to help those affected by, or at risk of, a genetic disorder to live and reproduce as normally as possible. Clinical Genetics generally work in multidisciplinary regional genetic centres, along with genetic counsellors, molecular geneticists, and cytogeneticists. With the current fast pace of development in Genomic Medicine, they are increasing their roles integrating Genomic Medicine into Mainstream Medicine.
The Regional Genetics Service is based at Addenbrooke's regular clinics.  It also provides a weekly, fortnightly or monthly genetics clinic in the other main hospitals within the region (Bury St Edmunds, Lowestoft, Huntingdon, Ipswich, King's Lynn, Norwich, Saffron Walden and Peterborough).
Attractions of the Specialty
Clinical genetics is mainly an out-patient specialty with normal daytime working hours during week days only. There is a vast range of conditions seen and the clinical variety and diagnostic challenges are probably unrivalled by other hospital specialties. There are opportunities to develop sub-specialist interests in; neurogenetics, cancer genetics dysmorphology, cardiac genetics, endocrine genetics, eye genetics, renal genetics, prenatal genetic, genodermatoses, genomic medicine and bioinformatics. However at present almost all consultants in Clinical Genetics maintain a general interest and hold clinics encompassing all of these aspects. There is wide scope within the specialty to combine clinical and research interests and academic research towards a higher degree is considered an integral part of training. Although the human genome project is complete, there is continuing close links with the Sangar Centre in Cambridge and close collaboration with many academic departments within the University of Cambridge and major national whole exome or whole genome sequencing projects (e.g., Deciphering Developmental Disorders, 100,00 Genomes) These ensure that clinical genetics remains an exciting and fast-moving specialty. More information can be found at the Clinical Genetics Society and the British Society of Human Genetics.