Health Education England, working across the East of England
Core Medical Training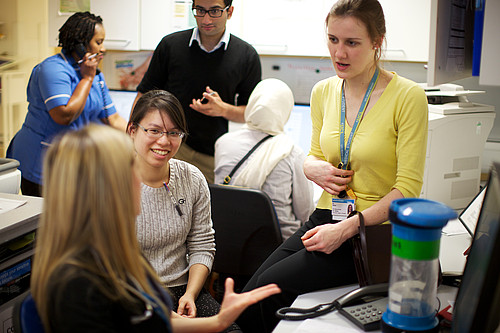 All of the acute trusts in the East of England host Core Medical Training (CMT) rotations.  The two teaching hospitals in the region, Addenbrooke's and The Norfolk and Norwich, are major contributors to the rotations, with Addenbrooke's offering linked rotations with Peterborough and Stamford Hospitals, Bedford Hospital, Hinchingbrooke Hospital, Papworth Hospital and West Suffolk Hospital in Bury St Edmunds.  Norfolk and Norwich offers rotations with James Paget Hospital in Great Yarmouth and Queen Elizabeth Hospital and Kings Lynn.  The remaining programmes are generally based in the same trust for both years.  The other trusts offering CMT programmes are Luton and Dunstable Hospital, West Hertfordshire Hospital in Watford, East and North Hertfordshire Hospital (In both Lister and Mount Vernon in Northwood), Princess Alexandra Hospital in Harlow, Basildon Hospital, Broomfield Hospital in Chelmsford, Southend Hospital, Colchester Hospital and Ipswich Hospital.  Each of these trusts is being visited by the School of Medicine at least once every three years in order to confirm that the learning opportunities available are of a high quality.
We have approximately 250 CMT's in the East of England, making ours one of the largest Programmes in the UK. All our programmes include on-call experience in Acute Medicine, most have placements in Cardiology, Geriatrics, Endocrinology, Gastroenterology and Respiratory Medicine, and some offer placements in smaller specialties such as Nephrology, Oncology, Rheumatology and Haematology. Our Teaching Hospital rotations include placements in District General Hospitals allowing you to experience learning in the two different types of working environments.
Health Education England, working across the East of England, commissions simulation training  in acute medical scenarios, how to be a medical registrar and ultrasound-guided practical procedures, and runs mock PACES examinations six times per year. We hold three Regional Training Days per year, which concentrate on the more specialised areas of the curriculum, and include a session for presentation of your Quality Improvement Projects
One of our fundamental principles is to involve trainees as much as possible either through our well-established Associate College Tutors' Group, or via consultation with our trainee representatives on the CMT Training Committee. The School of Medicine seeks regular feedback on the quality of your training and undertakes regular visits to Trusts, helping to drive up training standards and share good practice.
| | |
| --- | --- |
| Name | Position |
| |  Training Committee Chairman |
| |  Training Programme Director 1 (Addenbrooke's, Arthur Rank Hospice, West Suffolk Hospital, Bedford Hospital, Lister Hospital, Luton & Dunstable, Watford, Royal Papworth, Hinchinbrooke, Peterborough)  |
| | Training Programme Director 2 (Norwich & Norfolk, James Paget, King's Lynn, Ipswich, Colchester, Chelmsford, Southend, Basidon and Harlow Hospitals) |
| | Head of School of Medicine - HEE EoE  |
| | School of Medicine Administrator  |
Tuesday, 11 December, 2018
Show Between Dates:
Tuesday, 11 December, 2018